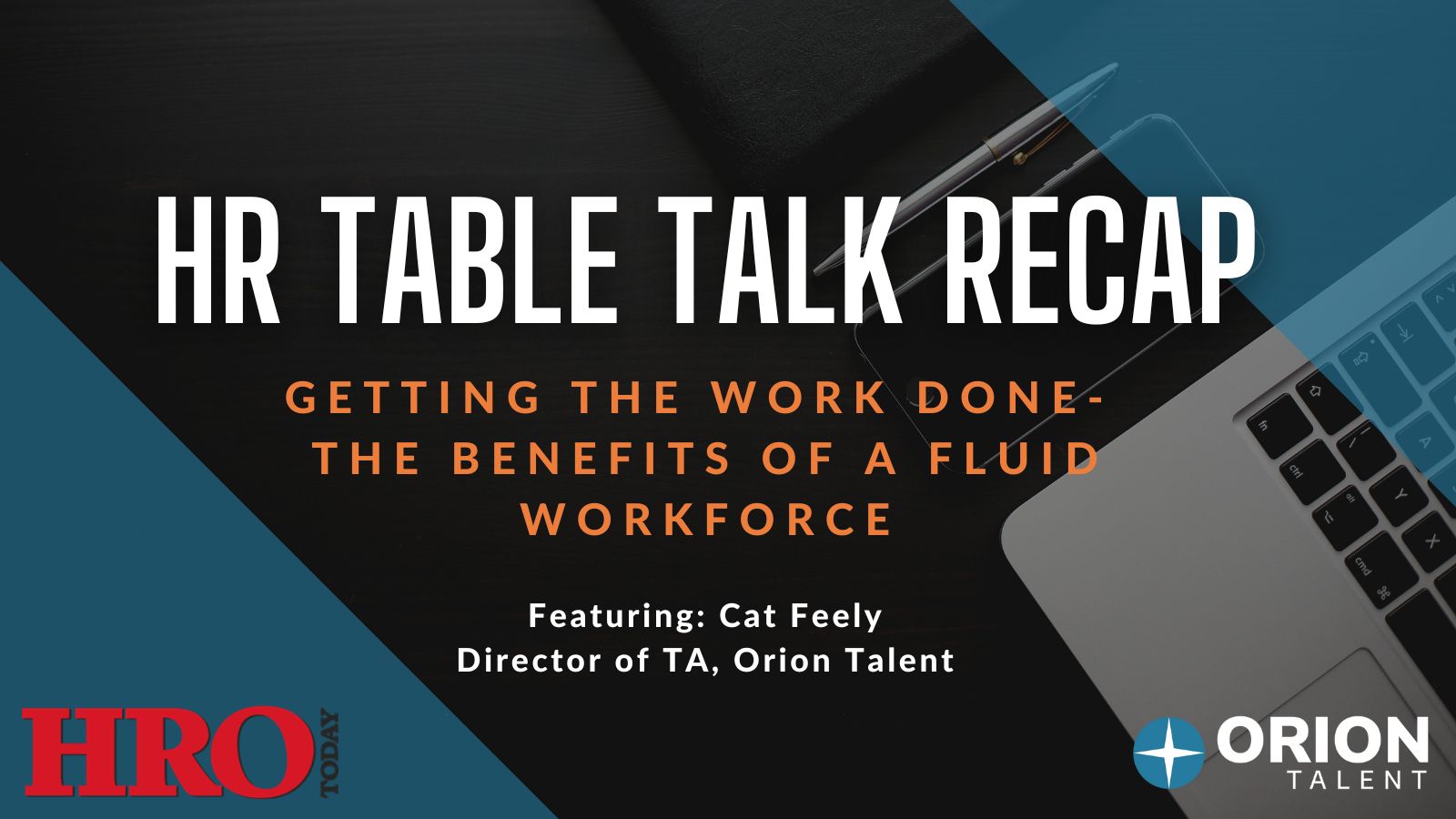 With the talent landscape rapidly changing, is your organization positioned to employ a fluid workforce that enables business leaders to move talent when and where it's needed? Orion Talent's Cat Feely, Director of TA, facilitated an HR Table Talk with HRO Today in March, discussing the concept of a fluid workforce and the vital role reskilling and upskilling play in it. She was joined by other TA leaders for a lively virtual round table discussion.
Adapting to a Morphing Market
As businesses look for ways to continually adapt to new challenges in a tricky market, they are turning to a more "fluid workforce." A fluid workforce adapts to accommodate the changing needs of the business world. There are three main ways businesses can manage skills shortages: hire new talent, reskill, or upskill employees. Building a fluid workforce allows your organization to meet the needs of tomorrow by encouraging employee skill development today.
While it makes the most sense to hire new talent in some instances, investing in current employees is a wise business strategy. Cat shared a few pertinent stats with the group:
40% of workers require up to 6 months of reskilling.
94% of all business leaders expect employees to pick up new skills on the job.
82% of CEOs haven't invested in upskilling programs.
The Importance of Upskilling and Reskilling
Upskilling is the process of learning new skills. Employees must master new skills and competencies necessary for a new or changing job. Cat equates a career to an investment portfolio, stating that "sometimes, upskilling involves understanding the needs of your employees." Spending the time to learn and understand the needs of your employees and what motivates them to feel valued and appreciated is important. People generally want to grow, develop, and advance in their current organization; providing them with opportunities to do so increases retention rates.
The audience discussed the challenges of implementing reskilling initiatives in businesses of all sizes, as well as examples of success in reskilling. Cat suggested that companies set SMART objectives and start implementing change at a micro level and test with teams before launching a large-scale program.
Business Challenges of the Future
In addition, the group conversed about the rapidly changing labor force and efforts organizations must take to replace soon-to-be-retired baby boomers. The impact of AI and gig workers, the needs of a majority female workforce, gaps in the labor force, and skill-assessment technology were also hot topics.
Company Culture Will Make or Break Your Success
Lastly, the group discussed how vital company culture is to upskilling and reskilling—culture will either drive change or be an obstacle to that change. Clear communication is key; employees want to understand the ultimate goal of new reskilling initiatives. Do they know what's in it for them—a new job title? Better pay or career trajectory? Change can be scary and create emotional turmoil, so the more and better information you provide about what to expect, the happier your employees will be. Without a clear plan and communication, your changes won't go far. As long as the change isn't implemented like a bull in a China shop and there's a clear endgame in mind, your efforts should improve employee morale.
Fluid Workforces are Here to Stay
You may have heard various definitions of "fluid workforce" in the past. Some consider a fluid workforce to allow flexibility for employers and employees to do their best work when and where best fits their needs (remote work, flexible hours, etc.). Another common definition for a fluid workforce is one which blends freelance or contract workers, part-time employees, and full-time employees. Cat's definition of a fluid workforce is one that upskills or reskills its workforce to respond to or anticipate market demands. Skills are the new business currency, and the need for a fluid workforce is here to stay.
What is an HR Table Talk?
HR Table Talks are discussion-based forums for members of the HRO Today Association to connect and discuss challenges and issues. These unrecorded events are facilitated by member volunteers and allow peers to tap into the experience and expertise of other industry leaders. Orion Talent is a proud member of the HRO Today Association, and a proponent of fostering community in the talent acquisition world.
If you'd like to learn more about workforce fluidity or discuss ways to prepare your employees to meet the needs of the future, contact us.

RSS Feed
Subscribe to Orion's Blog