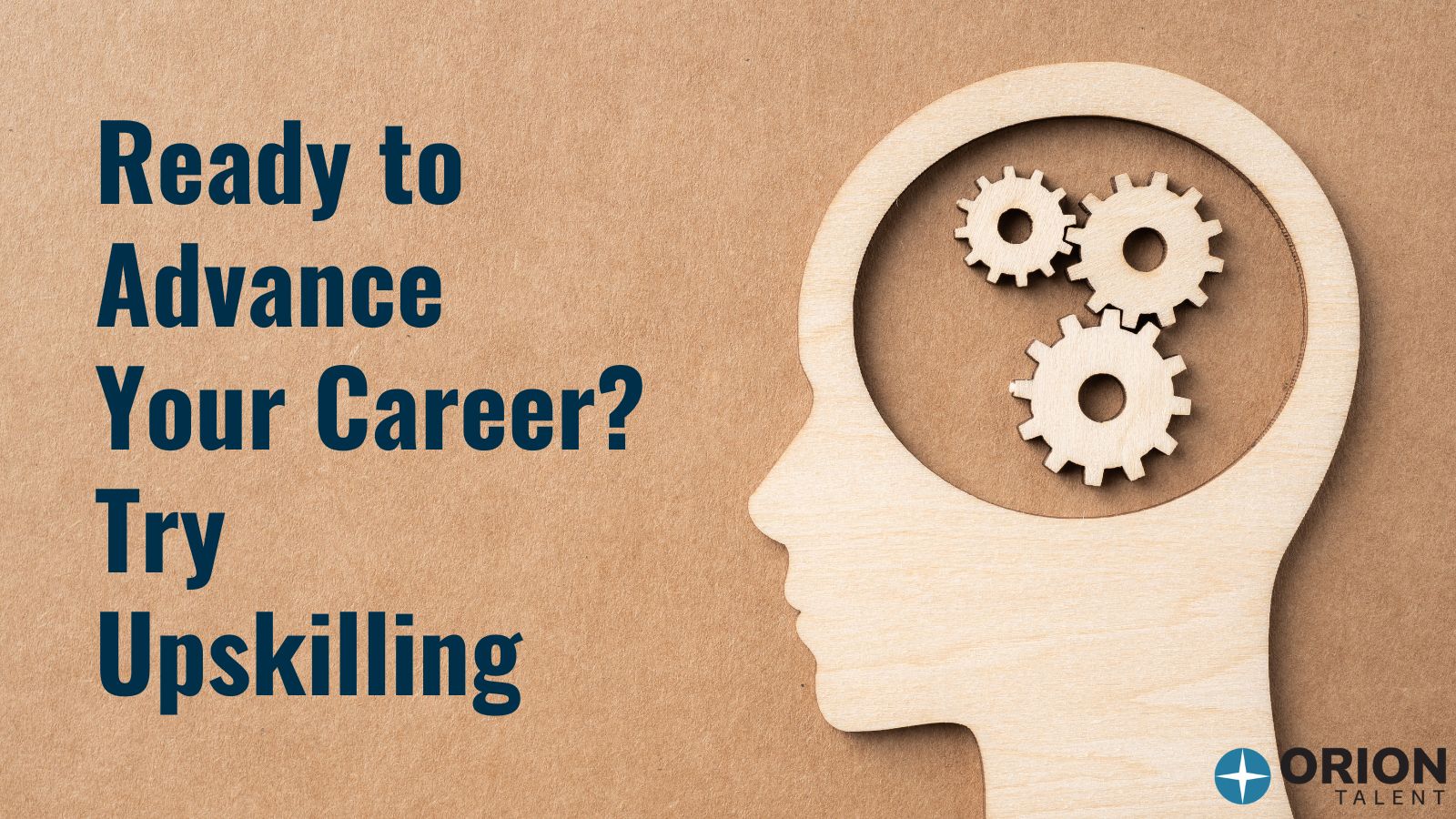 In today's rapidly evolving job market, upskilling has become increasingly important. With the constant advancement of technology and the changing demands of employers, keeping your skills up to date has become essential for career growth and success. Whether you're looking to stay competitive in your field or hoping to pivot into a new industry, upskilling can open up a world of possibilities. Read on to learn more about what upskilling is, why it's important, the benefits of upskilling, and the best areas to focus on when upskilling.
What is Upskilling?
Upskilling refers to the process of learning new skills or improving existing ones to enhance one's expertise and remain competitive in the job market. This is acquired through training and additional education. Some examples of upskilling include taking a coding workshop to build on your programming knowledge or attending a virtual conference or webinar to learn about emerging industry trends.
Upskilling and soft skills gained momentum at the end of last year, and have seen an increased focus in the job market, especially among women. According to LinkedIn's Workforce Confidence Index survey, 59% of women responded that they were considering a focus on learning new skills over the next several months.
Why is Upskilling important?
Upskilling is important because it helps individuals stay relevant and competitive in the job market by acquiring new skills and knowledge. It can lead to career advancement, increased earning potential, and personal growth.
The current tight market, coupled with fast advancements in technology and industries, creates a gap between the existing workforce's skills and the skills that are now necessary to successfully and effectively execute certain jobs. In fact, a report by the U.S. Chamber of Commerce Foundation found that 74 percent of hiring managers acknowledge that a skills gap currently exists in the workforce, and that a lack of adequate skills is one of the biggest obstacles in hiring. Upskilling helps present a solution to this problem, and many companies have started developing upskilling programs for their employees.
Benefits of Upskilling
Upskilling offers several benefits, including increased job opportunities, improved job security, higher earning potential, and better job performance. It allows individuals to stay competitive in the job market and adapt to changes in their industry. Additionally, upskilling can lead to personal growth and a sense of accomplishment. Some of the most popular benefits of upskilling are:
Get a Raise or Promotion
Upskilling can give you the confidence and leverage you need to ask for a raise. By bringing new skills to a new position or demonstrating new skills in your current role, upskilling can give you a leg up on the competition to get you in your desired role and salary.
Make a Career Change
Another benefit of upskilling is the ability to make a career change. Whether by staying relevant in an industry or looking to change industries altogether, having the skills needed can help you succeed in a new role.
Enhance Your Work Life
Learning a new skill can give you the opportunity to switch things up, and chase away those thoughts of boredom and being stagnant in your job. It can help you feel more productive and satisfied at work, and also improves your motivation and morale.
Improve Yourself
Just like how it's important to keep your body active, it's beneficial to keep your mind active, too. Upskilling is a mentally stimulating activity that keeps your mind and memory sharp, and continued learning can help you feel fulfilled, both professionally and personally.
What are the Best Areas to Upskill?
The best areas to upskill depend on your current skills and career goals. Some popular areas include technology, data analysis, project management, and communication. It's always a good idea to research the job market and industry trends in your field to identify the most in-demand skills. Some additional areas to upskill that you may not have thought about include:
Soft Skills
Soft skills are skills that you use when interacting with others and when managing our own work. With the rise of AI and other automation software, soft skills are more important than ever. In fact, a Harvard researcher found that jobs requiring high levels of social skills grew 12 percent, highlighting the importance of social skills in the job market. Transitioning military and veterans have excellent soft skills, especially in areas like communication, collaboration, and adaptability.
Leadership Skills
It's no surprise that leadership skills are one of the best areas to upskill. If you are interested in a management position, having leadership skills, such as decision-making, ability to give constructive feedback, and delegation, are all important tools to cultivate.
Upskill with Orion Talent
One of the best ways to accelerate your career is by participating in a SkillBridge program with Orion Talent. Our SkillBridge opportunities are a great way to enhance your marketability, gain industry experience, and help to strengthen your post-separation career prospects. A SkillBridge opportunity allows you to gain skills through internships and training programs that are specifically designed to offer hands-on training, with a high opportunity for employment at the end of the training. Find out more about Skillbridge, including how it works and the benefits of a SkillBridge opportunity.

RSS Feed
Subscribe to Orion's Blog