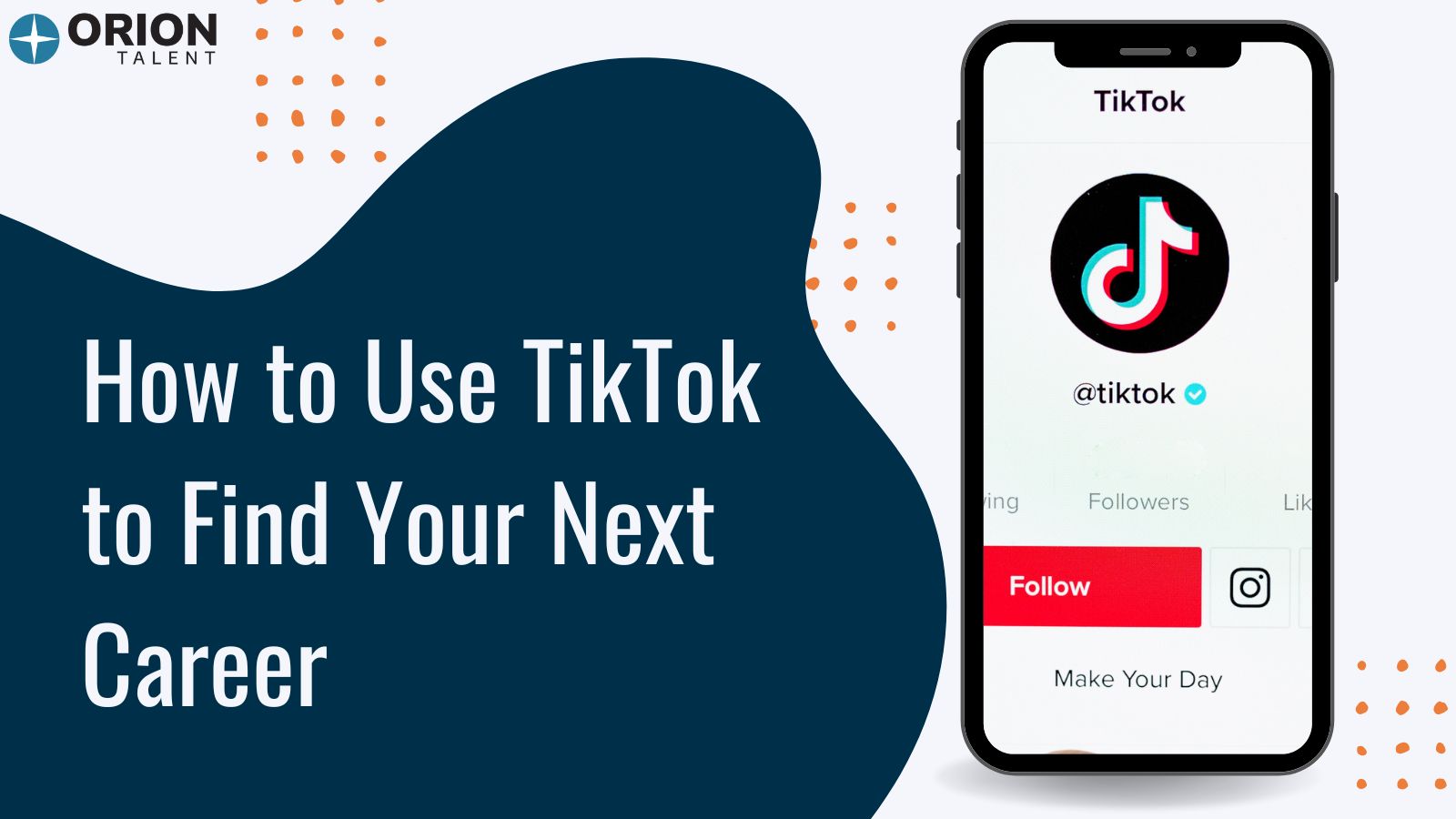 Like it or not, TikTok is everywhere. The controversial social platform is quickly becoming a popular platform for finding employment opportunities. As more and more Gen Z'ers are entering the workforce, they're turning to TikTok to find career advice, job seeking resources, and even employment.
If you are interested in leveraging TikTok in your job search, read on for tips and more.
How can TikTok help you find a job?
TikTok can be an incredibly useful tool for finding a job. You can use the platform to network with other professionals and gain exposure to potential employers. It can also be a great way to get creative ideas, discover new trends, and stay up to date on industry news. You can even use TikTok to showcase your skills and abilities through creative videos. By engaging with relevant hashtags, you can make yourself visible to recruiters and employers who are looking for the right candidate. With the right strategy, you can use TikTok to increase your chances of landing your dream job.
Here are some practical tips on how to use TikTok to help you find a career:
Establish your personal brand
The first step to be noticed by potential employers is to establish your brand on TikTok. Curate your page, upload a professional photo, update your about me section, and link to your other social media accounts, especially LinkedIn. Create videos and content related to the job you're looking for, such as tutorials, industry news, and career advice. This will show employers that you're knowledgeable and passionate about the industry.
But don't stop at just TikTok! Make sure you polish your other social media platforms' presence, and take care to make it consistent across the various platforms.
Upload your video resume
The most important piece of TikTok is the video resume! A TikTok resume is a 60-second video posted to TikTok showcasing the job experience, skills, and creativity of a user looking for employment. To ensure the resume reaches recruiters, job candidates must include #TikTokResumes in their posts. To help your video resume stand out, make sure you have good lighting, dress like you're attending an interview, and tailor your video to fit the specific job you are applying to. Take a look through the hashtag to see what a successful video resume looks like, and get ideas from there.
Use relevant hashtags
Hashtags are essential on TikTok, and they can help you get your content seen by potential employers. Use relevant hashtags to your industry and job search to increase your visibility. TikTok has a growing career and job-related community that shares tips and advice under the hashtag #CareerTok. #CareerTok is the best corner of TikTok for job advice, career insights, and industry secrets. Along with #careertok, other hashtags such as #tiktokresumes, #worklife, #hireme have been viewed millions of times, and this the most vital step in getting your video resume viewed by the right people.
Engage with brands and companies that interest you
Like, comment, and share other people's content in your industry to show potential employers that you're connected and engaged. Reach out to potential employers by messaging them and introducing yourself and your qualifications. This could lead to an interview or job offer!
What are the benefits to using a video resume on TikTok to find a job?
Using TikTok can provide you with a great opportunity to get your name out there, connect with employers, and find job opportunities. Using a video resume can be a great way to stand out from other job applicants. It allows employers to get a better sense of your communication skills and personality, and can be a great tool to showcase achievements and qualifications. Additionally, it can be easier for employers to get an idea of how you would fit into the company culture and the team. Video resumes can also be used to demonstrate technical skills and give employers a better sense of how you work and interact with others. They can be a great way to make a lasting impression and show employers why you would be a great fit for the job.
What are the drawbacks to using a video resume to find a job?
One of the drawbacks to using a video resume to find a job is that it can be difficult to get the video seen by the right people. A video resume can make it difficult to explain technical skills or accomplishments, which can be more easily conveyed through a traditional resume. Some employers may not be comfortable viewing video resumes and may prefer the more traditional format. In addition, utilizing a video resume could result in added bias during the hiring process.
Follow Orion Talent on TikTok
Did you know that we are the only military recruiting firm that is on TikTok? To get started with utilizing TikTok to help find your next career, be sure to follow us for career advice, happenings around Orion Talent, and available positions. See you on #FYP!

RSS Feed
Subscribe to Orion's Blog