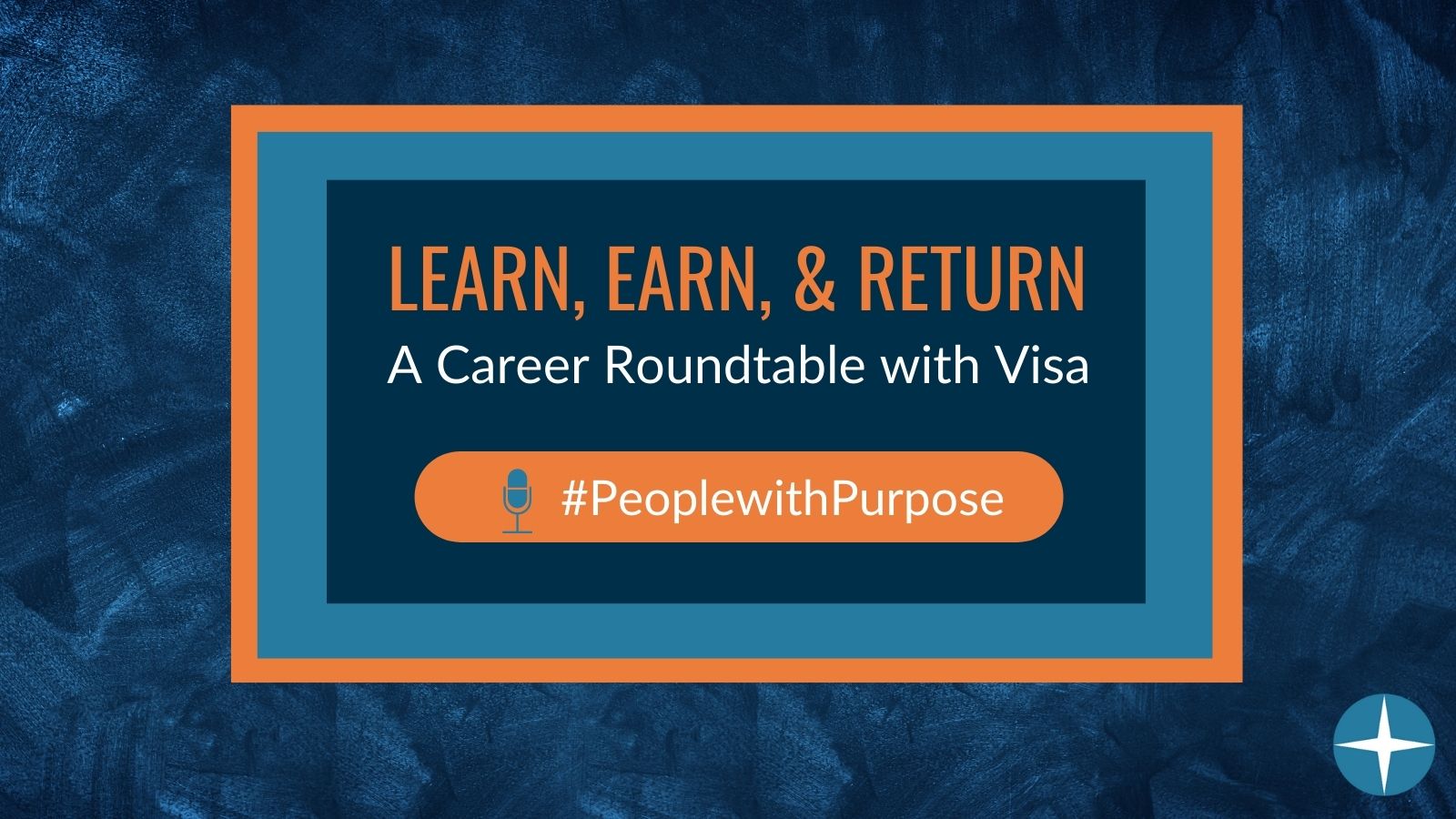 Stories can change lives, and one can't help but feel inspired listening to the stories shared in Episode 8 of the #PeoplewithPurpose podcast. Host Steve Amsden sat down with Visa's Ivy Tao, Sr. Legal Assistant, Reshenda Daniels, Managing Director, Talent & Culture, and Gilbert Dueñas, Human Resources Manager, to discuss their unique career paths, the importance of authenticity to career growth, and advice they'd offer young people just entering the workforce. Tune in for an insightful conversation!
Life's a Journey, and It's Rarely Linear
"My advice for younger workers is to find something with purpose that makes you give back. In the long term, you'll be more fulfilled," Amsden says early in the show. It's rarely a straight road to success. Not one of our guests arrived where they are today straight out of college, but their early chapters and bumps in the road taught them many valuable lessons.
Ivy joined the Navy in order to pay for college with the GI bill. After 4 years of service, she experienced struggles many veterans face transitioning from the military to corporate. She did contract work in a number of industries while pursuing her degree, and it took time to find her passion for the legal industry. Exploring opportunities along the way helped her end up exactly where she's meant to be.
Reshenda, the child of dual-military parents, had the opportunity to experience rich diversity living all over the world. She entered the corporate world with a different viewpoint than more traditional students. She got her MBA, started expanding her network, and doing side jobs within her company to explore different avenues.
It took her a while to discover what she wanted to do professionally and find a career with purpose, not just employment. "Now I feel like I'm living my purpose from a work perspective. I love the slogan Visa has—Inclusion matters—because inclusion does matter, inside the workplace and outside the workplace. Being your authentic professional self is really important, and you should make sure that when you're looking for employment or career opportunities, that you can be comfortable with who you are as an individual and comfortable with the employer that you're working for and that your values are aligned."
Gilbert, a first-generation American, learned a strong work ethic from his parents who taught him that education was the path to social mobility. He pursued an engineering degree but wasn't sure exactly what he wanted to do professionally. "Throughout my career (at Visa), it's been about constantly thinking, Where can I learn? What resonates with me? Where can I grow, and where can I have an impact, whether it's to help others or pay it forward," he says, "That's kind of been the constant throughout my career, although it has been very non-linear."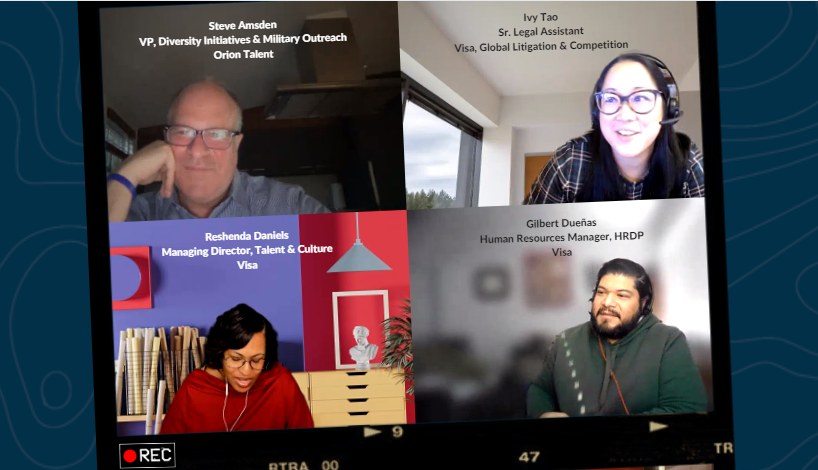 Making a Difference and Standing Out from the Crowd
Her eagerness to get involved and volunteer made Ivy the go-to-person at Visa. She credits volunteering for events and opportunities at work with helping her to develop leadership skills, network, grow, meet new people, and work on public speaking skills. Her time in the Navy taught her attention to detail, organization, and the ability to connect on a human level.
Being self-aware and realizing that your values may change with age and maturity are also important. Reshenda suggests making sure that the company you're working for reflects your values today. Also, realize it's okay to fail and learn to receive feedback maturely and move forward because people will remember how you responded to it.
To stand out from the crowd, Gilbert recommends going the extra mile. Show interest in others on the team and take the time to ask what's going on and then help out. "People don't always remember what you do or what you say, but they always remember how you make them feel," he says, "I think that ties into building that network, connections, and relationships."
Advice to Younger Generation about Finding a Career with Purpose
Every episode of the #PeoplewithPurpose Podcast ends with the same challenge: What advice would you offer young workers preparing to enter the workforce? Each guest's advice is unique, and Ivy, Reshenda, and Gilbert had wisdom to share.
"My advice for the younger generation that's about to join the workforce—Gen Z and Gen Alpha-- is to be passionate about what you do," Ivy offers. "Your career path will always change. Stay curious and continue to learn and grow. Ask questions as needed. Because we spend so much time on our careers, find that career in something you love doing."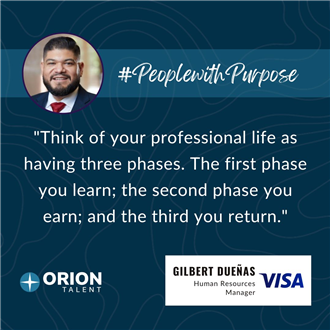 "Don't put too much pressure on yourself to have it all figured out," Reshenda adds. It's unfair to put that pressure on anyone. She references a famous Nelson Mandela quote, "'I never lose. I either win or I learn.' Continue to learn. I believe that individuals can be life students no matter how old they are."
"It's okay to not know or not have things figured out," Gilbert concludes, "And part of that is because the world changes so quickly." When he worked in tech, the technology he was working on didn't exist when he was in high school. It's okay to not have things figured out because things will change and evolve as you progress through your career. Also, don't expect to have it all right away or necessarily find purpose in every step of the journey. "One of the pieces of advice I got in business school is, when you go through your professional life, think of it as having three phases," he adds, "The first phase, you learn. The second phase, you earn. And the third phase, you return."
Listen Now
Be sure to listen to #PeoplewithPurpose Episode 8- Learn, Earn, and Return: A Career Roundtable with Visa for more of this excellent conversation. If you aren't already a subscriber, be sure to subscribe to #PeoplewithPurpose wherever you get your podcasts.
If you're not sure where to start or could use a little help along the way building a more diverse workforce, creating diversity hiring goals, or connecting with diversity candidates, be sure to check out Orion Talent's HirePurpose™ Diversity Sourcing and Talent Attraction Solution. We connect industry-leading companies with diverse job seekers desiring an inclusive workplace while helping our clients build a culture where all employees can bring their authentic selves to work each day.

RSS Feed
Subscribe to Orion's Blog