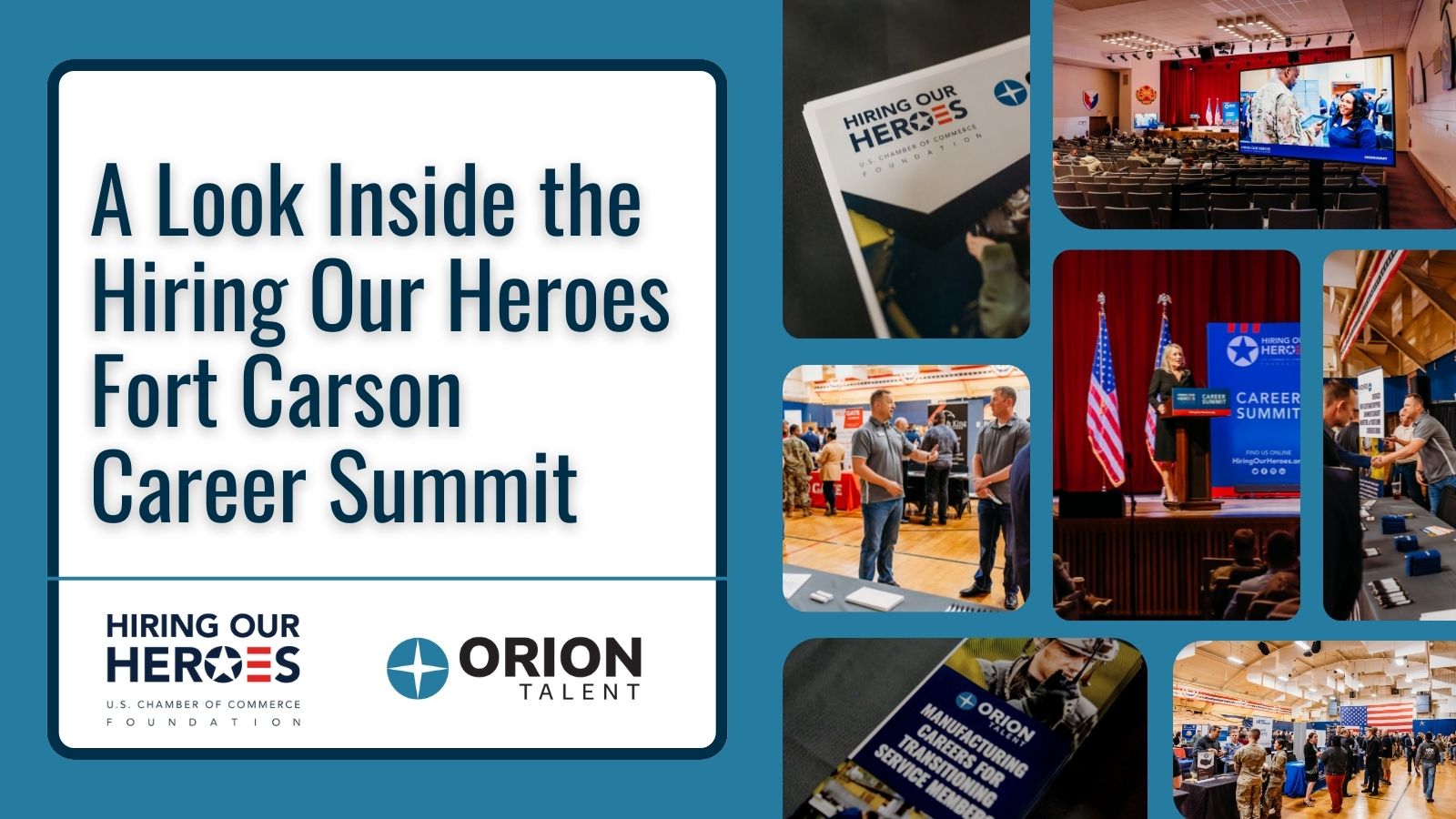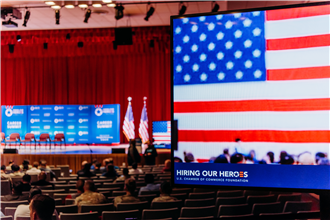 Hiring Our Heroes latest Career Summit kicked off on September 22 at Fort Carson and provided military job seekers the opportunity to meet, network, and interview with employers seeking to hire veteran talent. Job seekers also attended workshops on Benefits and Compensation, Career Exploration, Preparing for Interviews, SkillBridge, and Apprenticeships
Advice from Transition Experts
After an engaging Networking event the evening before, job seekers filled the seats of McMahon Auditorium on Thursday to gain insight from an impressive list of speakers. They included Crystal Kearns, Director of Events and Engagement, Hiring Our Heroes, John Troxell, Former Senior Enlisted Advisor to the Chairman of the Joint Chiefs of Staff (Retired) and Hiring Our Heroes Ambassador, John Hendrickson, SVP, Spectrum, Chuck Hodges, President, Education and Training Division, Transforce, and Sarah Peiker, CEO, Orion Talent. Each speaker addressed the honorable service of those in the audience and how those skills, both tangible and intangible, are not only desirable but also necessary for companies today.
Sarah Peiker was among those who addressed the job seekers as the Keynote speaker and spoke about the value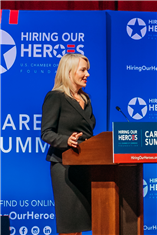 of their experience and the many career paths available to them.
"I know from recruiting for so many years that veteran talent is truly exceptional. The soft skills you learn, along with your training, discipline, leadership, and adaptability are critical in our workforce right now," explained Sarah, "The talent shortage is real, and there is so much opportunity out there. You all have a skill set that is needed and should demand a good, well-paying job."
Meeting the Job Seekers
Armed with solid insight and advice from the speakers at the summit, 400+ servicemembers headed to William Reed Special Event Center for the Career Fair portion of the event. There, they were able to visit with more than 85 employers actively seeking to recruit veterans. With a 40% expected offer rate, these job seekers' time was well spent.
At the Career Fair, Jay Koranda, VP, Recruiting, Will Bubash, Program Manager, and Norlan Ulad, Senior Account Executive, from Orion Talent greeted job seekers in the William Reed Special Event Center. In addition to swag, visitors to the Orion Talent booth came away knowing that we represent an amazing array of companies looking to hire talent like them.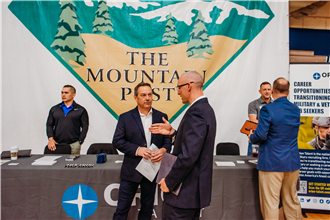 "It was an honor to sponsor the Fort Carson Career Summit. We got to meet some amazing men and women who will undoubtedly be the next generation of leaders at whatever company is lucky enough to hire them," says Jay.
Get Started with Orion Talent
The career opportunities with the top companies that partner with Orion aren't just limited to Career Summits like this, though. You can learn more about finding your next career with Orion here. And, if you are an employer, that would like to learn more about how we can represent you and recruit top military talent, please visit us here.

RSS Feed
Subscribe to Orion's Blog