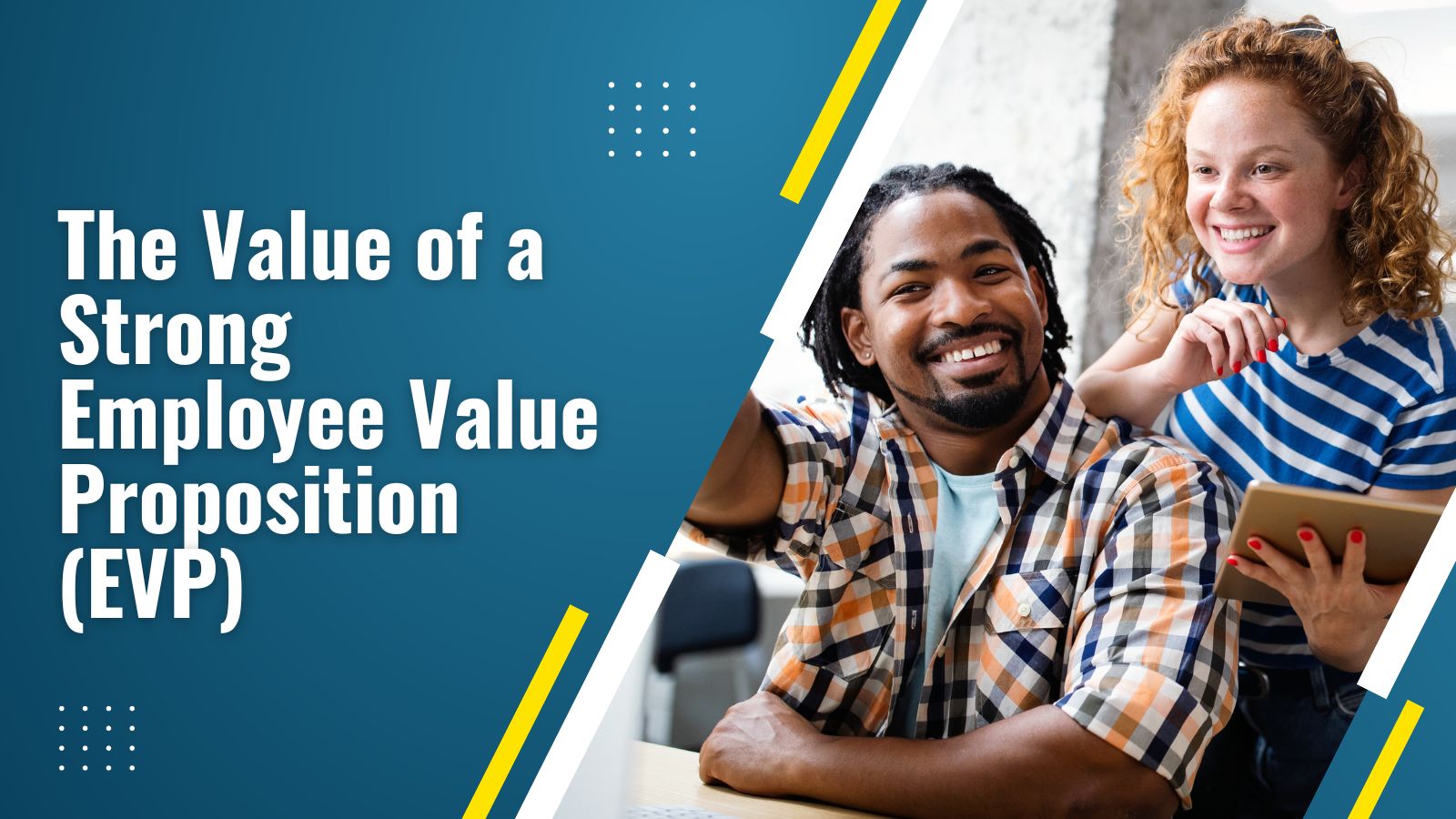 What is an employee value proposition (EVP)?
An Employee Value Proposition (EVP) lays out the culture and values of a company in order to attract candidates and retain employees. Put differently, EVPs can be considered a Unique Value Proposition (UVP) aimed at job seekers and current employees. By demonstrating an inclusive, positive, and encouraging culture, job seekers are encouraged to consider more about an organization than what they will be paid. EVPs are an employee-centered strategy that offer an additional benefit of improving your brand perception overall.
These statements, in conjunction with your mission statement, are important recruiting tools. This is reflected in a recent study that showed 21% of job seekers decided to accept the offer for their current job because their interests and values were reflected in the company's mission.
Why does your company needs a strong EVP?
Having a strong EVP sets you up as an employer of choice, sets you apart from other companies, and lends a competitive advantage. EVPs can also attract passive candidates. Think of your EVP as your chance to tell a potential employee why they should work for you - positively affecting recruitment - and a current employee why they should stay with you - positively affecting turnover. Holistically, EVPs should tell the story of the total employee experience.
Employee Value Proposition Examples: Three Solid EVPs
Chewy
If you have ever dealt with Chewy, you know they handle everything from calls to orders a little differently than other pet companies. And that is reflected in their EVP - "Come transform the pet industry with us". On their careers page they state that their team is made of "innovators, delighters, big-thinkers, and of course, passionate pet people ?— creating a place where you'll be empowered to build, grow, and unleash your fullest potential." Both statements make clear the type of candidate they are seeking and what that job seeker can expect at Chewy.
Canva
Canva is a design platform that non-designers can use to create social media graphics, presentations, posters, documents and other visual content. On their careers page, they offer candidates the opportunity to "Design your future with Canva." Canva also clearly states their goal of bringing design to the general public and how working at Canva provides that opportunity for passionate design professionals, and the ability to to "work with a bunch of legends." Their culture shines through these statements and undoubtedly attracts just the candidate they are seeking.
Yelp
At Yelp, you can "Work with purpose. Grow from the experience." In a market where so many job seekers are seeking purpose and potential, this EVP hits the nail on the head. Their careers page continues this theme by stating, "Come as you are and become who you want to be." Yelp chose a direct approach in explaining why job hunters should consider a career with the company while speaking to exactly what Gen Z and Y are seeking.
How to Construct a Strong EVP
Developing your EVP should be approached methodically. It is important to carefully gather your strengths, desired candidate profile, and truly understand your company culture to craft an EVP that reflects all of these. The following eight steps should be included in any EVP development process.
Define your perfect candidate.

You need to know who you want to attract with your EVP, so define your ideal candidate persona first.

Identify existing competitive advantages you have over other companies.

Determine what you can offer candidates that other companies can't and highlight that in your EVP.

Examine what competitors are offering their workers.

Compare your employee experience to other companies in similar fields and see where you need to up your game.

Develop compelling rewards and benefits for employees.

The key to retention is acknowledgement, and this should be reflected in your EVP.

Assess your salaries and benefits.

Make sure your salaries and benefits are competitive. Even though people want purpose at their job, they still have to pay the bills.

Assess the levels of job security and upward mobility for employees in your company.

Take a look at the professional development you offer and take this opportunity to improve it, so you can showcase it in your EVP.

Foster a strong and positive company culture.

Determine what exactly your company culture is, and how that culture can be leveraged to attract and retain talent.

Compile your best selling points into a written document.

Take all of these selling points, your competitive advantages, company culture, employee engagement, and list them all out to see if they can be reflected in a clear statement.
You can learn more about developing an EVP here.
EVPs and Employer Branding
Great EVPs are not born overnight. They are the product of thorough examination of what your company has to offer employees. But, they are worth the work. Companies with strong EVPs attract ideal candidates and retain them longer. EVPs are just one part of employer branding, but they play a large role in employee engagement, retention, and the recruitment process.
If you are looking for assistance as you further develop your employer brand and EVP, Recruitment Process Outsourcing from Orion Talent can help. RPO recruiters develop a consultative relationship that, along with expert guidance, allows for seamless integration with your brand and the ability to provide a coherent experience to candidates. You can learn more about how RPO can enhance your EVP here.

RSS Feed
Subscribe to Orion's Blog