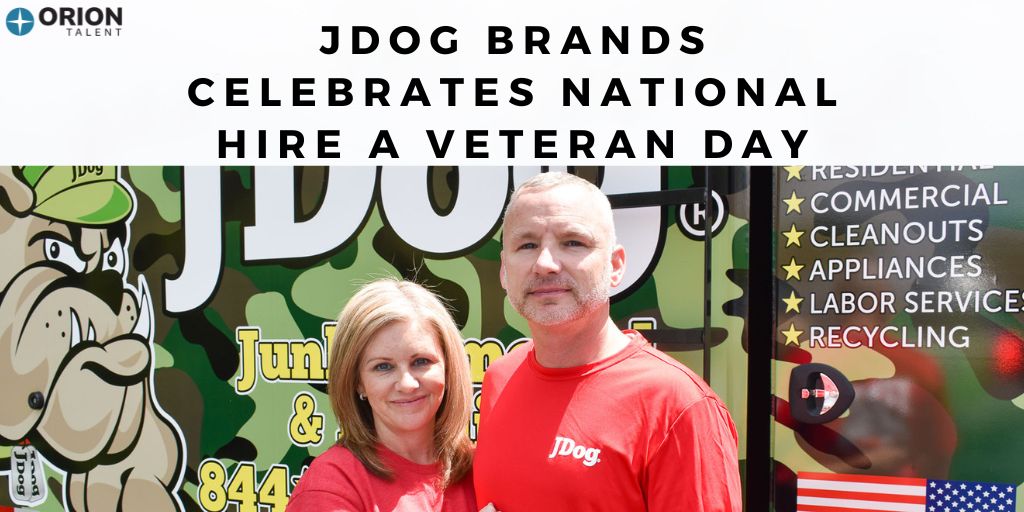 National Hire a Veteran Day (July 25, 2022) is an annual reminder for job seekers and employers alike of the value Veterans bring to the workforce. National Hire a Veteran Day was established in 2017 by Dan Caporale, Marine Corps Veteran, as a call to action for those who hire Veterans and those who apply.
Jerry Flanagan, Army Veteran and Co-founder of JDog Brands, recognized the struggle many Veterans faced when acclimating back to civilian life. Along with his wife Tracy, he opened the first JDog location to help other Military families begin this new stage of life. Since then, Jerry and Tracy have grown the business into a nationwide operation, creating entrepreneurship opportunities exclusively for Veterans and their families, while helping to reduce the Veteran unemployment rate.
Since its inception, JDog has been an employer of choice for Veterans and Military families, honoring their service every day of the year. Here are a few ways JDog shows commitment to the Veteran community:
JDog offers exclusive opportunities for Veterans and Military families.
JDog supports Military Veterans through nationwide job opportunities and encourages franchisees to employ other Veterans, with the goal of reducing the Veteran unemployment rate below 1%. JDog franchises are owned and operated exclusively by Military Veterans and their direct family members.
Respect, Integrity, and Trust are the foundation of its business.
JDog does things the Military way—with Respect, Integrity, and Trust—and this is a key aspect of its brand. Franchisees and employees uphold these values through all communications and jobs.
These core values have created an unparalleled relationship with customers. Not only do they immediately recognize the work ethic and discipline, but they also feel good knowing they are helping employ Veterans and their families.
JDog gives back to the communities in which it serves.
As a member of the JDog team, you will be given the opportunity to make a positive impact in your community while gaining valuable skills and experience alongside like-minded individuals.
In addition to community involvement, the JDog Foundation was founded to bridge the gap between Veterans and vital organizations dedicated to helping them live fulfilled lives after leaving the Military. They maintain relationships with government and civilian organizations to ensure proper funding and guidance for Veterans in need.
Visit us online for Franchise Opportunities with JDog, or to apply for a career at one of JDog's 260+ active locations.

RSS Feed
Subscribe to Orion's Blog