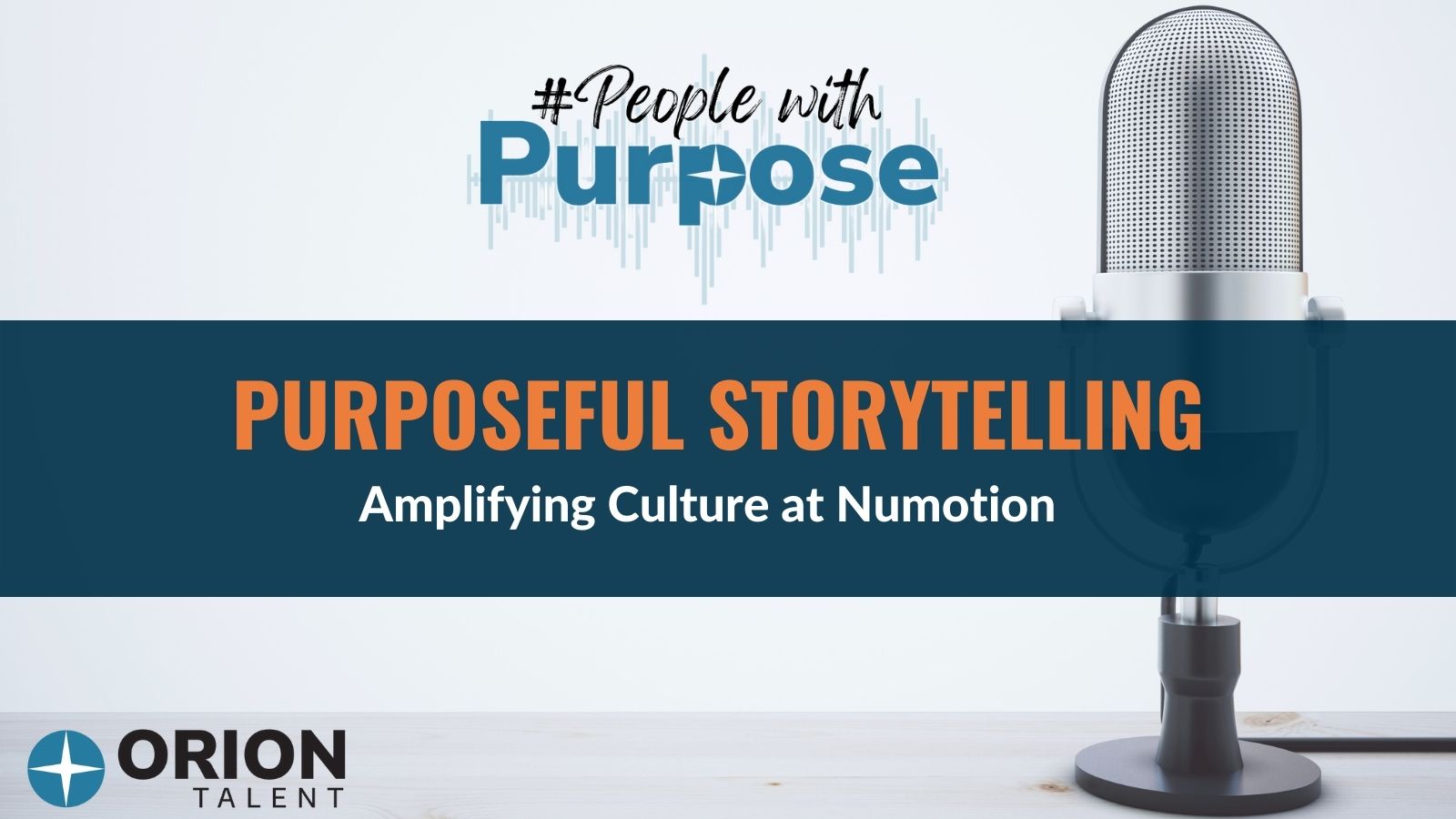 "Storytelling might be one of the most underrated leadership qualities that exists," says Adam Holton, CHRO of Numotion, "When you think about being able to amplify a culture, when you think about creating a brand both internally for employees from a retention standpoint and externally for candidates to potentially join– one of the things we feel we use to the fullest is the idea of storytelling."
In Episode 3 of #PeoplewithPurpose, Steve Amsden, Orion Talent Vice President of Diversity Initiatives and Military Outreach, and Numotion's Adam Holton discuss how the company fosters a purpose-driven workplace and successfully engages new talent, current employees, and customers by creating an organization of storytellers.
Path to a Purposeful Career
Adam is the very definition of someone who serves. He spent formative years in the Marine Corps and later the Marine Corps Reserves. After eight years in the Marine Corps, Adam followed his dream of becoming a highschool basketball coach and teacher before moving into the corporate world. He worked with GE and Bank One before serving as CHRO of CHS and later working at USAA.
Today he's thriving at Numotion and is passionate about improving the lives of people with disabilities. Numotion's mission is to help people who are disabled live their lives to the fullest. Their Complex Rehab Technology (CRT) allows customers with complex physical needs to live better quality lives by offering them mobility and independence.
Numotion does more than design unique wheelchairs. Not only do they help custom fit chairs– which can mean the difference between agony and comfortable usability– they also assist with the complicated insurance process to get customers into their chair as quickly as possible, and provide wheelchair repair services to maintain wheelchair functionality for years to come.
The Storytelling Solution
Numotion's products change lives. Customer stories encourage Numotion's employees to keep working hard and let them know what a positive impact their work has on the lives of others. These stories create a sense of working toward a larger purpose and amplify company culture. Visit the Numotion website and the first thing you may notice is the focus on Customer Stories. We meet Jake, a 2 ½ year old little boy from Kentucky with Spastic Quadriplegic Cerebral Palsy, whose Numotion wheelchair and Sleep Safe bed have changed his and his family's lives. There are dozens more stories like his and each is incredibly moving.
Adam shares several stories in the podcast and discusses how creating an organization of storytellers fosters a sense of belonging. Employees who find purpose and meaning in their work make incredible brand ambassadors. Encouraging them to share their stories– and those of the incredible customers they assist daily– creates a supportive, purpose-filled work atmosphere. This is great for retention, as well as attracting new talent seeking a meaningful career.
Advice for Grads
"I will look back at my career at times and I've been incredibly lucky to have been in organizations of just true purpose," Adam says, "The few times in my career I felt I wasn't in those situations, I changed it quickly. We live life once and life goes by way too fast. There are way too many great options for individuals to be a part of. I've always felt better about myself and everybody around me when I've been in situations of extreme purpose."
"I fell into this trap where I wanted it all. I wanted purpose. I wanted to be at the top of the organization as quickly as I possibly can. And what I tell people is– make sure you are aligned with what is most important to you. Not important– MOST important– and make decisions that are in alignment with that. If you do that wherever your path leads you, you will look back and you will feel extremely rewarded for what you've had the opportunity to do."
Adam's advice: Decide what's truly most important to you and go after it.
Listen to #PeoplewithPurpose
Listen to "Purposeful Storytelling- Amplifying Culture at Numotion" for an in-depth look into how Numotion's purpose-driven mission is improving lives and discover how authentic storytelling speaks not only to current employees but also organically attracts new talent to your organization. Be sure to look for future episodes of #PeoplewithPurpose, where we will explore how industry learners, recruiting experts, and talent acquisition trailblazers are building a people-first culture.

RSS Feed
Subscribe to Orion's Blog