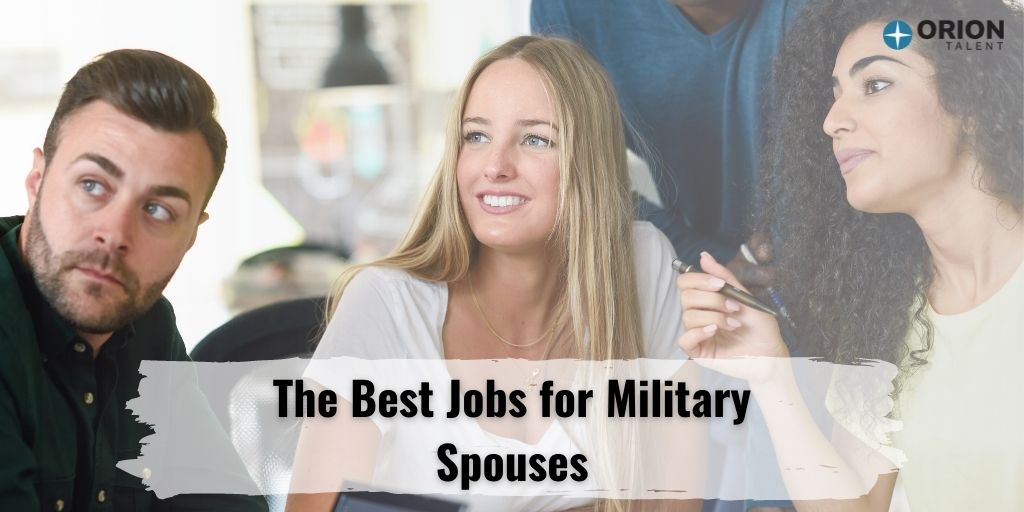 Finding a career as a military spouse comes with challenges. You move ten times more than the average person, often to places not of your own choosing. Your spouse is often busy or away for months at a time, and all the responsibilities fall onto you. For this reason, having a career is hard to navigate for most military spouses.
Many military spouses report feeling underemployed, and participation in the labor market is low. Twenty percent of military spouses are unemployed and are actively seeking work. Finding the right career to fit the military spouse lifestyle is a necessity. Read on to find out what to look for in a career as a military spouse and the best jobs for military spouses.
Good Jobs for Military Spouses: What to Look For in a Career
There are certain aspects of a career that make it well-suited for military spouses. When researching a role, military spouses should keep the below characteristics in mind to find a rewarding career.
The ability to accommodate frequent relocation.
Military families relocate 10 times more often than civilian families - on average, every two to three years. Because of this, it's important for military spouses to look for a job that can accommodate frequent relocation with an organization or company that understands the requirements of the military spouse's life.
The ability to work remotely from home.
The COVID-19 pandemic has reshaped how people work. Now, roughly six-in-ten workers (59 percent) are working from home all or most of the time, according to the Pew Research Center. This shift in the work environment has significantly impacted military spouses in a positive way. Military spouses looking for remote opportunities can find a variety of positions in many industries.
Good work-life balance.
Military spouses need a career that offers a good work/life balance, because their spouse can be away for months at a time on deployment or extremely busy with their duties. As a result, many of the daily responsibilities of life - errands, childcare, etc. - fall to the military spouse. Military spouses should look for organizations or companies that honor requested time off and flexible work schedules.
Recruiting: A Great Career Path for Military Spouses
Recruiting is an ideal career path for military spouses. The recruiting industry plays to a lot of military spouses' strengths, especially the ability to network - military spouses have to establish a community in each of the cities that they move to!
Orion offers a Recruiter Development Program that is geared towards military spouses. It offers the flexibility to work from home, a balanced work/life environment, and can travel with you - wherever you PCS to next.
The Recruiter Development Program is a 3-week intensive program that will teach you all the skills and competencies to be a successful Recruiter. No recruiting experience is necessary! Learn more about the program and apply.
IT Jobs for Military Spouses: Tech Support, Programming, & More
The IT industry is a hot field, with employment in IT occupations projected to grow 13 percent from 2020 to 2030, faster than the average for all occupations. IT jobs are ideal for military spouses as they are often remote-based and can be done on a flexible work schedule and not a typical 9-5 job.
Graphic Design
If you are a creative thinker who enjoys art and technology, this is an ideal career for you. There are design needs across every industry, so graphic designers have many opportunities to take on a range of new and exciting projects.
A graphic design career is well suited for remote work. You can work within an organization or be a contract/freelance graphic designer, working for a wide range of clients. While it is a good idea to have some professional experience or a college degree in graphic design, you may be able to secure clients freelancing without any formal training or experience, as long as your portfolio and skill sets are strong.
Graphic design continues to be a hot job and is highly demanded, as businesses require content for social media, advertising, and marketing. Graphic design careers are projected to grow 3 percent from 2020 to 2030.
Digital Marketing
Digital marketing refers to the promotion of brands to connect with potential customers using the internet and other forms of digital communication. This includes not only email, social media, and web-based advertising, but also text and multimedia messages. Digital marketing careers offer a flexible schedule and remote opportunities, as more and more companies see the value of hiring regardless of location to a static office.
The job outlook for digital marketing professionals is slightly better than the average profession. Job demand in digital marketing is set to increase 10 percent by 2026, above average for all other careers. According to LinkedIn, half of the top 10 jobs posted on the site are in the digital or media space.
Digital Entrepreneurship & Freelancing
Digital entrepreneurship consists of creating a business on the Internet, selling services or products online, without the need to invest in physical spaces. A few examples of digital businesses are online courses, e-commerce, blogs, YouTube channels, and even Instagram content creators.
Freelancing is very similar to digital entrepreneurship, but is more project-based. You are self-employed and have the freedoms that come along with this career path, but accept contract work from companies and organizations, typically earning wages on a per-job, per-task, or short-term basis.
Digital entrepreneurship and freelancing are ideal for military spouses, due to the ability to work remotely but also providing a flexible schedule and a better work/life balance. With this career path, you can choose when and what project you would like to work on, and still be available for other life responsibilities.
Freelance and digital entrepreneurship has grown since the COVID-19 pandemic, and with the onset of the "gig economy." It is projected that in 2027, freelancing will make up 50.9 percent of the total U.S. workforce.
Nursing & Other Healthcare Roles
Military spouses can find careers in nursing and other healthcare roles that can offer flexibility and great earning potential. Telehealth, travel nursing, or working on a military base are all great places to begin a career in the healthcare industry and can suit your qualifications, skillset, and experience, if you have the right licensing and certifications.
Employment in healthcare occupations is projected to grow 16 percent from 2020 to 2030, much faster than the average for all occupations, adding about 2.6 million new jobs. Healthcare occupations are projected to add more jobs than any of the other occupational groups.
Financial Services
The finance industry offers a variety of job opportunities. Careers include Controllers, Financial Managers, Management Consultants, Treasury Analysts, Accounting Manager, Budget Analysts, Senior Tax Accountants, and Auditors, to name a few. The field offers the potential for a high income, with a median salary of $93,000 for those with a Finance degree. A career in financial services allows for the opportunity to work remotely, making it an ideal career path for military spouses.
Financial services careers are experiencing high growth. According to the US Bureau and Labor Statistics, business and finance-related occupations are on track to grow by 5 percent between 2019 and 2029, which is faster than average compared to all other fields.
Customer Service
Customer service jobs are in nearly every industry to process orders, provide information about products and services, and resolve complaints. This is usually by phone, email, or live chat, which makes this the ideal career for military spouses looking for a remote opportunity.
Across every industry, customer service jobs are needed, which makes it a perfect field for military spouses who move frequently. With customer service experience, military spouses can find a career in virtually any place that they PCS to.
Education
Teaching is a popular career for military spouses, but it is also one of the most heavily state-regulated professions. Military spouses interested in a career in education will need to research certifications or licenses required.
Through recent legislation, many states have developed reciprocity agreements for military spouses. These states now temporarily accept licenses and credentials from other states so you can get new state licensure. Check the Military Spouse Interstate License Recognition Options for the most recent legislation and licensure information for your state.
Employment in education occupations is projected to grow 10 percent from 2020 to 2030.
Military Spouse Careers
From IT to finance to nursing, there are many industries that are well-suited for military spouses looking for a career. Just make sure you are seeking a career in an industry that accommodates frequent relocation, allows remote work, and enables a good work/life balance.
If you're considering a career in Recruiting, check out Orion's Recruiter Development Program, our intensive recruiting bootcamp designed with military spouses in mind. Applications are currently being accepted, so fill out the form and apply!

RSS Feed
Subscribe to Orion's Blog