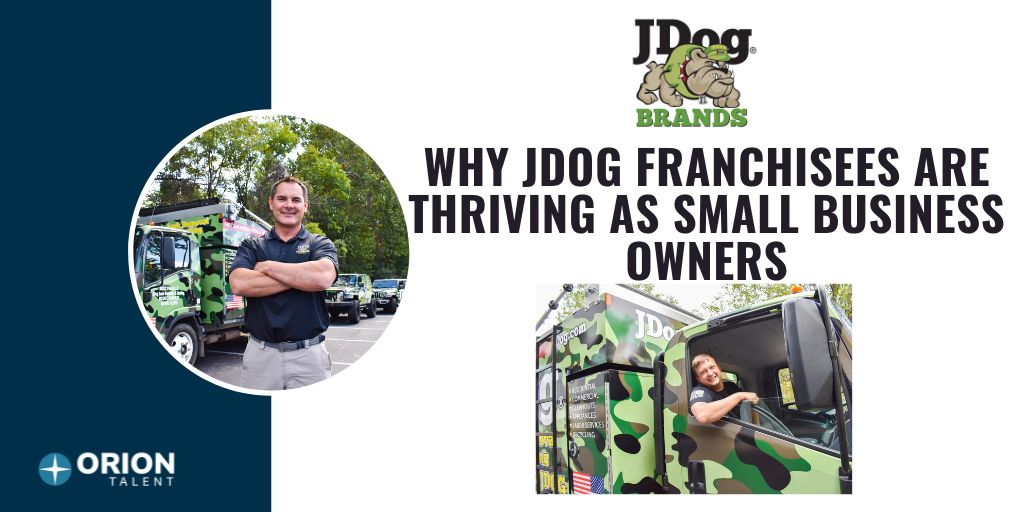 Looking for a business that allows Veterans to pursue the American dream of entrepreneurship? Over the last 11 years, JDog has transformed 100+ Veterans into small business owners, spanning over 270 locations nationwide. In honor of National Small Business Week, read why JDog franchisees are thriving as small business owners and how JDog differs from other franchise systems.
The Veteran-Centric Branding
Unlike other companies, JDog's branding & business model is specifically tailored to Veterans & the Military community. With over 90% of their business owners being Veterans, JDog's Military camaraderie is unmatched.
CEO and Founder of JDog, Jerry Flanagan says, "The beauty of this proven business model and streamlined operating systems is that it requires no specialized skills or knowledge, but at the same time, it is designed to elevate the strengths of Veterans and make the most of their talents. So much of being in the military is about following a process, and with JDog, we've built a process Veterans can take and turn into a thriving business."
Josh Coleman, U.S. Coast Guard Veteran and owner of JDog Junk Removal & Hauling Vancouver, says "I hope to build a business where Veterans like me can retire and settle down," he said. "There are not many post-military opportunities for Veterans in this area, and it is easy to feel a little lost in the shuffle. Building a big team with Veterans and their families is my ultimate goal."
Recession Proof Industries
JDog's service-based companies - JDog Junk Removal & Hauling and JDog Carpet Cleaning & Floor Care - are proven to be recession proof & highly profitable. In an age where technology is at the forefront, junk removal will always require manual labor; moreover, there is a consistent demand for waste management.
The 5 billion dollar carpet cleaning industry has a projected growth rate of 1.6% per year, with no indication of slowing down. "We have emerged as a leader in a very in-demand market, and we're ready to take full advantage of that position," says Jerry Flanagan. Both the junk removal and carpet cleaning industries require no brick and mortar space, while still being necessary in all parts of the country."
Community Involvement
JDog franchisees are committed to giving back to the people in their communities, especially to fellow Veterans. Specifically, JDog Junk Removal & Hauling donates 60-80% of the items they haul away to families or charity organizations in their area. JDog Carpet Cleaning & Floor Care strives to partner with Veteran-owned businesses & Military bases to connect with their local Veteran community.
JDog franchisee Jay Rimel understands the importance of community involvement and uses it to power his business. Rimel says, "It has been a win-win for me, as I am my own boss and I get to help other Veterans by employing them, provide discounts to Veterans who need our service, and support Veterans' causes."
If you are interested in becoming a small business owner with JDog, complete this form and speak to a member on their team today!

RSS Feed
Subscribe to Orion's Blog