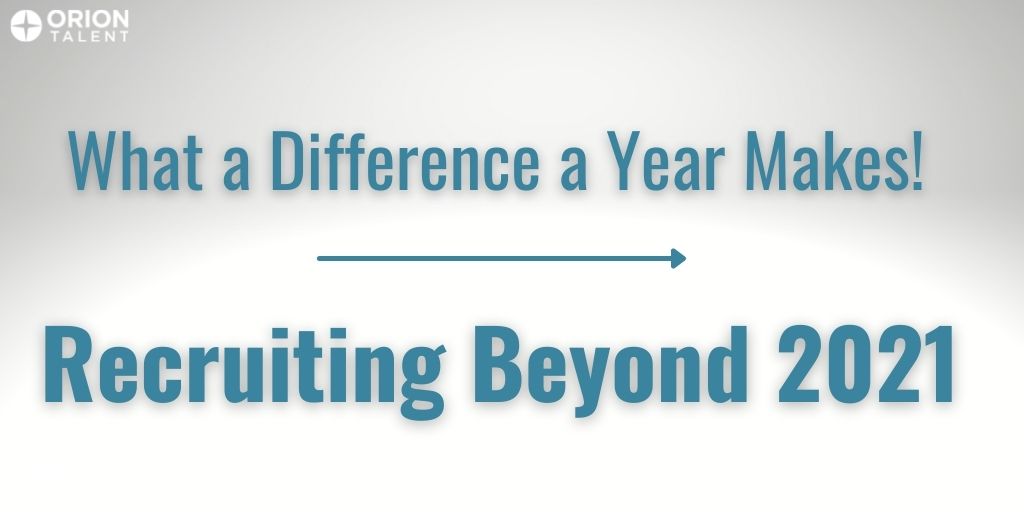 What a difference a year makes. In October 2020, we were seven months into the COVID-19 pandemic and had made countless adjustments to the way in which we conduct our personal and professional lives. We began taking meetings at the kitchen table with babies in our laps and celebrating holidays over Zoom. For those in the recruiting industry, so much had changed that it begged that question of what would come next. The search for answers led to our webinar, Recruiting Beyond 2020.
Recruiting Beyond 2020 presented lessons learned from those critical first months of the pandemic and how two talent acquisition experts were turning those challenges into opportunities beyond 2020. Featuring Diane Circo, Head, US Talent Acquisition for Siemens Corporation and Ashley Valenzuela-Ruesgen, Corporate Director of HR for Hensel Phelps, and moderated by David Coe, Senior VP of Talent Programs for Orion Talent, the webinar delved into what was working, what wasn't, and how our experts were preparing for 2021.
What's fascinating is how trends a year ago have shifted, with some getting stronger with others changing course. We caught up with Diane, Ashley, and David to discuss their insights on how their perceptions from last fall panned out and how they are informing their work into 2022. We wanted to know how the change management, improved employee resources, pipeline building, and alternative interviewing they talked about set Hensel Phelps and Siemens up for success in a tumultuous 2021. Below, you'll find their responses.
At the time of our webinar, the shift to remote work seemed temporary. And while unemployment was working its way down to 6.9% in October 2020 from 14.7% in April, safety and job stability were top of mind for many in the workforce. Contrast to today, where remote work is here to stay in organizations that previously avoided it and where unemployment is at 4.6% as The Great Resignation or The Big Quit sweeps the talent acquisition landscape. It is a job seeker's market, and employees are demanding unprecedented flexibility in where, when, and how they work.
Change Management and Successful Implementation of New Initiatives
Like so many in 2020, Ashley was faced with a tremendous amount of disruption in a short amount of time. "Change Champions" was Ashley's answer. Ashley's change champions were various pilot groups that would take whatever initiative she was rolling out, help socialize it, build excitement, and train their regional teams. This was especially important when changes were coming rapidly, and it was necessary to manage the change initiatives strategically.
One year later, these change champions helped Ashley implement phase 1 of Hensel Phelps' new Human Resource Information System (HRIS) which included a new Applicant Tracking System (ATS). The pilot group recruited more champions whose passion, dedication, and ability to see the long-term value of the project enabled the rollout to go as smoothly as possible, especially considering the scope of the project. Next, the team will be tackling the digitization of records and employee onboarding with a heavy focus on employee experience.
Focus on Employee Mental Health
Another issue Ashley discussed in the webinar was mental health. Already a recognized issue in the construction industry, Hensel Phelps saw an opportunity to help their employees by creating programming focused on mental health and belonging. Hensel Phelps took this time to build on their Diversity, Equity, and Inclusion community forums (DEIc), which take an intentional approach to mental health and inclusion beyond standard DEI efforts. They also offer their Culture of Care program, including an online resource center that contains all the mental health tools and resources, including an Employee Assistance Program (EAP), that Hensel Phelps makes available to its employees.
These programs have received positive feedback from employees and managers saying they feel empowered. "COVID opened the door to a bigger mental health discussion," explains Ashley. That open door led to early intervention and individualized solutions that truly make Hensel Phelps stand out in terms of the value they offer employees.
Building a Resilient Workforce
In October 2020, Diane shared that Siemens shifted its focus from actively recruiting to pipeline building and engaging new talent pools for skills that were in demand at that time. They also developed their teams' agile recruiting and consultative skills. Today, Diane explains that hiring volume has increased and even surpassed pre-pandemic levels due to business growth, as well as the Great Resignation.
When it came time to fill those positions, the proactive pipelining done last year paid off. However, Diane and her team also discovered that it is critically important to build resilience into their recruiting strategy by deciding what your future-ready talent looks like. To do so, you have to go beyond recruiting for technical skills and industry experience but instead look for candidates with more enduring skills like being learning agile, having a digital mindset, embracing tech, and having a growth mindset. Diane explains, "These are conversations we weren't having pre-pandemic."
Video Interviews Are Here to Stay
Another early pandemic change Siemens encountered was the company-wide adoption of video interviewing. While it wasn't new to the Siemens TA team, it was to their hiring managers. They also expanded their use of asynchronous interviewing throughout the organization. In asynchronous interviewing, candidates do the interview on their own time through a guided online process and submit it to be reviewed by the hiring manager at a later time.
One year later, we know video is here to stay, whether asynchronous or live. While it was used before, it is the primary interview method now, with managers having successfully made the switch. "I can't count how many great decisions I've made based only on a video interview, never having shaken a hand," says Diane.
The Intersection of Professional and Personal
During the October 2020 webinar, David Coe, Orion Talent SVP, shared his observation on how the pandemic had truly revealed the intersection of personal and professional lives. Never before were people taking meetings at their kitchen tables with their kids in their laps. Seeing people outside of the typical work environment and how they were balancing the stresses of lockdown and requirements of work illustrated how truly "human" human capital is. Teams really got to know each other in a meaningful way that wasn't possible pre-pandemic.
Today, while the world continues to grapple with the definition of "new normal," the lessons learned about transparency and authenticity remain important. David explains that there is no going back. "We are in the business of people. Getting the right people onboard and keeping them onboard by driving the right culture, no matter the circumstances, is critical," he said.
As the talent acquisition landscape continues to evolve, Orion Talent is dedicated to providing actionable employer recruiting resources. You can find an extensive list of industry insights, talent acquisition expertise, informative blog posts, webinars, and podcasts, as well our latest case studies, all from industry thought leaders here. Be sure to take a look as you navigate the recruiting world in 2022.

RSS Feed
Subscribe to Orion's Blog