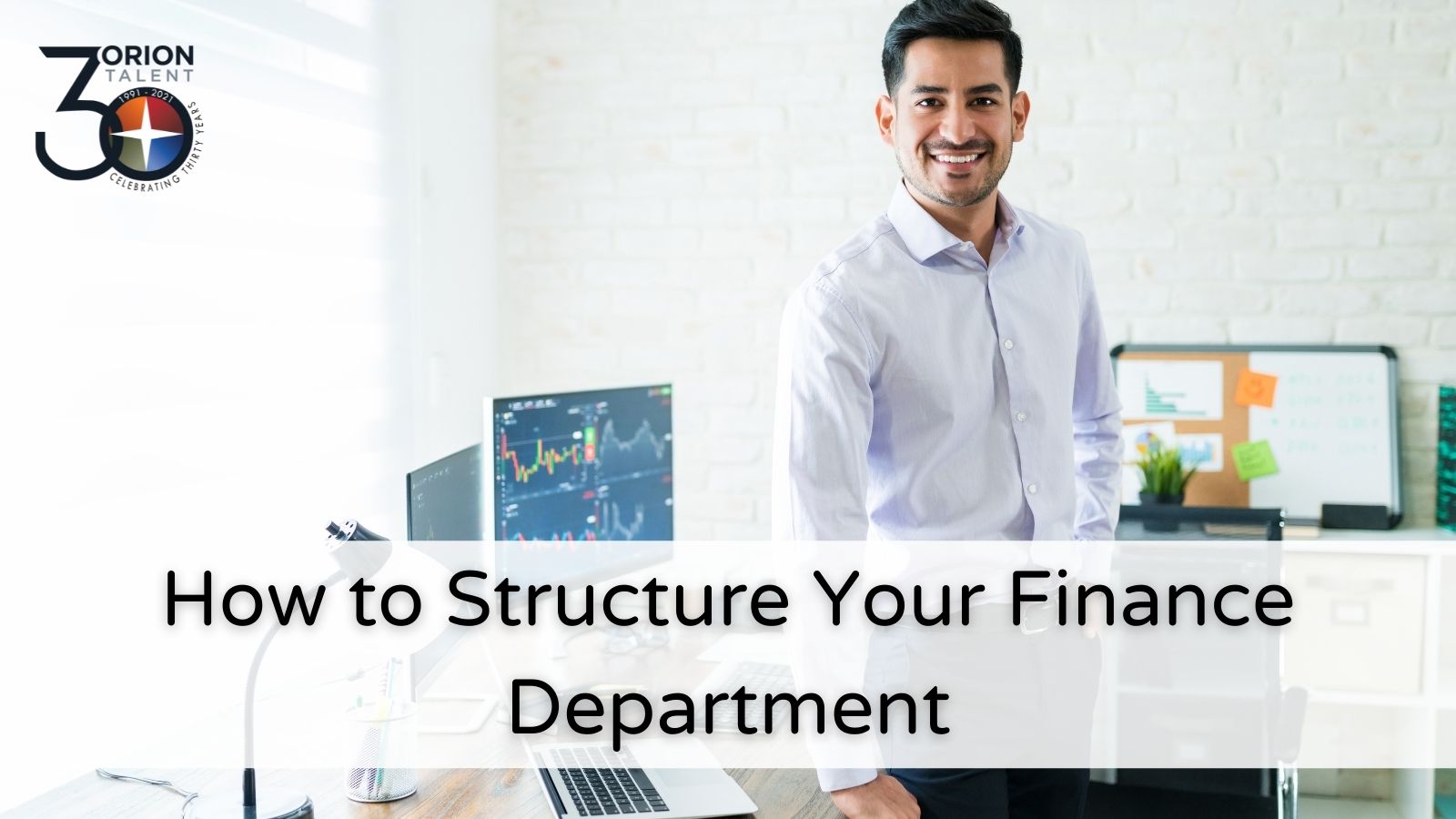 For many business leaders, deciding how to start, grow, or scale a Finance department may be a mystery. They may wonder what size and shape it needs to take, especially in respect to the life stage of their business. In order to ensure both daily operations are maintained and long-term goals achieved, defining a finance organization structure is crucial.
According to Jennifer Martinez, Director of Finance Recruiting at Orion Talent, "It's important to understand short and long-term needs when building a finance team so that you can identify, assess, and retain the right talent. What phase is the company in? What skills are needed in the department immediately, and to support longer-term initiatives? What about company culture? How have technical and behavioral skills been evaluated, and have these methods been effective?"
How are most Finance Departments Structured?
A Finance department manages a business's monetary operations and strategy, both long-term and on a daily basis. It is led by the Chief Financial Officer (CFO), EVP/SVP of Finance, or Director of Finance, and often includes the following sub-departments:
Accounts Payable (AP): Ensures all company vendors are paid in full and on time
Accounts Receivable (AR): Collects payments from customers or clients
Accounting & Reporting: Maintains a company's books; prepares all financial statements, reports to U.S. Securities and Exchange Commission
Budgeting & Forecasting: Produces and assesses a company's budget by calculating the variance between planned and actual costs; provides strategic guidance to the business by advising on the financial impact of operational decisions
Expense Management: Responsible for monitoring and auditing all employee-initiated expenses
Internal Audit & Compliance: Oversees a business' financial operations to ensure that they are in line with internal and external policies and regulations
Tax: Manages all tax-related expenses
Treasury Management: Manages all of the company's assets to maximize liquidity and reduce risk
Payroll: Administers and documents all salaries, wages, bonuses, and deductions received by employees

How should corporate and startup companies differ in their approach?
Different companies in different stages often approach creating or growing their finance department in different ways. Are they a corporate giant or a start-up business?
Often, for more established companies, Finance roles are more clearly defined in terms of job descriptions and organizational instructions. For more senior roles, they may look to internal hiring for the experience that person may have gained through various finance roles within the company.
At a startup, however, some employees may work outside of their main positions and they may hire external finance experts along the way. At this life stage, a finance department usually consists of two or three levels.
What roles can be outsourced?
While it was often unheard of to outsource Finance roles due to security risks and potential data loss, there are a few roles that are commonly outsourced today due to advances in Information Security. These include:
Bookkeeping
Payroll Processing
Accounts Payable Specialist
Accounts Receivable Specialist
Financial Administration
Taxes
What roles need to be in-house?
Any roles not listed above are best kept in-house for a variety of reasons. No company wants to lose sensitive data, confidentiality, or management control. They can also avoid unexpected costs and the need for quality control of an outside vendor.
Grow Your Finance and Accounting Department
As you can see, ensuring that you have the ideal finance department structure is important. You need to answer the questions posed above to help determine what sub-departments and positions make the most sense, and whether to outsource any or keep them all in-house.
No matter where you are in developing a finance department structure, Orion Talent is here to help. If you need to hire industry-experienced talent for Finance and Accounting roles, visit us online to learn more.

RSS Feed
Subscribe to Orion's Blog