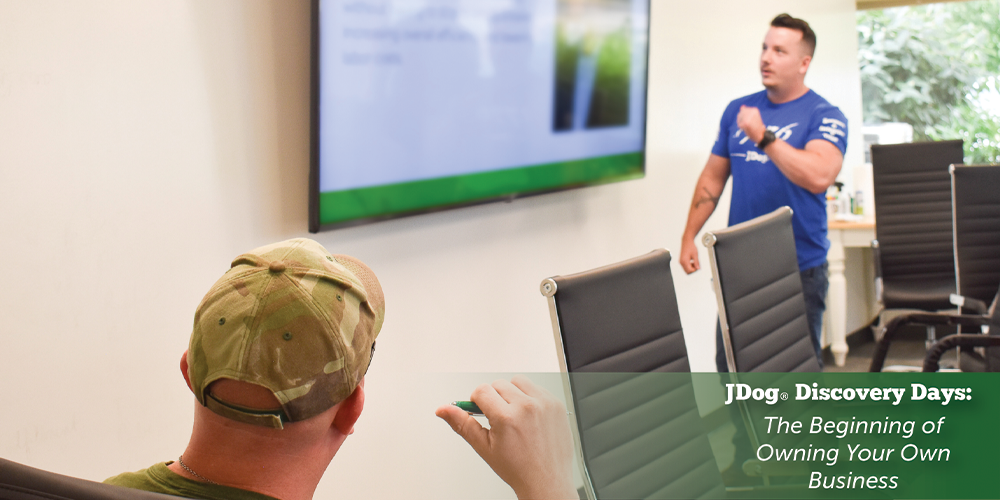 JDog Brands is the largest Veteran owned franchise system, offering business ownership opportunities exclusively to Veterans and Military family members. With two different business models - JDog Junk Removal & Hauling and JDog Carpet Cleaning & Floor Care - the JDog Brands franchise system strives to lower the Veteran unemployment rate to under 1%.
Before becoming a JDog owner, you have the opportunity to attend a "Discovery Day" at JDog Brands headquarters in Berwyn, PA. This is a two-day event where you will meet with the founders and support staff, gather information about the business, and speak with current trainees of JDog University!
Here is what to expect before, during and after a JDog Discovery Day:
What to Expect Before a JDog Discovery Day
After filling out the Franchise Inquiry Form, you have two calls with members of the JDog Franchise Development team:
A Qualification Call to verify your information

An Introductory Call with the VP of Franchise Development to see if JDog is the right fit! This is meant for you to understand the franchise opportunity, learn more about JDog's background, review pricing, investments, and the business model, as well as express your motivation to start and plan a timeframe for opening your franchise location.
What to Expect During a JDog Discovery Day
Meet the Founders: You will meet the founders, Jerry and Tracy Flanagan, to discuss where JDog started, how the business is today, and their vision for growth.

Meet the Support Team: The support team will walk you through an overview and give insight on the advertising, marketing, corporate services/national accounts, operations, training at JDog University, introduction to the types of vehicles, leasing and business financing alternatives.

Meet JDogs-In-Training: During a complimentary dinner, you have an opportunity to meet with JDogs that are currently going through the training process to become official owners!

Review FDD and Build a Territory: The VP of Franchise Development explains the Franchise Disclosure Document (F.D.D.) in more detail and the President of JDog reviews and creates your potential territory with you.
What to Expect After a JDog Discovery Day
Once you digest all of the information you learned at Discovery, you are encouraged to contact JDog's VP of Franchise Development for any follow up questions. Upon making the decision to own a JDog franchise, the Franchise Development team will help you kick off the financing process, assist in securing available vehicles, review and sign the Franchise Agreement (F.A.), and attend JDog University for training!
Visit JDog online to learn more about franchise opportunities and complete this form if you'd like to speak to a franchise specialist about owning your own business in 2021.

RSS Feed
Subscribe to Orion's Blog