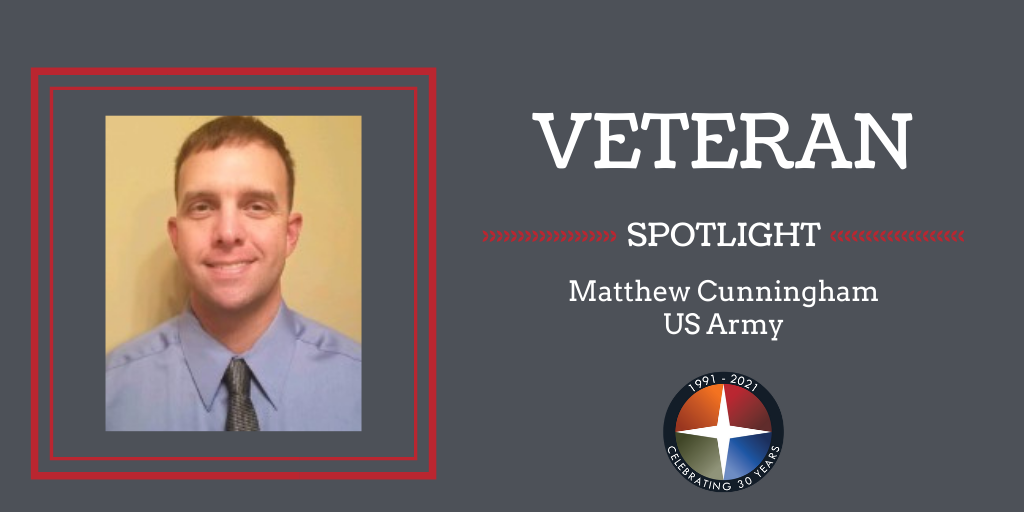 This week, we're proud to profile Matthew Cunningham, a former US Army Career Counselor who is now a Workforce Development Manager with Faith Technologies, an energy expert and national leader in electrical planning, engineering, design and installation. Though he enjoyed his time in the military, Matthew was ready to start a new adventure and career in the civilian world.
While COVID-19 did delay some of his plans, Matthew prepared for the transition process as best as he could. "I planned far enough in advance that I was still able to conduct informational interviews and learn about companies," he stated. "I had many mentors that I reached out to that assisted me in my transition."
Matthew reached out to Orion Talent to help him figure out what career path he wanted to take after his military service. "I had logistical, human resources, and talent management experience, but was not sure what I wanted to do after the Army," Matthew explained.
After interviewing with Faith Technologies, he knew it would be a good fit. "While I did not have a construction background, the skills I acquired through my 10 years as a Career Counselor aligned well with the Workforce Manager position," he stated.
In addition to his skills as a Career Counselor, Matthew's experience in the Army made him well equipped for his new career, most notably the ability to prioritize and manage time effectively, which have served him well in his new role.
Matthew offered some advice for transitioning servicemembers. "While there is so much advice given to transitioning veterans, it can be daunting. My best advice is seek mentorship from trusted individuals and remember what attributes made you successful in the military," Matthew advised. "While you are no longer serving, you can use those same attributes to be successful after you transition."
If you are transitioning soon or are a veteran looking for a civilian career, join Matthew and the thousands of others like him who have found rewarding careers through Orion Talent. Register today to begin your career search with Orion.

RSS Feed
Subscribe to Orion's Blog