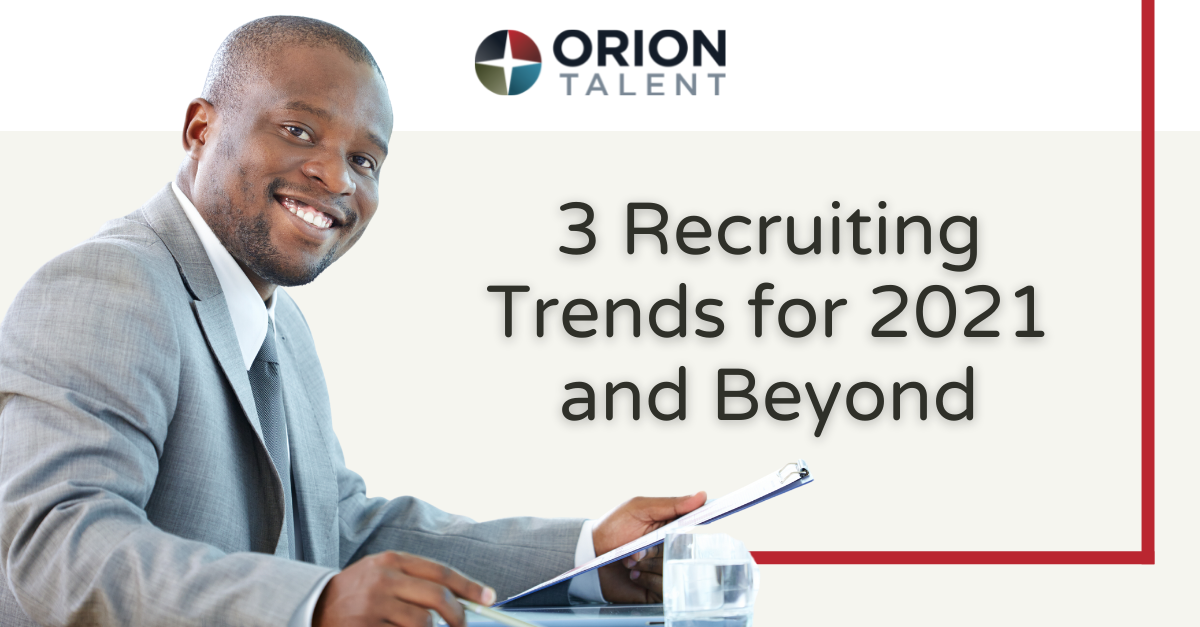 The Recruitment Process Outsourcing Association (RPOA) recently hosted "Top Three Recruitment-Related Trends for 2021", a webinar featuring Cory Kruse, President, Orion Talent; Michelle Krier, SVP of Sales & Marketing, ClearEdge Marketing; and Eric Gregg, Founder, ClearlyRated.
In the 30-minute webinar, these three talent acquisition experts shared three recruiting and hiring-related trends for 2021 and beyond. Read on for an overview of these tips and then check out the full webinar for an in-depth discussion.
Recruitment Marketing and Employer Branding Grows in Importance
Due to COVID, remote work has been forced on companies, which means job seekers have more options. According to Michelle, the Great Talent Swap is underway as employees leave the job they held onto during COVID and explore other options. With the cost of losing employees at 1.5 to 2 times their salary, Employee Value Propositions have never been more important. EVPs should focus on empathy and actions in DEI and societal impact.
Knowing Your Current Metrics is Paramount.
Cory explains that employers need to listen to the signals and know where they currently stand with the employees they have now. Metrics are important for measuring employee engagement, identifying internal influencers, and determining if you have a collaborative, cooperative, or competitive work environment. From there, you can move forward with more informed recruiting initiatives.
Transparency Remains Vital.
According to Eric, companies should ask, analyze, and then act. And this process needs to be clearly communicated to everyone involved. It is no longer enough to deliver a differentiated service, but you also have to get authentic credit for it.
Today's recruiting market is candidate-driven, so aligning your messaging with your actions is important. Remember, employers will pay more for creating and maintaining a lousy work environment and will ultimately pay less by cultivating a great place to work. By defining your EVP, taking a look at what is working in your current environment, and remaining transparent as you do so, you will be on your way to successfully recruiting and retaining top talent.
View the full webinar here and then contact Orion Talent to see how RPO can help you meet these goals.

RSS Feed
Subscribe to Orion's Blog