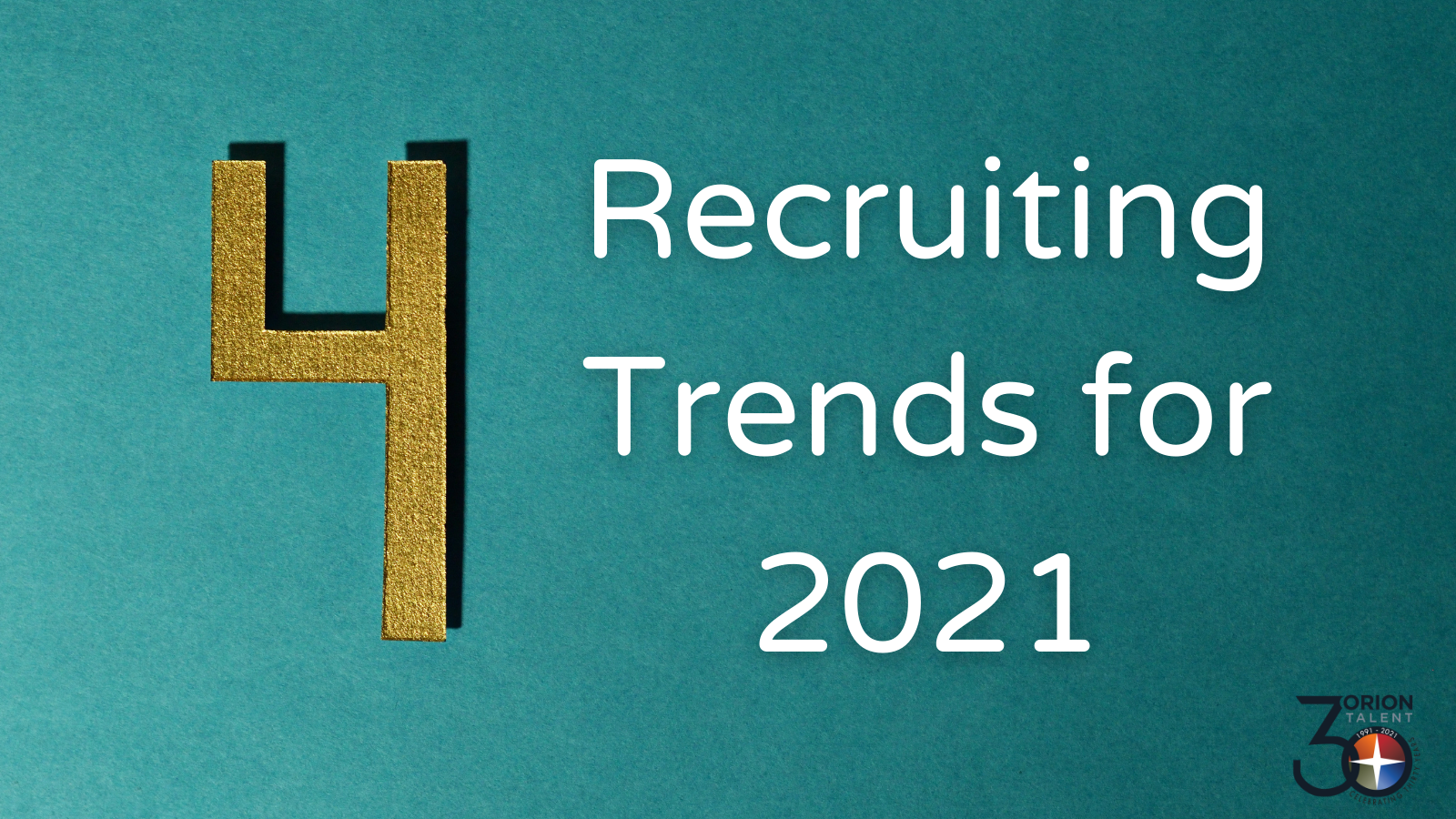 Talent Acquisition Trends for 2021
In his article, "2021 Recruiting Trends Shaped by the Pandemic" for the Society for Human Resource Management (SHRM), Roy Maurer examines four recruiting trends we can expect in 2021 due to COVID-19, a "historic change agent". Roy lists virtual hiring, internal hiring, a focus on DE&I, as well as the expansion of recruiter roles as the four trends the talent acquisition community should address. He arrived at these trends in part due to Linkedin's recent survey of over 1,500 talent acquisition professionals from 28 countries.
Virtual Hiring
According to 70% of respondents to the LinkedIn survey, a hybrid hiring process combining virtual and in-person will become increasingly standard thanks to cost and time savings. Virtual Hiring also provides an accelerated timeline and a critical layer of safety at the same time. You can achieve all of this through an Orion Talent Virtual Hiring Event. Not only will you overcome COVID-related hiring obstacles, but you decrease cycle time, enjoy flexible scheduling, and gain access to high-quality talent.
Internal Hiring
According to the LinkedIn survey, internal mobility is up 20% since the onset of COVID-19. Companies are considering internal talent pools and undertaking reskilling initiatives to leverage the talent they already have.
Recruiters Will Play a Bigger Role in DE&I
Diversity, Equality, and Inclusion will become increasingly important as candidates make a career decision based on a company's DE&I commitment. This business-critical imperative is one that recruiting can and should lead.
Recruiters will do more than Recruit
Beyond the traditional duties of recruiting, recruiters are finding themselves mastering talent metrics, employer branding, and virtual hiring processes. It is no longer good enough just to find the right candidate. Now recruiters need to provide full-service solutions. Orion's Total Talent Solutions can help companies meet these new, expanded recruiting requirements through an optimal mix of Recruiting Programs, Training, Consulting & Training, Skilled Staffing, and Contract Recruiting.
Put These Recruiting Trends into Action
COVID-19 has changed just about every aspect of how we conduct business, and talent acquisition is no different. Embracing these trends is a smart choice, enabling a faster, safer hiring process filled with diverse candidates. Read more about these four important trends in Maurer's article. And learn more about how Orion Talent can help you stay on top of these trends here.

RSS Feed
Subscribe to Orion's Blog