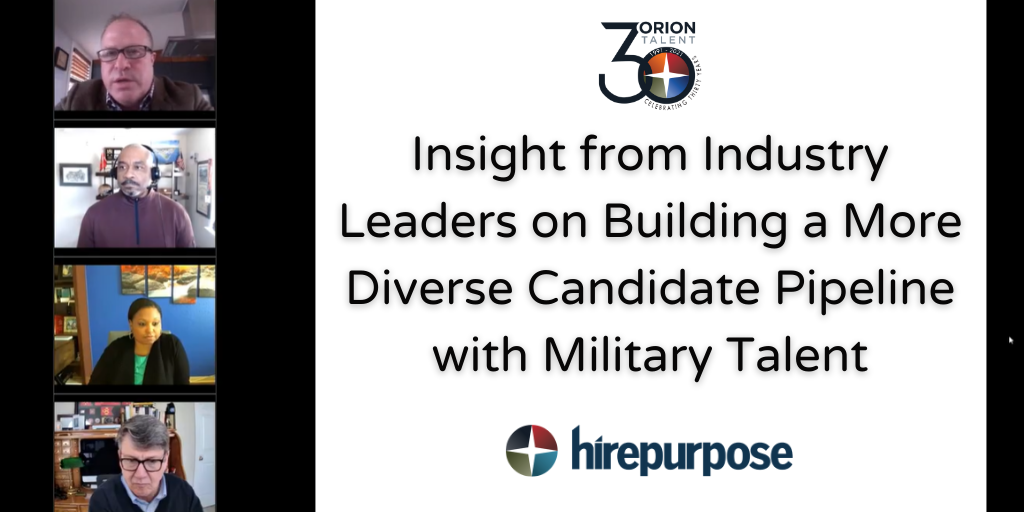 Last month, Orion Talent and Hirepurpose hosted our second virtual summit, Build a More Diverse Candidate Pipeline with Military Talent, featuring David Lee, Director of Military Community Initiatives of CVS, M.K. Palmore, VP Field Chief Security Officer (Americas) of Palo Alto Networks, and Christianna Casanave, Director of National Accounts and Talent Programs at Orion Talent. Moderated by Hirepurpose Co-Founder Steve Amsden, the hour-long webinar featured the panelists' proven diversity recruitment strategies.
David, M.K., and Chris presented powerful insight into how to transform the recruiting and talent lessons of 2020 into tomorrow's workforce successes. Following the webinar, we received additional questions and thought the answers provide further clarity for anyone interested in diversity, inclusion, equality in the talent acquisition process.
Q: I've been tasked with launching our ERG's. MK, could you please tell me about your role as Executive Sponsor for an ERG? How often do you meet with your sponsee(s)? Do you think your role as an Executive Sponsor help with employee retention?
MK: As an executive sponsor, I act as a conduit and strategic leader for the group's efforts. The ERG has a core group of approximately 4 leaders who come from all levels within the organization. The executive sponsors are VP level and above. We are expected to surface concerns of the group; provide a conduit/audience, when necessary, with C-Suite execs to discuss plans and issues; provide oversight and assistance with ERG strategic planning. I meet with the ERG team bi-weekly and interact with all ERG members via a company Slack Channel weekly.
Q: I've found in some analysis of performance and tenure with Veterans that while higher performance than other sources of talent and backgrounds, the length of service was far below the average of all employees. What have you seen that can positively impact the retention of veteran hires? Are there any trends in the retention of veterans that you can share with employers to improve upon their vet programs from a retention standpoint?
David: LinkedIn did a study and found that veterans have a longer tenure than non-veterans. However, I think it comes down to a few things. First, how do you onboard them specifically if those you hire recently left the military? Second, are your managers talking to them about growth potential during the first year of employment? While in service, most veterans were used to moving to new jobs between 12-24 months. Veterans who haven't been out of service very long may still feel the need to move to new roles, and, if no one addressed growth opportunities with them and the typical timeline, they may leave feeling they are not valued, when in fact they are.
Q: How does CVS capture Military Spouse/Family information?
David: We ask a series of questions during the application process and again during onboarding. These included 1. Have you ever served in the military to include the National Guard and reserves? If they answer yes we ask 1A. Are you a protected veteran? 1B. What date did you leave service? 2. Are you the spouse or partner of someone who has or is serving in the military? 3. Are you a family member of someone who has or is serving in the military.
Q: How do you get to the bases/camps in a COVID world?
Chris: During COVID, we are doing less face-to-face interaction with the military bases. That said, we have been able to maintain our relationships with the military bases where we are directly put in touch with transitioning candidates getting out of the service on a referral basis. We communicate with candidates virtually, over the phone, and via text.
Q: What is Siemens doing to retain its veteran talent?
Chris: Siemens does a great job of matching up their military hires with mentors after they are onboarded. They started a Veterans Counsel that focuses on retaining veterans via helping to identify their military veteran employees so they can build support programs and affinity groups around them. Siemens also markets itself as an employer of choice to military veterans, which helps build the culture. Siemens does a great job of clearly defining what a career path for military veteran hires can look like and highlights success stories within the organization.
We hope these responses help you to further diversify your candidate pools via veteran and military talent recruitment. Check out the full free webinar here and visit Orion Talent online to learn more about our Military Talent Solutions.

RSS Feed
Subscribe to Orion's Blog