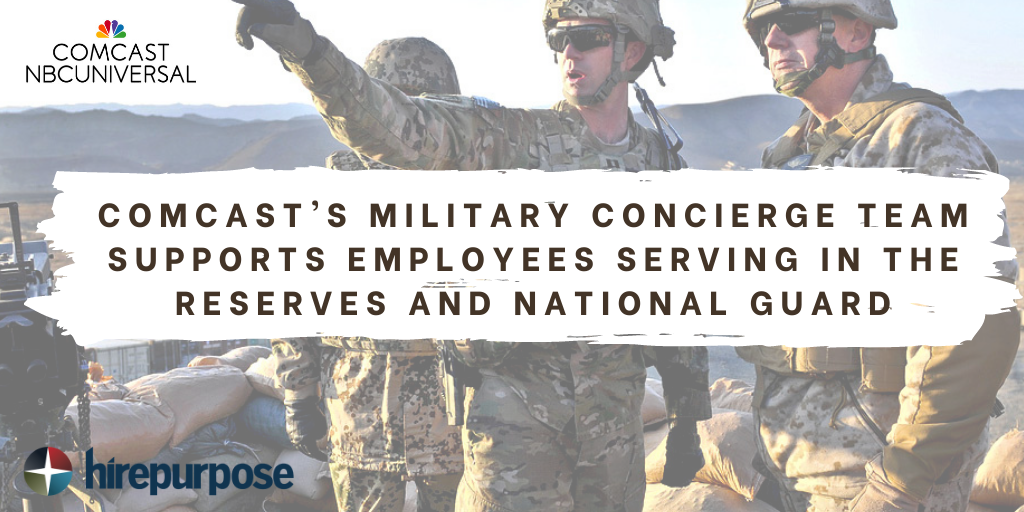 As one of the nation's leading military-friendly organizations, Comcast NBCUniversal assures its commitment to veterans, Service members, military spouses, and their families with an extensive array of benefits and programs tailored to the unique needs of the military and veteran community. One of these elements, the Comcast NBCUniversal's Military Concierge program, specifically supports Comcast employees who deploy as members of the National Guard and Reserves.
"As a Military Concierge, my role is to provide support for our military Service members," says Andrew Furlong, a human resources specialist and a member of the Military Concierge Team. "Some of the things I do in this role are placing employees on their military leave of absence and helping them transition back to the workplace when their duty is complete. I also stay in touch with our military employees while they are fulfilling their military duties in case they have any questions that come up in managing their day-to-day responsibilities, making sure they're aware of the Comcast military benefits and that they're utilizing everything properly and not missing out while performing their military duty."
Furlong is part of a unique team that Comcast NBCUniversal officially launched Jan. 1, 2016, but has grown to accommodate and support hundreds of Comcast employees who also serve in the National Guard and Reserves. As employees prepare for mobilizations or Reserve Duty, there are significant affairs to manage both personally and professionally. The Military Concierge Team removes the stress for these employees and coordinates on their behalf with the various departments to ensure a smooth transition both on and off military orders. "We routinely collaborate with other groups within Comcast," says Furlong. "I connect daily with local management to make sure that they understand military leave and duty and are providing full support to our employees," he explains.
Furlong and the rest of the Military Concierge Team also play a pivotal role in partnering with the payroll department to help employees with their military supplemental pay benefit, a great benefit that ensures employees do not have a gap in pay while on military orders. The Team also coordinates with other departments such as Comcast Legal and Compliance to ensure that any changes that occur while on military orders are executed within the framework of the Uniformed Services Employment and Reemployment Rights Act (USERRA) to make sure Comcast supports its military employees to the best of its ability. "The bottom line is it's my job to make sure everything is managed as quickly and orderly as possible for our employees who serve in the National Guard and Reserves to depart on military orders and go do their jobs," he says.
Since its inception, the Military Concierge Team has supported hundreds of deployments and mobilizations supporting global missions, natural disasters and most recently, deployments supporting COVID-19 operations. "Our employees are going to potentially be in a dangerous situation. They'll be on the front lines somewhere, so we want to make sure that we don't have anything to stress or worry about at Comcast, allowing them to fully focus on their assigned military mission," Furlong explains.
The employee resource group, Veterans Network, or VetNet, also provides support to all Comcast employees who want to support the military community. The group, like all ERGs, allows employees to connect, communicate, and meet with other like-minded individuals and families. "And you don't have to be a veteran or Service member to join the group," says Furlong. "VetNet is made up of a group of employees across the organization who have or are serving and those who want to support them and their families. It's tremendous to see what this group does both to support the military community at Comcast, but also to see what it accomplishes in their local communities," he says.
Comcast NBCUniversal's enduring commitment to supporting those who have dedicated their lives to service extends beyond just hiring a few transitioning Service members, veterans, or military spouses. From its military hiring initiatives to the Military Concierge Team to VetNet, Comcast NBCUniversal truly is more than just military friendly; they are military ready.
Working at Comcast has really shown me what it means to be part of a team, says Furlong. "Every job I had, I stayed in my own lane and I really just got my job done. Coming here really expanded my mind, seeing that Comcast is really a place where working together and collaborating is so important. It's so encouraging," he continues. The pride I see that our military employees have both in their mission and Comcast, gives me so much pride in what I do," says Furlong. "We are a family, so if you join the Comcast Team, as a Service member or civilian, be ready to meet your teammates and start working together from day one."
Author: Alison Marcua
The following story highlights a veteran at Comcast, committed to including talented members of the military community in its workplace. Comcast is a client of Hirepurpose, an Orion Talent company. Learn More.

RSS Feed
Subscribe to Orion's Blog