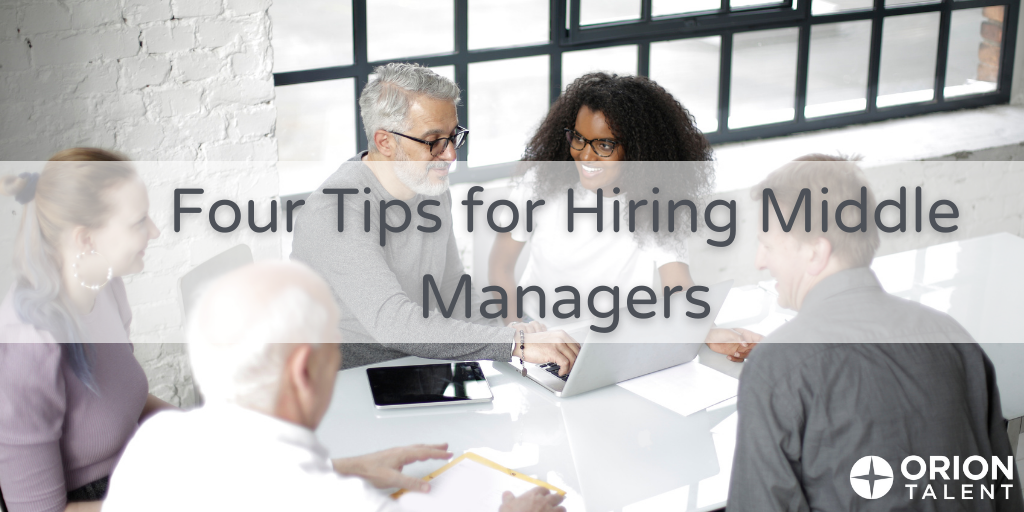 The COVID-19 pandemic has changed the way we work and has exposed weaknesses in many current workplace practices. One of those is the way in which we hire middle managers. Jim Perdue, Director of Professional and Executive Search at Orion Talent, recently wrote about this particular issue for Recruiting Daily. "Middle managers ... have had it particularly tough during the pandemic...As a result, middle managers are either searching for new jobs or using the pandemic as an opportunity for promotion to leadership positions," writes Jim.
In his article, he explores four ways in which hiring criteria for mid-level managers need to change:
1: Hiring profiles must start with strong leadership and communication skills. Below average mid-level managers are struggling even more today because they lack the leadership skills to effectively support remote teams.
2: Promoting from within can backfire. There is no guarantee these individuals have the creativity, flexibility and communication skills to lead − particularly during a crisis.
3: Candidates must demonstrate their ability to lead up and lead down. They must be able to simultaneously understand the "why" from above while making it reasonable and actionable for their teams.
4: Helping employees get to the next level is part of the job. Managers who feel threatened by advancing others are in no position to lead.
Instituting these "long-overdue changes" can help you hire great mid-level managers with the right mix of character and experience who can lead through the current public health crisis and beyond. Check out Jim's full article here to learn more about his four tips.

RSS Feed
Subscribe to Orion's Blog