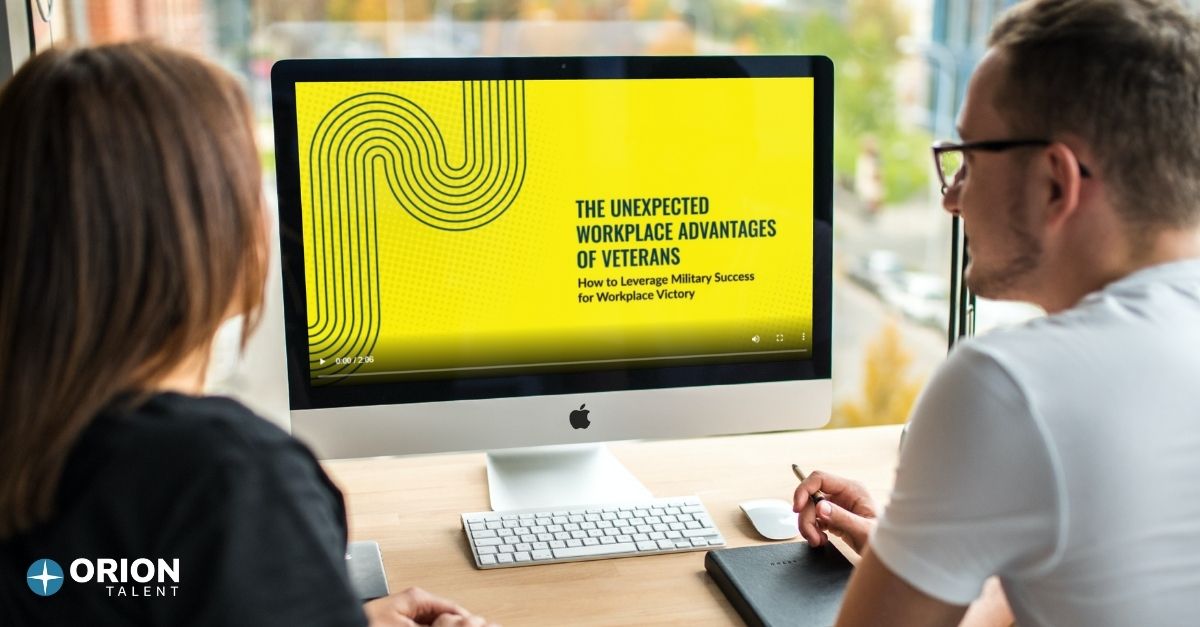 Last month, Orion Talent gathered a panel of talent acquisition leaders and military veterans to explore the numerous and often surprising benefits of hiring military in our webinar, The Unexpected Workplace Advantages of Veterans: How to Leverage Military Success for Workplace Victory. The overwhelming consensus was that when businesses successfully recruit, onboard, and retain this highly sought-after talent, they gain highly skilled leaders and technicians who excel in any environment.
David Coe, SVP Talent Programs at Orion Talent, moderated the one hour webinar with guests Christianna Casanave, Army Veteran and Director of National Accounts and Talent Programs at Orion Talent; Christy Harper, Director of Talent Acquisition at Lutron Electronics; Rich Williams, VP of Special Operations at Lineage Logistics; and Mike Wooster, Navy Veteran and Vice President Recruiting at Orion Talent. Their insights are compelling as they represent executives who made the transition from the military into successful careers, as well as hiring managers and talent leaders with rich experience in military hiring.
Key Takeaways
Check out our short (two-minute) video below featuring Key Takeaways, including:
What might surprise you about military talent?
What's a surprising lesson you learned in the military?
What's a common skill from your military hires that surprises and delights you?
What are some unexpected military skills that thrill employers?
Download the Webinar
You can also watch the full webinar for an unfiltered look at the advantages, considerations, opportunities, challenges, and numerous benefits of hiring military. And get more insight into other talent acquisition topics focused on DEI in our Diversity, Equity & Inclusion Webinar Series. These webinars share practical advice and takeaways you can implement right away.

RSS Feed
Subscribe to Orion's Blog