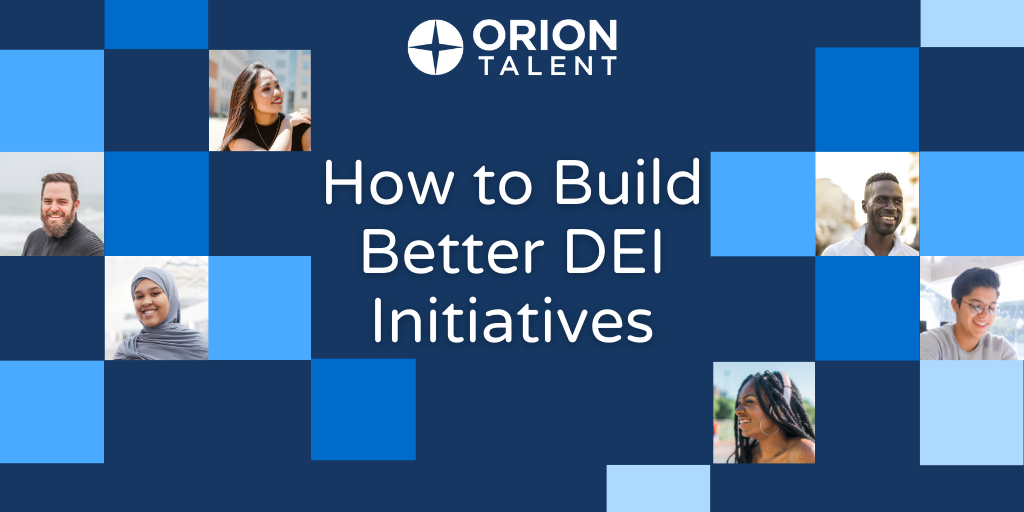 Building Better DEI Initiatives
Last year brought many diversity challenges to the forefront and is resulting in great change in the way companies do business. 2021 presents the opportunity to build workforce programs and pipelines that can better meet diversity, inclusion, and equity ambitions, better acknowledging that DEI is more than an acronym.
The goal post has moved beyond simply identifying diversity gaps as companies work to build and sustain diverse and inclusive cultures. And, as Amber Cabral writes for Fast Company, "When it comes to diversity, equity, and inclusion (DEI), knowledge of the problem isn't enough. In order to begin to see true change, we'll have to roll up our sleeves and get to the messy, everyday work of inclusion." In her article, she lists six ways DEI is evolving in 2021.
1. REMOTE WORK WILL BE MORE COMMON.
Many companies were resistant to remote work before the pandemic, but its necessary adoption continues to broaden the talent pool and create opportunities for inclusive working and hiring practices.
2. WORKFORCE DIVERSITY WILL CHANGE.
Pipeline problems are no longer an excuse. With access to talent in any location and appropriate recruitment strategies, businesses should be able to attract, engage and nurture a diverse pool of candidates at scale.
3. INCLUSION WILL BECOME ACTIONABLE AND QUANTITATIVE.
This is perhaps the biggest step forward. According to Amber, we will see performance appraisals tied to bonuses and compensation, formalized training, and diversity and inclusion numbers showing up on annual reports. But, as this article in Forbes notes, in order for this to yield results, the capture, storage, and protection of data must also improve.
4. NON-INCLUSIVE COMPANY CULTURES WILL IMPACT CONSUMERS' LOYALTY.
Now, more than ever, customer loyalty is tied to perceived company values. This study showed that corporate social responsibility initiatives are significantly and positively associated with corporate reputation, customer satisfaction, and customer trust.
5. MARKETING WILL SHOWCASE GREATER DIVERSITY.
Cabral writes that marketing and advertising campaigns will reflect a range of consumer diversity especially among apparel and consumer packaged goods. However, it is important to not only concentrate on your external messaging while ignoring the important internal work.
6. MORE ALLIES AND ADVOCATES WILL EMERGE TO CALL OUT RACISM AT WORK.
DEI initiatives will be more manageable to implement and maintain, as more people are emboldened to call out injustice at work.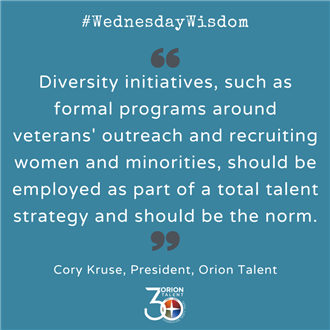 Put it into Action
These goals are best fulfilled by incorporating these five strategic DEI dimensions outlined by HR Executive:
Compliance
Awareness
Talent integration
Operations integration
Market integration
DEI should be a priority in your talent acquisition process. Keep these six trends and the five elements above in mind as you work to create a successful diversity and inclusion strategy.
Welcome to the Party
Verna Myers, a diversity and inclusion expert, coined an increasingly popular and pertinent phrase - "Diversity is being invited to the party; Inclusion is being asked to dance." This has been expanded even further to add that "Equality is being asked to pick a song." As companies work to realize this type of culture through the creation and sustainment of policies that promote the representation and participation of different groups, they will realize a better culture and ultimately a better bottom line.
Orion Talent's DEI Webinar Series
You can find more expert insight in our Diversity, Equity & Inclusion Webinar Series, covering challenges and best practices across all aspects of DEI within organizations. You'll gain practical advice and takeaways you can immediately implement.
Sign up for More Diversity Insights

RSS Feed
Subscribe to Orion's Blog