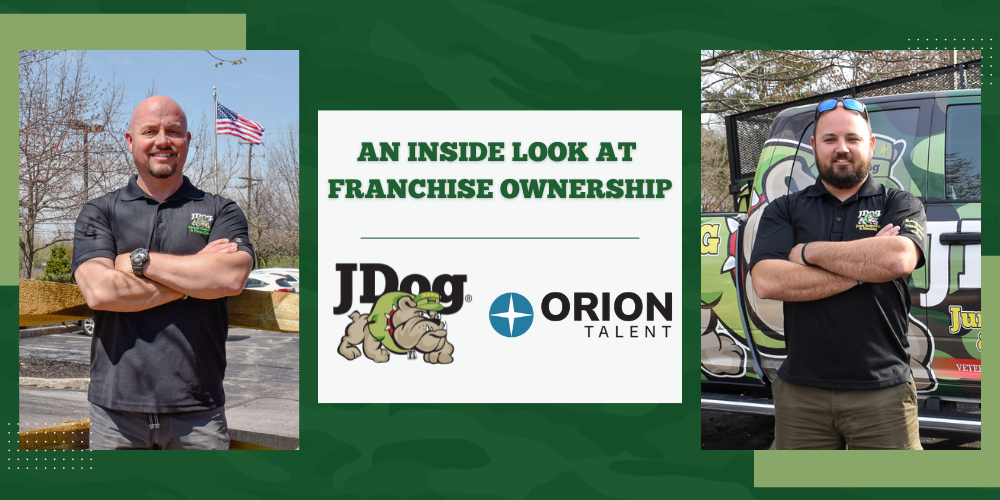 Are you ready to become your own boss in 2023? JDog Brands recently hosted a webinar that provided a behind-the-scenes look at franchising with JDog, and answered audience questions about the buy-in process, business ownership, day-to-day operations, and more.
With more than 50 million customers, JDog Junk Removal & Hauling and JDog Carpet Cleaning & Floor Care offer franchise opportunities exclusively to Veterans and their families. In fact, over 90% of their franchise owners are Veterans.
Franchisees Share Their Stories
During the webinar, Terry Corkery, VP of Franchise Development, was joined by JDog Franchisees and USMC Veterans Zac Turner and Jon Binzer, who detailed their decision to become business owners with JDog, as well as the success they've experienced.
Jon researched the junk removal business extensively before he learned about JDog Brands and initially considered launching a junk removal business on his own. As he learned more about JDog and worked through the initial onboarding process, he was pleased to learn how comprehensive the training was. Jon appreciated all the assistance and training JDog offered, as well as the connection with other Veteran franchise owners. Today, he's much farther along on his business journey than he would be if he had done it on his own.
Jon highly recommends learning more about JDog. "The training was awesome. I learned a lot in a classroom setting," says Jon, "Then you actually get to go out and do physical, on-the-job training with a local franchise, and it's great. You really get to see a-day-in-the-life of a JDog franchisee."
Zac was interested in franchising prior to hearing about JDog. He researched various opportunities and he met with owner-operators to learn about their experiences. Zac wanted to be in business for himself, but not by himself. He narrowed down his options and found JDog. When Zac attended Discovery Day at JDog Headquarters, he immediately felt like part of the family and was impressed with how the company's values reflected those of the Marine Corps.
Zac's business has grown a lot over the year and he's looking forward to what's ahead. "This is the 4th business we've been involved with, and it's been the most fun, for sure," he says. Early on, Zac says he was constantly on the phone with JDog Headquarters and was never made to feel like a burden. "Headquarters is there day or night for us, every step of the way. They make sure all of our questions get answered," Zac says.
Audience Questions
The webinar concluded with questions from prospective franchise owners, including:
Was your business operational on Day 1? Did you have a team and customers?
What kind of advertising are you doing?
What are some of the biggest things you've done to get the amount of business you're getting?
Is there a population minimum suggested for success?
What advice do you have for a Vet without a nest egg to invest?
Where do you see JDog in 4 years?
Ready to Learn More?
Whether you've been considering franchise ownership for a while or are just beginning your research, feel free to reach out today. The team at JDog Brands is happy to answer your questions and help you decide if franchise ownership is the right path for you.

RSS Feed
Subscribe to Orion's Blog