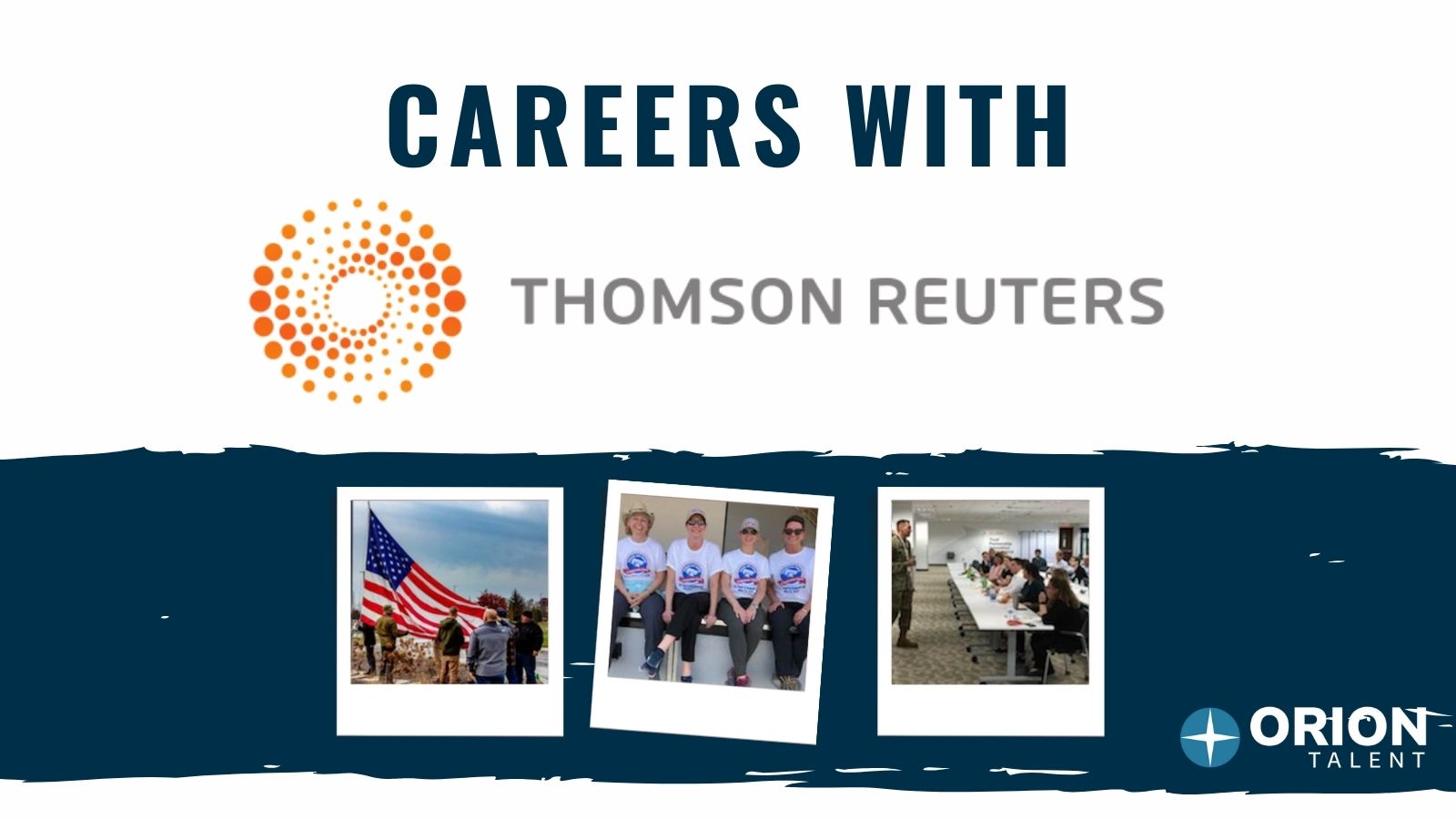 Orion Talent has partnered with Thomson Reuters, a leading provider of business information services, to offer rewarding careers for transitioning military and veterans.
"When my deployment ended in 2017, my direct manager was my strongest ally returning to work."
The Veterans Network at Thomson Reuters
The Thomson Reuters Veterans Network exists to bring awareness to veterans in the workplace, show appreciation for those who have served or are currently serving, and as a support group for employees who are active Army National Guard and Army Reserve members.
The Veterans Network also supports those transitioning from active duty to civilian life and the workplace setting. To raise awareness, Veterans Network members inform and assist managers and team members at Thomson Reuters regarding the roles and responsibilities of today's Guard and Reserve employees.
Johnny, a Global Client Account Executive and Infantry Captain, values the support that Thomson Reuters has for veterans and military members. "During my year-long deployment, my colleagues sent care packages and thank-you notes," Johnny recalls. "When my deployment ended in 2017, my direct manager was my strongest ally returning to work."
"They encouraged me to take my time in returning to work, per Thomson Reuters policies that support Soldiers after a deployment. After spending a month at home with my family, my manager ensured my return to my role on the sales team and really supported me in my post-deployment transition."
Thomson Reuters has also been named a Yellow Ribbon Company for its commitment to proactively support and recognize service members, veterans, and military families.
Check out this video to learn more about The Veterans Network at Thomson Reuters:
Careers with Thomson Reuters
As a global organization, Thomson Reuters value all candidates and is proud to be an Equal Employment Opportunity/Affirmative Action Employer.
The company is powered by the talents of 24,000 employees across more than 75 countries, where everyone has a chance to contribute and grow professionally in flexible work environments that celebrate diversity and inclusion. At a time when objectivity, accuracy, fairness and transparency are under attack, Thomson Reuters considers it their duty to pursue them. Sound exciting? Join Thomson Reuters and help shape the industries that move society forward!
Thomson Reuters is looking for veterans like you for the following positions:
Electrician (2nd Shift) - Eagan, MN
Customer Operations Manager - San Francisco, CA
Sales Specialist, Inside (Practical Law) - Eagan, MN
About Thomson Reuters
Thomson Reuters' products include highly specialized information-enabled software and tools for legal, tax, accounting and compliance professionals combined with the world's most global news service – Reuters. Thomson Reuters help professionals do their jobs better, creating more time for them to focus on the things that matter most: advising, advocating, negotiating, governing and informing.
Find out More

RSS Feed
Subscribe to Orion's Blog