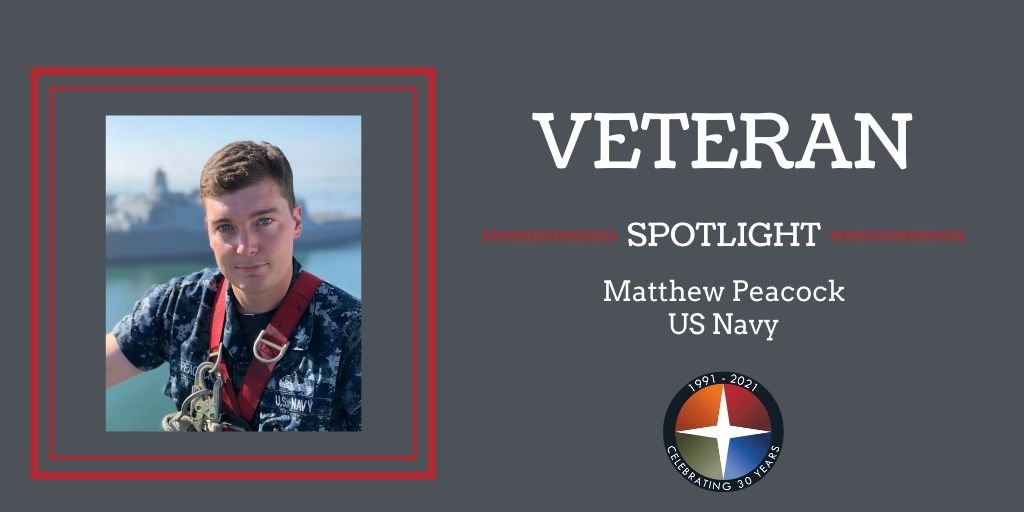 This week, we're proud to profile Matthew Peacock, a Navy Cryptologic Technician who was recently hired by Catalent Pharma Solutions as a Lab Materials Technician in San Diego, CA. Matthew worked with Orion during his terminal leave to find his civilian career. He was able to accept his new position prior to his full separation, and started shortly thereafter.
Matthew recalls his job search process as relatively easy. "The easiest part of separating was finding resources to help transition out," he recalls. "If you look in the right places, you will be flooded with organizations and groups that help veterans and transitioning military. That is how I found Orion!"
Matthew's new role as a Lab Materials Technician primarily involves working in a lab for Laser Energetics, which conducts physics experiments including research on fusion power. The role is heavily engineer-based, and even though Matthew does not have formal schooling as an engineer, he attributes his experience in the Navy as vital in helping him obtain his new role at Catalent Pharma Solutions. "I was able to sell my military experience working with electronics and equipment to get the position," he explained.
Matthew recognized that the qualities and skills that he acquired in the military have been vital in helping him obtain his new role, and will help other veterans who are looking for civilian jobs as well. "I think being a veteran gives us an edge," he stated. "Hiring managers know that veterans have been in stressful situations where we have had to adapt and learn. We are capable of teamwork on a level that I think is higher than many civilians. And I think being in the military puts people in a situation where they have to produce results to get a job done," he said.
Lastly, Matthew offered some advice for transitioning military and veterans who are looking for a civilian career, most notably to understand how valuable the military skillset is to corporate America. "Learn your worth! Look up what careers you would be interested in, and pay attention to the salary ranges. If you get offered a salary, don't be afraid to ask for more!"
If you are transitioning soon or are a veteran looking for a civilian career, join Matthew and the thousands of others like him who have found rewarding careers through Orion Talent. Register today to begin your career search with Orion.
We want to hear from you! If you would like to participate in our next Veteran Spotlight, email Bethany Howe to be featured.

RSS Feed
Subscribe to Orion's Blog