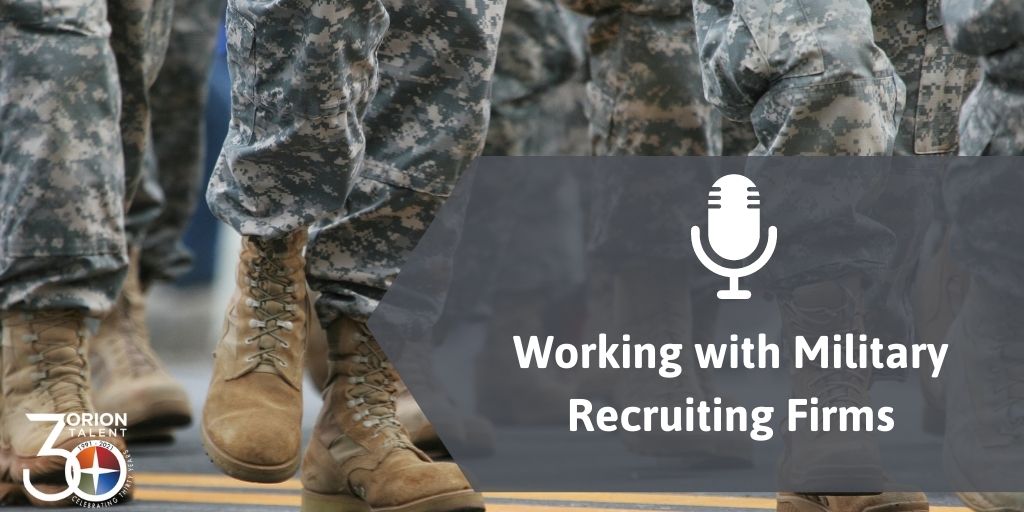 Jim Bergren, a former Air Force Officer, joined our podcast From The Battlefield to the Boardroom to discuss his own transition from the military, working with Orion, and the importance of attending a Hiring Conference. If you are a transitioning military member wondering how Orion can help you find a civilian career, Jim offers insights into his own experience that can prove helpful to your own job search.
"Transitioning from the military can be scary," Jim admitted. However, when faced with the decision whether or not to stay in the military, Jim ultimately chose to enter a civilian career path, citing that he wanted to be more in control of his own career. "I wanted to be able to take control of where I was heading, being able to live where I wanted to live," he explained.
In addition, Jim realized the benefits that entering a civilian career could have on his own job progression. "In the corporate world, the opportunities for promotion are a lot better in terms of your schedule," he continued. For all transitioning military, the soft skills that veterans possess - leadership, teamwork, discipline, and drive, are valued in companies, which puts veterans in a good place to find a career outside of the military.
When the time came to actively pursue a civilian career, Jim looked to social media. "I updated my LinkedIn profile to say that I was a transitioning military officer, and a Recruiter from Orion saw that and reached out," he explained. Jim was confident in Orion's abilities to help him pursue a career after the military. "I immediately could tell the difference between Orion and some of the other recruiting firms I worked with," he added. "I knew that with Orion, I was going to be in good hands." What stood out the most to Jim was how Orion handled the process, especially hiring conferences.
An Orion Hiring Conference offers a unique experience for transitioning military members looking for a civilian career. "I first sat down with a Recruiter, who coached me and other candidates on how to interview," Jim stated. In addition to interview preparation, an Orion Hiring Conference also offers veterans the chance to hear from the companies looking to hire military members. By hearing company presentations firsthand, attendees are able to gain a clearer picture of the company culture, history, and positions for which they are interviewing. "[This] helped me to focus on what I really wanted to do after the military," Jim added.
Orion's Hiring Conferences are "not just another job fair," Jim explained. "The value is amazing for personal improvement, and seeing what the opportunities are [in the civilian world]." Working with Orion was "a breath of fresh air," Jim said. "I've learned a lot through the whole process on how to get a job."
If you are transitioning from the military soon and are ready to begin your career search with Orion Talent, register today. To learn more about Jim's experience and insights, listen to the podcast now.

RSS Feed
Subscribe to Orion's Blog