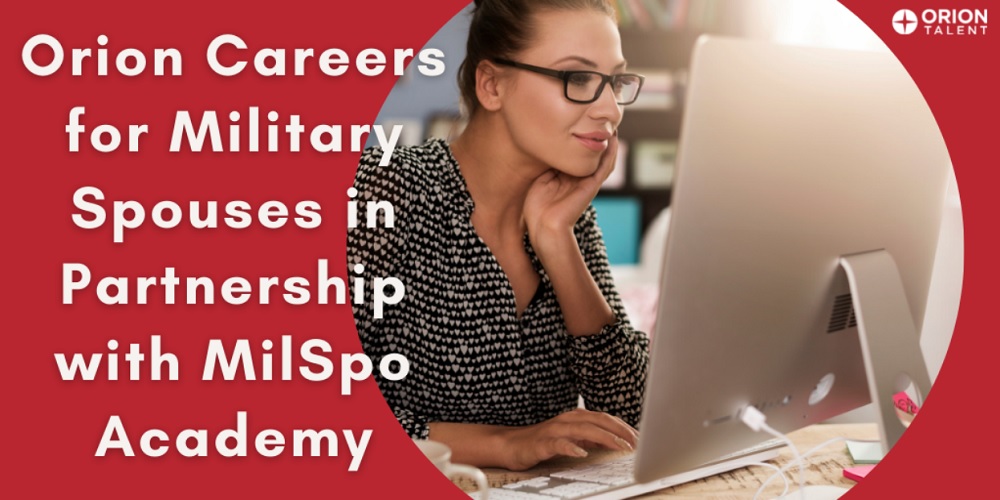 Orion Talent has partnered with MilSpo Academy to offer scholarships to military spouses who are passionate about a career in Business Development or Recruiting, resulting in a career with Orion Talent upon graduation.
MilSpo Academy is a program designed to help military spouses find meaningful careers. The program allows military spouses to learn at your own pace, within your own time and schedule. They offer one-on-one sessions with a certified coach and a student success manager dedicated to helping you succeed. The Academy has an experienced faculty of certified coaches to help you in your learning path. All of the courses end with you taking Industry Leading Certifications, five weeks of dedicated job assistance, and lifetime access to their Career Development Center.
MilSpo Academy has done its research ensuring that the career paths they train for are in high-demand, in high-growth industries, offer great starting pay, and are portable/remote. MilSpo Academy proudly offers industry-certified training programs in Business Development and Recruiting that will help jumpstart your career with Orion Talent.
Orion Talent's Business Development and Recruiting opportunities are a great fit for military spouses who are highly motivated, driven, energetic, and have a passion for helping others find the right career.
If chosen, you'll be offered a full or partial scholarship to join MilSpo Academy, where you'll get personalized training for your career with Orion Talent after graduation.
Our next round of sponsored spouses will be chosen by July 21, 2021, with a start date of August 2, 2021. Learn more or apply to the MilSpo program for a Business Development or Recruiting career with Orion Talent.

RSS Feed
Subscribe to Orion's Blog