Consistently ranked as one of the best places to work in the federal government, the United States Patent and Trademark Office (USPTO) has been serving the economic interests of America for more than 200 years. The USPTO is the federal agency responsible for granting U.S. intellectual property rights for patents and trademarks. The agency's efforts have provided inventors exclusive rights over their discoveries. Such efforts continue to contribute to a strong global economy, to encourage investment in innovation and cultivate an entrepreneurial spirit for the 21st century. This work spurs the kind of American innovation that can change the world.
The USPTO is strongly committed to hiring the nation's veterans and aims to be the employer of choice for veterans. USPTO's veteran employees have a proven track record of success after transitioning from the military into federal service. Veterans meaningfully contribute to the USPTO's mission that provides a system of protection to safeguard American ingenuity through new ideas and investments in innovation and creativity.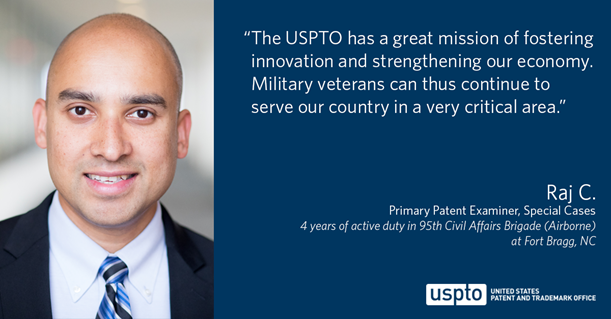 View the video below to hear three veterans share their transition from military service to a career with the USPTO: http://bit.ly/PTOMilitaryMakeover
The USPTO is currently seeking Patent Examiners to join its team at the Alexandria, VA headquarters. As an examiner, you will focus on analyzing advanced, complex concepts that ultimately protect American intellectual property (IP) and breakthrough inventions.
The USPTO currently has Patent Examiner openings supporting each of the following disciplines:
Biology
Biomedical Engineering
Chemical Engineering
Computer Engineering
Computer Science
Electrical Engineering
Mechanical Engineering
Please visit us online to learn more and apply for these excellent career opportunities.
Upcoming Recruitment Event:
Join USPTO subject matter experts (virtually) as they discuss patent examiner careers at the #USPTOJobs Patent Examiner Virtual Recruitment Open House on Tuesday, March 9th - 2p – 3:30p EST. In addition to learning about the work of patent examination and hearing from those who love what they do, attendees will get a chance to speak with recruiters to answer questions and discuss qualifications. Learn more and register to attend online.

RSS Feed
Subscribe to Orion's Blog