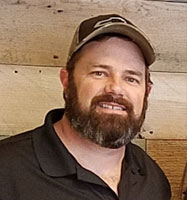 Keith, Equipment Tech

Keith served 20 years in the U.S. Marine Corp where he was an Electro-Optical Ordnance Repairer, handling repairs of everything from night vision equipment to small missile systems and lasers. During this time, he also received an associates degree in general studies and attended numerous military schools - both job and leadership related. After retirement in 2015, he joined Qorvo. "I found Qorvo when I attended a job fair and then was contacted by Orion," says Keith. "While interviewing with my 'would be' manager, he explained the semiconductor industry and the exciting role Qorvo plays in it and I was sold."

Once at Qorvo, Keith found that his technical skills training as well as the traits he attained in the military provided a smooth transition into his new role. "Beyond the technical knowledge one gains, the military also instills qualities like dedication, dependability, commitment, courage, loyalty, and many others that stay with you the rest of your life," says Keith. "All desirable characteristics that have served me well in my civilian career."

While Keith values the benefits - good pay, 401K and an employee stock purchase program - the real incentive is working with the people around him. "The work environment is both challenging and rewarding," says Keith. "And I get to work with some really great people in my group. That is my biggest reward. It's a gratifying situation when you have a good working relationship with your co-workers."