Free Career Placement Services for Transitioning Military Officers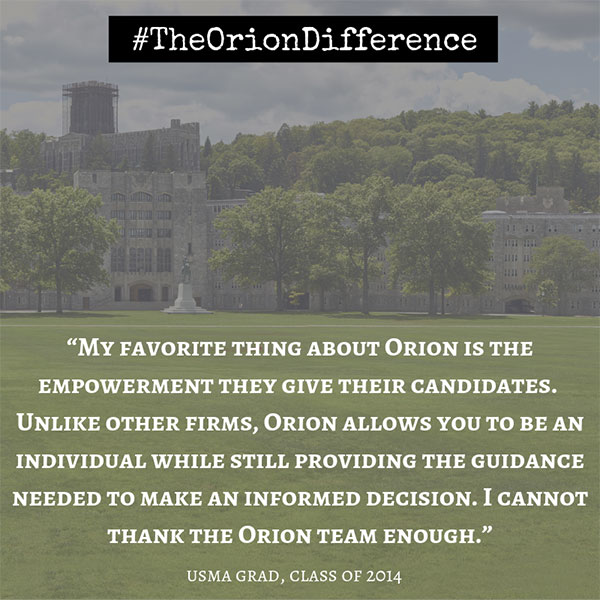 Orion is the nation's largest military career placement firm. We find civilian careers for the top 15% of Junior Military Officers leaving Active Duty, as well as veterans who have already transitioned but are seeking a career change. We are proud of the high caliber opportunities we have available for graduates of our nation's Service Academy graduates. Orion's team of former Officer Recruiters will help you make the transition into the civilian workforce by matching your skills and career goals with opportunities within America's finest companies.
Orion will work with you to build your resume, provide you with transition advice and assistance, prepare you for interviews, and arrange interviews for positions that are a match with your background, qualifications, and desires.
Career Services for US Military Academy Graduates
All of Orion's job seeker services are completely FREE of charge, as we are paid by the companies who hire us to recruit and prepare qualified candidates. As a graduate of the US Military Academy and an experienced Military Officer, you have many traits that are sought out in the civilian workforce and experience unmatched by your civilian peers.
Orion works with the most dominant list of corporate clients in the industry, and we are the leaders in providing our candidates superior corporate exposure and the most thorough resume and preparation assistance.
Orion's Military Officer Transition Program is a thorough educational program designed to put your preparation 'to do list' in a logical sequence of events to be completed in the months leading up to your transition. The program is comprised of a series of informative webinars, self-paced instruction, interview preparation, and individual calls with your recruiter.
Our Distinguished Candidate Conferences are designed to present high growth careers for our top transitioning Officers, and feature Operations Management, Engineering, Leadership Development and Sales roles throughout the nation. Additionally we hold frequent hiring events onsite at our clients' facilities which feature campus tours, meet and greet opportunities, multiple stages of the interview process in a single day, and unmatched insight into the culture and work environment of the company.
Recent Careers for USMA Grads through Orion
Project Manager with Siemens in Portland, OR
Clinical Sales Associate with Intuitive Surgical in Chicago, IL
Service Supervisor with Otis Elevator in Fairfield, NJ
Senior Engineer with ONEOK in Tulsa, OK
GIS Analyst with Whirlpool in Benton Harbor, MI
Manufacturing Engineer with Honeywell in Urbana, OH
Shift Leader with Owens Corning in Chicago, IL
Ready to get started?
Registering on our site will give you access to Orion's Recruiting Team so that we can begin to plan to help you through your transition. Registration takes just a few minutes and is the first step to finding your next career with Orion.
You will be assigned an Officer Recruiter within 48 hours who will contact you to establish a timeline and transition plan.
Please contact Tim Isacco, Chief Operating Officer (USMA '88), at (984) 208-3965, or tisacco@oriontalent.com if you need additional guidance or assistance at any point in your preparation or transition process.