Friday, January 1, 2021
In This Issue
Orion Talent is Celebrating - 2020 HIRE Vets Gold Medallion & 50,000th Veteran Hire
How to Navigate COVID-related Hiring Obstacles with Outsourced Recruiting - Part 2
5 Talent Management Metrics Your Company Should Know and Use
Guide to Employer Branding and Recruitment
On-Demand Virtual Hiring Events Through Orion Talent
Refer a Military Job Seeker or Client Company to Orion
Orion Talent is Celebrating - 2020 HIRE Vets Gold Medallion & 50,000th Veteran Hire
We are proud to continue our mission nearly 30 years after our founding. Within our Military Team, our dedication to our military colleagues drives everything we do.
And, so it is with great pride that we celebrate the fact that we have just reached our 50,000th military hire and have been recognized as a Gold Medallion recipient of the 2020 HIRE Vets Medallion Program Award.
2020 HIRE Vets Gold Medallion Award
In early November, the U.S. Department of Labor recognized Orion Talent as a Gold Medallion recipient of the 2020 HIRE Vets Medallion Program Award during a live stream ceremony hosted by Secretary of Labor Eugene Scalia at the Department's headquarters in Washington, D.C.
Signed into law in May 2017 by President Donald J. Trump, the HIRE Vets Medallion is the only federal-level veterans' employment award that recognizes a company or organization's commitment to veteran hiring, retention, and professional development. This is the second year that Orion Talent has received this prestigious recognition.
Orion Talent's 50,000th Veteran Hire
Additionally, Orion Talent is proud to announce it has reached the important milestone of 50,000 veteran hires. (See more about this achievement in the infographic below.) These veterans have been matched with rewarding careers across all industries, in all 50 states and 15 different countries. These service members represent all branches of services from the Enlisted, Non-Commissioned Officer (NCO), Junior Military Officer (JMO), and Senior Military Officer (SMO) ranks. More than 8,700 companies have helped make this amazing milestone possible by relying on Orion Talent to provide top talent transitioning from the military.
A Message from our CEO
"I am pleased that Orion Talent has once again been recognized with a HIRE Vets Gold Medallion at the same time that we are celebrating our 50,000th veteran hire," said Mike Starich, Orion Talent CEO, who served as an officer in the Marine Corps. "Mason Graham graduated from the U.S. Naval Academy, where he played football, followed by a distinguished military career as a Marine Corps Officer. He epitomizes all of the attributes and intangibles demonstrated by transitioning service members and the values that they bring to the workforce. I wish him all the best in his new career as an Account Manager at Abiomed, a global leader in healthcare technology and innovation, where I know he will have a positive impact from day one."
When Talent Thrives, Business Wins
We are focused on helping people discover meaningful careers and businesses grow by finding, delivering, and engaging the best talent around the world. If you have open positions or talent challenges that we can help with, please check our suite of solutions.
How to Navigate COVID-related Hiring Obstacles with Outsourced Recruiting - Part 2
Last issue, we reviewed several new challenges COVID has presented to the recruiting world. But, in talking with our customers, there is one overwhelming item that has not changed - the need for good talent!
If companies are going to survive and grow in this environment, they will need to staff their business with good people. This week, let's review how an outsourced recruiting solution can help you navigate these challenges and ensure you are bringing the best talent into your organization.
FLEXIBILITY
How can I scale up with multiple hires over a month or two, when I don't have an idea of what I will need after that initial ramp-up period?
How can I find a recruiting partner that knows my business and can quickly adjust to the hiring demands of the business?
What type of provider can fill ten positions in one month and fifty in the following months, while keeping the same cost-per-hire?
An outsourced recruiting solution will solve these problems. It will give you unlimited flexibility, helping you navigate this uncertain market. Ultimately, you pay for the assistance you need! Through this solution, recruiters are assigned to a project based on the needs of the business, and we can scale up or down as needed.
COST EFFECTIVE
How do I find the best talent for my organization while maintaining a reasonable budget?
Overall, cost is always a concern, but now it is more important than ever. The average cost for a hire through a fee-per-hire solution is around 23%. Adding a full-time Recruiter to your team will cost salary and benefits. An outsourced solution will limit wasted resources and typically reduce costs by 35%. Your cost savings are multiplied when you combine this with the flexibility discussed above.
EXPERIENCE
What is driving candidate decisions?
Who are the major competitors for a particular skill set?
What is the average salary for the candidates we are looking for?
Experience leads to knowledge. Recruiters supporting outsourced solutions have built their careers around finding great talent. On average, our recruiters have 17 years of experience and they are in the trenches talking with candidates every day. This gives them the ability to understand the market.
Recently, our team was able to provide a customer with average salaries offered across five markets - information that will assist them in being competitive in those areas. Experienced recruiters are worth every penny. In addition to finding the best talent, they will shorten time-to-hire, energize your hiring process, provide you with knowledge of the markets, information on competitors, and any other data that is impacting your ability to compete for the best people while at the same time freeing up time for you to focus on other high priority initiatives.
TECHNOLOGY
How can I utilize top recruiting technology?
Through an outsourced solution, you will automatically have access to tools that will expand your reach within the candidate market and help create a better experience. Artificial Intelligence (AI) enabled platforms, data reporting software, applicant tracking systems and tools to help market your business are all available and will be managed through an outsourced recruiting partner. Combine this with experienced recruiters and you are putting yourself in the best possible position to attract and hire the best talent on the market.
PROCESS DRIVEN
What if we already have an effective Applicant Tracking System?
Will I lose control of my process?
Not with Orion Talent! Our goal is to seamlessly integrate with your team, technology, and environment. If you have an existing one, we will integrate our team into your system. Our goal is to provide tools & technology when needed, and to have our team of recruiters becomes an extension of your vision. This process-driven approach results in an average cycle time reduction of 15 days and over 90% hiring manager satisfaction rating with our customers.
So, what is the competitive advantage of outsourcing your recruiting, especially during the current economic environment?
The answer is straightforward - where else can you maintain control of your Talent Acquisition strategy through a cost-effective solution that provides experienced recruiters and access to technology, while also providing flexibility in an uncertain market? Recruitment Processing Outsourcing from Orion Talent is the answer. Visit How to Navigate COVID-related Hiring Obstacles with Outsourced Recruiting to learn more about these RPO Solutions.
5 Talent Management Metrics Your Company Should Know and Use
Talent Metrics Explained
Talent Metrics are an integral part of any talent management strategy. Evaluating employee performance, expenses, and turnover will provide important metrics that will help make strategic decisions. These include the latest statistics on Revenue-per-employee, improvement in the performance of New Hires, and ROI on Workforce Expenditures.
An article on HR Executive delves into the five ways to engage talent management metrics and provides great insight on which to reflect about how your organization is leveraging data.
Level 1 - Reactive
Basic operational metrics
Level 2- Proactive
Advanced reporting, including benchmarking and using data to make some decisions
Level 3- Strategic
More sophisticated analytics and trying to understand the cause of what might occur in the hiring process
Level 4 - Predictive Analytics
High-level metrics analysis where you are able to decide if your metrics are predicting outcomes
Level 5 - Deep Talent
This deep dive often comes with an automated process and predictive analytics. You are automatically collecting data, having it analyzed by algorithms, and getting AI-driven insights.
These metrics should be tracked on a continual basis to best illustrate where gains are being made and where you can improve. You will need these employee metrics to create a predictive trendline of data that a CEO can act on.
Revenue Per Employee
One of your most meaningful talent metrics is Revenue-per-Employee. This is the revenue generated per individual working at a company. Is your employee contributing to revenue at your business or costing it? Of course, you want a high RPE, which helps offset an employee's investment cost. Companies' largest expenses are usually salaries and benefits for employees, so this number reveals a lot. It can be calculated as:
Revenue per employee = Revenue /current number of employees
When utilizing this metric, it is important to keep in mind that CFOs widely accept this as the standard productivity measure. To CFOs, a higher Revenue-per-Employee typically indicates a more productive and efficient company.
The Improvement in the Performance of New Hires
The Improvement in the Performance of New Hires references the percentage improvement at which your latest new employee should operate as opposed to his or her predecessor. If you hire new employees at your business, and they are all operating at a higher level, then productivity has improved, as well as your key metrics.
First, determine the time period you want to assess. Is the first year enough? You need enough of a time period to evaluate if your talent management process is bringing in valuable employees. Also, take a look at the data to see if you are retaining your good employees and enabling them to increasingly drive revenue.
A word of caution here, though. It can be cumbersome to track every employee. So, you can simplify how you measure by only including employees whose performance can already be measured in dollars or numbers - think sales employees.
ROI on Workforce Expenditures
Simply put, Workforce Return on Investment is the ROI of the expenditures for your workforce. These expenditures include hiring, training, onboarding, and payroll. The formula is:
(Net profit resulting from the work of the workforce / (cost of hiring + cost of training and onboarding + payroll)) *100
Establishing this formula should show you ways in which you can cut labor costs to improve the bottom line. Workforce management software can help with this by evaluating time theft, administrative costs, payroll errors, and strategic scheduling.
Cost-per-hire
We have covered this extensively here. The gist is that a new team employee costs more than you might think in terms of both internal and external resources.This ratio, calculated as:
Cost per Hire ($) = (Total External Costs + Total Internal Costs) / Total Number of Hires
Calculating cost per hire is an essential step every HR and TA leader at a business should take to plan for the future. Download our free Cost-Per-Hire Calculator spreadsheet to get started calculating your total cost to hire.
Included with Cost-per Hire is Turnover Cost. What does it cost to replace the employee that just left? Here is the formula:
TC = CPH (cost-per-hire) + TRM (termination costs) + VC (vacancy costs) + LCL (learning curve loss) / THP (total terminations over a period of time)
This metric should be made known to managers. It may become apparent that professional training may be more cost-effective than termination. This metric often goes unquantified and means that money could be quietly lost each time someone leaves. This metric should guide how and when an organization makes termination decisions.
Prominence of Results in Annual Report
An annual report provides an analysis of the financial trends of the business over the past year. It illustrates the strengths and weaknesses of an organization's financial situation for stakeholders, or creditors. The information contained in the Annual Report can also be leveraged to see where the company can improve.
Integral to these goals are talent metrics which clearly affect revenue. Not only does tracking and improving these metrics help optimize human resources goals, but they can also help paint a picture of strategic goals like marketing, design, supply and demand, and overall objectives. For Talent Metrics to be important in the Annual Report, they must be seen by company leaders as increasing revenue, productivity, or innovation.
The Percentage of HR Strategic Goals That Were Met
What good are these metrics if you don't meet them? For HR professionals, their goal should be to meet best metrics and report on them about every six months. HR metrics are very important to the C-Suite and help them get a clear higher-level view of how their business-wide strategic goals are being met. But, you should also evaluate the goals that were not met.
People Also Ask:
What are talent metrics?
As we have covered, Talent Metrics are the measurements of how successful HR talent management functions are at driving revenue. These include metrics associated with employee relations, talent acquisition, payroll, onboarding, and specifically, Revenue-per-employee, improvement in the performance of New Hires, and Workforce Expenditures ROI.
How is talent management measured?
There are a variety of metrics used to measure talent management, and they are discussed above. Measuring is only the beginning, though. It is a best practice for an organization to decide what type of view they will have of those metrics. Go beyond Reactive and Proactive analysis and aim for Strategic, Predictive Analytics, or even Deep Talent analysis as outlined above.
What are some good HR metrics?
The HR metrics that you should be evaluating on an ongoing basis and reporting to leadership are revenue-per-employee, cost-per-hire, turnover cost, percentage improvement in new employees, and Employee Expenditure ROI.
How do you identify an organization's talent?
One way to improve your metrics is to find the best talent in your organization and invest in their performance. You can do this through a talent review that involves managers, leaders, and HR. You should identify this talent and then decide on a time schedule to evaluate their current performance, future potential, and readiness. It can account for expected changes in leadership and existing talent gaps, all while rewarding high-performing employees.
According to ERE.net, top-performing employees produce four times more output and refer to higher quality employees. Identifying these employees will drive revenue-per-employee and reduce turnover in the future and could even improve the performance of new hires. By having this review, you will be investing in the right employees, which should drive your metrics and drive revenue.
The Bottom Line
The bottom line is that, for Talent Metrics, they are all about the bottom line. It has been said that the ultimate purpose of collecting the data is to provide a basis for action or a recommendation. And this is never more true than in relation to employee metrics. Whether it be turnover cost ROI for employee expenditures or cost-per-hire, you need to first gather the data, then analyze the data, and then act on the data. By leveraging the talent metrics above, you will be well on your way to positively affecting your company's bottom line while improving your workforce.
Guide to Employer Branding and Recruitment
You may be wondering what Employer Branding is, how it relates to recruitment, and why you should care. Read on for the answers to all of these questions.
What is Employer Branding?
An employer brand represents the culture, mission, and values of your organization. It tells potential candidates what it is like working at your company in an attractive way that makes them want to work for you.
In TA Trendsetters - Winning Strategies from Talent Acquisition Leaders, Katy Theroux, CHRO and EVP of Corporate Marketing for NCI Building Systems, now Cornerstone Building Brands, provides insight into this topic saying, "For our organization, we have one message to the marketplace about who we are and what value we bring. Those values get translated into a set of behaviors and how we work with each other….That voice is what ties us all together, defines who we are together and what that means to our customers, our employees and our NCI brand."
For Theroux, employer branding differentiates her company at a time when it is still so hard to find talent. She explains that job seekers are looking for jobs just like they shop on Amazon: they research, compare, and look at the data. "This means we must consider how many places job seekers can gather insights on our organization and brands. We need to think about and address the many digital places where they are going to access our brand and present a clear picture of who we are as an employer and a place to develop one's career."
Additionally, Theroux examines how to cultivate a stronger employment brand that can help better attract quality candidates. These candidates become strong hires who get the job done, support the customer to the best of their ability and live out the company's brand commitment and values. She suggests employers remember the following:
Your brand is in every connection. Pay close attention to interactions and engagements, because these are the heart and soul of your employment brand.
Employer Value Proposition is as much about the journey as it is about the destination. Take time, research and interaction to create an authentic and genuine EVP.
Ensure your employment brand story is strong on all digital platforms. Job seekers are smarter and more resourceful than ever, and will look closely at your employment brand when researching your business.
The Importance of Employer Branding in Recruitment
Compete in the war for talent
As Theroux mentioned, a strong Employer Brand is an asset in the war for talent. While the pandemic may have changed a lot, it did not change the need to attract quality candidates, particularly in a market where more people may be searching for jobs.
One way to compete is to use employees currently working for your company as Brand Advocates for your organization. Who better to represent a day in the life at your company than someone who is excelling at their job and happy to represent the company.
Another way to compete for talent is to remember that content is king. The more content you can release in places where prospective candidates will find it, the better.
Retain your best employees
Once you've hired that star employee, you then need to know how to keep them and having an authentic Employer Brand can help with that. To address the best ways to retain employees, Orion Talent went to the experts-HR leaders, talent acquisition experts, hiring managers and recruiters who work on the front lines of workforce management and created the e-book, "7 Rules of Retention: Expert Insights on Keeping Your Top Talent." Tips include competitive compensation, eliminating bad managers, being flexible, and always being truthful among others Download the e-book here to gain more valuable insight.
Orion Talent CEO Mike Starich also addressed retention in his article for Recruiting Daily. In it, Mike discusses how important it is to offer training opportunities. "According to a recent survey from McKinsey & Company, executives now see 'investing in retraining and 'upskilling' existing workers as an urgent business priority that companies, not governments, must lead on,'" writes Starich, "On-the-job training and team development not only safeguard your ability to stay competitive as a business, it sends the message that you are dedicated to helping your employees achieve meaningful careers."
Reduce cost per hire
Employer branding also helps with reducing cost per hire, particularly in conjunction with outsourced recruiting. RPOs typically charge a monthly management fee to manage the entire hiring function, along with some transactional fees to fill individual positions.The total cost of an RPO ends up being 60% to 75% less than what some agencies charge, plus companies get the added advantage of freeing up the internal team to accomplish other tasks, like establishing and maintaining your employer brand.
New team members costs far more than you might think. Both internal and external resources affect your cost-per-hire. This ratio, calculated as the total dollars spent for sourcing, recruiting and staffing for the total number of hires during a specific time period.
Tracking your cost-per-hire by hand can be a cumbersome process, however. With this in mind, we have developed a simple resource for you to use to help you calculate your cost-per-hire and better understand your recruiting budget needs. Download your free Cost-Per-Hire Calculator spreadsheet to get started calculating your total cost to hire.
Employer Branding vs. Recruitment Marketing
An Employer brand is part of an overall recruitment marketing strategy. Developing an Employer Brand that will attract candidates is the first step toward recruitment marketing. You then need to consider where, when, and how to deliver it. You may even include 'who' if you have a strong Brand Advocate.
How to improve Employer Branding
A recent blog post on Social Talent titled, "Use Employer Branding to Build Outstanding Talent Pipelines" explores the importance of Brand Marketing and Outreach. In his article, author William Ryan writes, "According to a recent poll by Glassdoor – 84% of candidates would leave their current position for a company with a great employer brand." This stat drives home the importance of an Employer Brand.
In his article, Ryan lays out four steps, for improving Employer Branding. Like Ryan explains, Employer Branding is about more than finding the right talent, it's about "keeping the relationship warm until it's time to close." Having provided Brand Marketing and Outreach services for more than a decade, Orion Talent has seen success in Employer Branding through the following methods:
Develop a Target Candidate Persona
What type of candidates do you want to target?
Create a customized careers microsite for that segment and direct all online marketing efforts to it.
Advertise on websites on which your target candidates are likely to be spending time.
Send targeted emails to candidates that showcase your Employer Brand.
Make sure your social media properties align with your Employer Brand. And don't forget to engage and respond to your audience, as your next superstar employee could be watching closely.
Define Employee Value Proposition
An Employee Value Proposition is very similar to Employer Branding. Decide what it is about your company that makes it unique and desirable. Do you offer excellent wages, generous benefits, or an engaging culture? Once you have that, you can arrive at your EVP. Digitally brand it to targeted markets, like we advise above, and train your Talent Acquisition and HR Teams accordingly.
Content Strategy
Once again, content is king. Write about your open positions in newsletters, blogs, and podcasts. Like Katy Theroux advises, think about all the places your ideal candidate is likely to be online and make sure you are there, too.
Connect Offline
Make sure you are able to connect with talent offline, as well. Targeting military? Consider base visits. Looking for college candidates? Go to a career fair at a university.
People also ask:
How does employer branding help recruitment?
Katy Theroux has taught us that Employer Branding ties an organization together, defines who they are and what that means to their customer or employee. Pay close and thoughtful attention to how your teams engage candidates and employees because those interactions are the essence of your employment brand.
The rise of Employer Branding changed the way she recruited, and it should help your company evolve to attract the right candidate, as well. "Employer branding has the potential to differentiate us at a time when it is still so hard to find talent. What I do know and see is that job seekers are smarter than ever," explains Theroux.
How can an employer improve branding?
If you are seeking to create or improve your company's Employer Brand to help with your Recruiting Strategy, consider these ten steps, as outlined by Mike Starich in Orion Talent's 10 Steps You Must Take for a Proactive Recruiting Program Infographic:
1. Align Human Resources, Talent Acquisition, and Hiring Managers on hiring the best and on the realities of the talent market today.
2. Identify key positions and what those types of employees value.
3. Create an Employee Value Proposition (EVP) based on #2. (Read more: TA Trendsetters: HR's Role in Productivity and Branding, with Katy Theroux of NCI Building Systems)
4. Make the EVP real (e.g. market wages, benefits, culture, etc.)
5. Optimize Talent Acquisition model based on the needs of your organization. (Read more: TA Trendsetters: Efficiency & Engagement in Talent Acquisition, with Malaika Kattke, Human Resources Director, Corporate and Field Operations at QAD.)
6. Digitally brand your EVP to the targeted markets.
7. Broaden your candidate talent pools for sourcing. (If you aren't yet hiring Veterans, learn more about hiring from this talent pool here: TA Trendsetters: The Business Case for Military Hiring, with Mary Collins of S&C Electric Company.)
8. Adopt new HR/TA technology that makes sense. (More on this: TA Trendsetters: Look Out! Disruption and the Future Ahead, with David Pollard of PredictiveHR)
9. Optimize your sourcing channels.
10. Train TA and HR on the tools, the EVP and how to win the best.
While these ten steps take strategic implementation, team effort, and creative thinking, they can lead to a robust candidate pipeline, immune to the effect of a skills shortage and even a pandemic.
And, if you don't have the manpower or time to create an Employer Brand, Recruitment Process Outsourcing from Orion Talent can do that for you. We hope you are able to use our tips as a blueprint for recruiting success!
On-Demand Virtual Hiring Events Through Orion Talent
In addition to our scheduled industry- and region-specific virtual hiring events, we are excited to offer our clients the ability to customize an
On-Demand Virtual Hiring Event
. These events are catered to your scheduling, recruiting, and compliance needs, enabling you to overcome travel and social distancing restrictions, all while meeting your ongoing recruiting needs.
Orion Talent On-Demand Virtual Hiring Events serve nearly all industries and include benefits like:
With an Orion Talent On-Demand Virtual Hiring Event you can recruit skilled specialists and professionals for a wide range of permanent and contingent roles. All we need to know to get started is:
- What positions would you like to fill?
- How many candidates would you like to hire?
- When would you like to virtually interview Orion's candidates?
We take it from there and set you up with military talent ready to start a new career with your company. Before you know it, you have recruited top leaders and technicians, without having to leave your office, just like the environmental engineering firm below.
Whether you are looking to ramp up hiring for project based needs, are seeking a company-wide coordinated Military Talent Strategy, or need to fill just a few positions, Orion virtual interviews make it faster and easier to interview the right Military Talent.
Contact us today
, and put the industry's most committed, outcome-driven recruitment force to work for you today!
Military Hiring Conferences
Interview Junior Military Officers, Noncommissioned Officers and Enlisted Technicians Recruited for your Hiring Needs
An Orion Hiring Conference is your chance to interview the best military job seekers, selected specifically for your open positions. You will be presented with pre-screened, qualified and suitably matched veterans that are interested in your available opportunities. Click on the dates below to learn more about our upcoming hiring conferences.

Virtual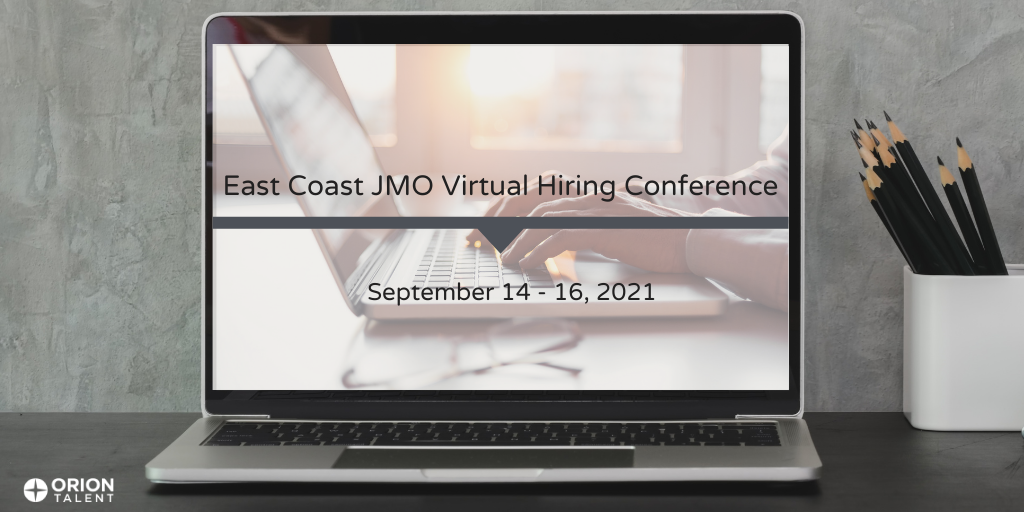 Click here for more information.
Click here for more information.
Refer a Military Job Seeker or Client Company to Orion

If you would like the chance to win a $50 gift card, enter into our monthly drawings for Client referrals and Job Seeker referrals. If your referral results in a hire, you will personally receive a $100 gift card as our way of saying thank you. As always, we will maintain your privacy and never share your information nor that of your referral. That's one entry for each referral that you submit - good luck and thank you for the referral!
Marcus Clay won the Job Seeker Referral monthly drawing
and is the winner of a $50 gift card.
Connect with Orion
Follow us to keep up-to-date on all things Orion through our social media listed below.