Data Center Industry Careers through Orion Talent
About the Industry
A data center is typically a building, a dedicated space within a building, or a group of buildings used to house computer systems and associated components, such as telecommunications and storage systems. Data centers centralize an organization's IT operations and equipment, as well as where it stores, manages, and disseminates its data. They house a network's most critical systems and are vital to the continuity of daily operations. Consequently, the security and reliability of data centers and their information is a top priority for organizations.
Since IT operations are crucial for business continuity, it generally includes redundant or backup components and infrastructure for power supply, data communications connections, environmental controls (e.g. air conditioning, fire suppression) and various security devices.
Although data center designs are unique, they can generally be classified as internet-facing or enterprise (or "internal") data centers. Internet-facing data centers usually support relatively few applications, are typically browser-based, and have many users, typically unknown. In contrast, enterprise data centers service fewer users, but host more applications that vary from off-the-shelf to custom applications.
Data centers have evolved significantly in recent years, adopting technologies such as virtualization to optimize resource utilization and increase IT flexibility. As enterprise IT needs continue to evolve toward on-demand services, many organizations are moving toward cloud-based services and infrastructure.
The Data Center industry presents an exciting and challenging opportunity for the right candidate. Military Officers and Enlisted Technicians possess unmatched training in electronic, mechanical, and electrical systems as well as proven leadership skills, making them an ideal fit for a career in the Data Center industry.
Military veterans are well-versed in adhering to the strict operating procedures and protocols that are critical to the success of Data Centers and Mission Critical Facilities. More than 1,200 veterans have been hired into various roles across Data Centers and Mission Critical Facilities through Orion.
Careers in the Data Center industry include Data Center Technicians, Facility Engineers, Electricians, Production Leaders, Engineers, Project Managers, Maintenance Technicians, and more.
Interested in learning more? Check out our podcasts for everything you need to know about a career within the Data Center Industry
Careers for Veterans in the Data Center Industry
Army Veteran Turned Data Center Expert Discusses Careers for Veterans
Navy Nuke Finds Success in the Data Center Industry
Read more about Starting a Career in the Data Center Industry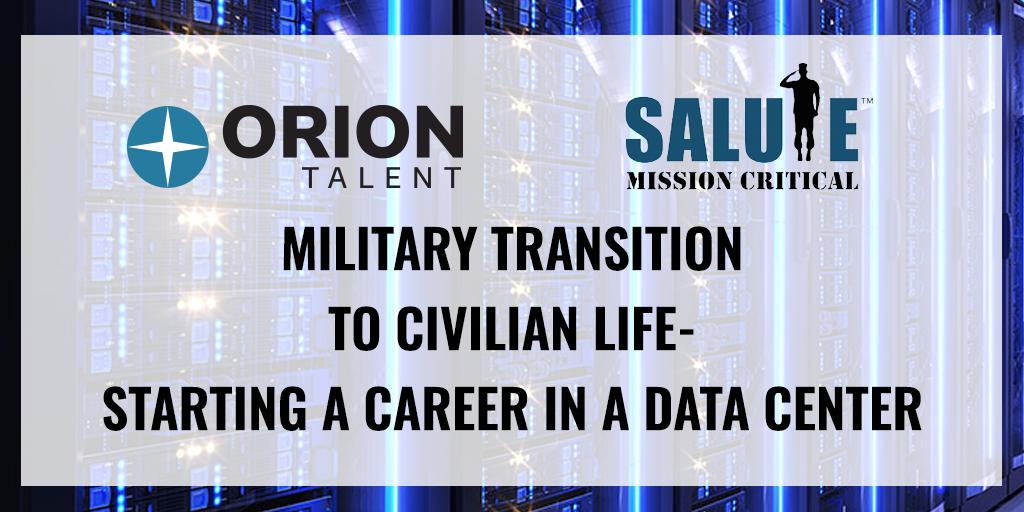 Position Types
Here are some of the most common types of positions we typically recruit for in the Data Center industry.
Data Center Technicians operate, monitor, and support data centers. They operate, monitor, maintain, and respond to abnormal conditions in facilities systems, such as electrical, mechanical, and building monitoring and control.

Facility Engineers will oversee and monitor critical data center building operations including adjustments to Heating Ventilation & Air Conditioning systems, electrical systems, Building Management Systems (BMS), and/or water systems. They maintain chilled water and air conditioning equipment, boilers, ventilation, mechanical equipment, and electrical equipment.
In this role, Electricians troubleshoot and locate electrical problems in a variety of electrical equipment, controls, and electrical systems.

Production Leaders are responsible for managing Data Center Technicians in the maintenance of data center environment and ensuring all customer server environments are secure, operational, and highly available.
In this role, you will oversee all aspects of data center operations, and offer continuous improvement to operations within the data center; documenting, tracking, and monitoring problems to ensure resolution in a timely manner.

Engineers work in a number of secure environments to build, deploy, and support mission essential systems. You will build and support secure computing environments that will be used operationally to support customers.
As a Project Manager, you will prepare commissioning plans, perform prefunctional checklists and test procedures, perform construction inspections, test equipment systems, and write reports.

In a Supply Chain/Logistics role, you will be responsible for developing, measuring, and managing the critical spare parts and systems. The role focuses on reducing risk of data center availability, and improving the availability and cost of maintaining spares.
A Leadership Development Program is designed to prepare high-potential candidates to take on roles with a leading team. In a typical program, you will develop a solid understanding of the data center industry, and lead process improvement and business process reengineering efforts in critical areas directly impacting site operations, property development, property engineering, real estate acquisition, sustainability, and strategy/analytics.

Maintenance Technicians perform complex preventive maintenance and corrective repair of buildings, industrial systems, vehicles, equipment and grounds.
Recent Careers for Military Professionals in the Data Center Industry
Explore Companies
Check out some of the world's leading companies in the Data Center industry, many of which are Orion customers.
CBRE
CBRE is the leading full-service real estate services and investment organization in the world. CBRE offers a broad range of integrated services, including facilities, transaction and project management; property management; investment management; appraisal and valuation; property leasing; strategic consulting; property sales; mortgage services and development services.

Fidelity Investments
Fidelity Investments is an American multinational financial services corporation based in Boston, MA. Fidelity Investments offers financial planning and advice, retirement plans, wealth management services, and trading and brokerage services.

Sentinel Data Centers
Founded in 2001, Sentinel Data Centers enables enterprise users to access both world-class data center real estate and elite critical infrastructure management services. Sentinel Data Centers has developed approximately 1.6 million square feet of primary production and failover data centers for a diversity of enterprises, including multiple Fortune 500 corporations across industries including financial services, healthcare, technology, media and biotechnology, among others.

Schneider Electric
Schneider Electric develops connected technologies and solutions to manage energy and process in ways that are safe, reliable, efficient and sustainable. The company provides energy and automation digital solutions for efficiency and sustainability. They combine world-leading energy technologies, real-time automation, software and services into integrated solutions for homes, buildings, data centers, infrastructure and industries. We make process and energy safe and reliable, efficient and sustainable, open and connected.
Alert Logic
Alert Logic seamlessly connects an award-winning security platform, cutting-edge threat intelligence, and expert defenders – to provide the best security and peace of mind for businesses 24/7, regardless of their size or technology environment.

CoreSite
CoreSite Realty Corporation delivers secure, reliable, high-performance data center and interconnection solutions to a growing customer ecosystem across eight key North American markets.

Data Foundry
Data Foundry is a privately held company headquartered in Austin, Texas that provides data center colocation, disaster recovery and managed services for enterprise customers and small businesses across a variety of industries.

Flexential
Flexential delivers secure and compliant IT infrastructure services, including colocation, cloud, connectivity, and more.
Switch
Founded in 2000 and headquartered in Las Vegas, NV, Switch is built on the intelligent and sustainable growth of the Internet. Its Founder and CEO, Rob Roy, developed more than 500 issued and pending patent claims covering data center designs that manifested into their world-renowned data centers and their technology solution ecosystems.

Digital Realty
Digital Realty's ecosystem of data centers, colocation and interconnection strategies power customer growth through exceptional service and unrivaled data center expertise. With an industry leading 11 consecutive years of five nines (99.999%) and counting, Digital Realty has paved the way for the digital economy.

Rackspace
Rackspace is an American managed cloud computing company based in Windcrest, TX. They are a leading provider of expertise and managed services across all the major public and private cloud technologies.

ABM
ABM delivers facility solutions with an innovation mindset and dedicated, technology-enabled employees.
Albireo Energy
Albireo Energy provides building automation, Electrical Power Monitoring Systems, and energy services to commercial and institutional buildings nationally. Albireo Energy provides complex solutions to mission critical facilities across strategic markets such as data centers, labs, commercial high rise properties, higher education institutions, schools, federal government buildings, military installations, and healthcare institutions. Their service portfolio includes energy efficiency, demand response, and smart building solutions including building automation, systems integration, metering and lighting.

vXchnge
vXchnge is an award-winning data-center-as-a-service partner of choice for industry leading global and emerging brands alike. vXchnge provides next-generation data centers in 14 hyper-growth markets throughout the US.

Capitol Power Group LLC
For nearly 20 years, Capitol Power Group LLC (CPG) has been a pioneer in the data center industry, providing full lifecycle mission-critical infrastructure solutions to some of the world's most demanding Fortune 1000 companies.

Equinix Incorporated
Equinix is the world's largest IBX data center and colocation provider, offering the fastest application performance.
Jones Lang LaSalle
Jong Lang LaSalle is a world leader in real estate services. They buy, build, occupy and invest in a variety of assets including industrial, commercial, retail, residential and hotel real estate. From tech startups to global firms, their clients span industries including banking, energy, healthcare, law, life sciences, manufacturing and technology.

Primary Integration Solutions LLC
Founded in 2005, Primary Integration Solutions (PI) has rapidly become one of the country's largest commissioning and operational risk management providers in the world.

Vantage Data Centers
Vantage Data Centers run some of the world's most flexible and scalable data centers with a focus on efficiency, operational excellence, reliability, testing and maintenance.
Please register with Orion for future opportunitiues.
JOB LISTINGS
Sorry No Records Found matching your request.