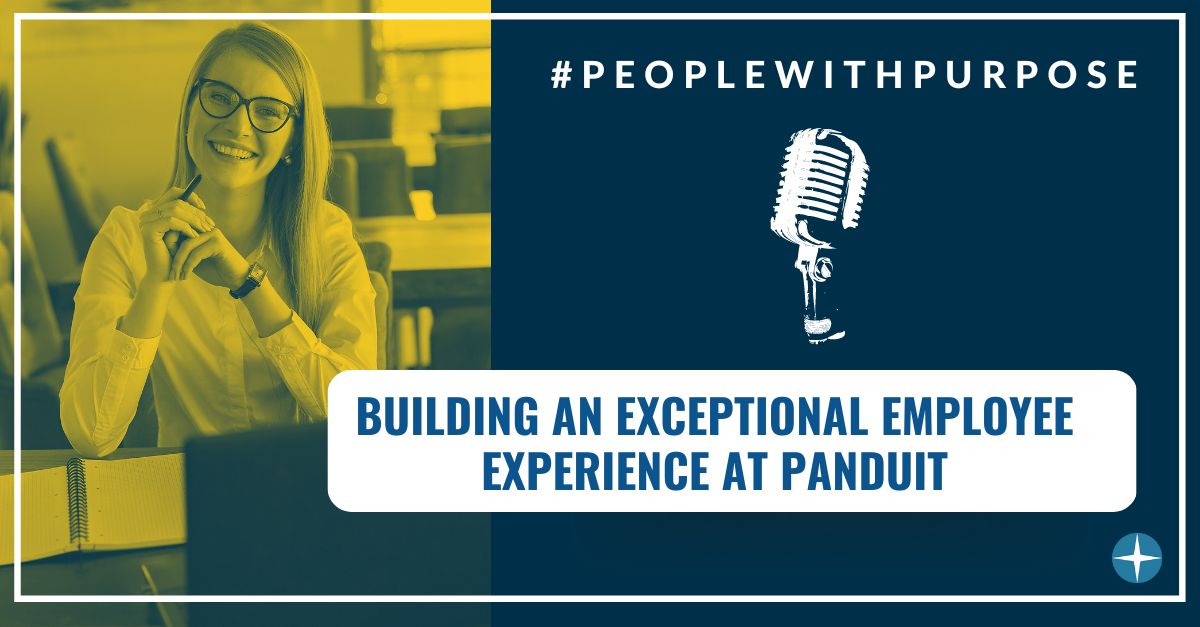 How can companies curate their employee experience in order to retain top talent in today's competitive market? Panduit, a global manufacturer of physical infrastructure solutions, looks inward to ask and answer the hard questions.
In Episode 4 of Orion Talent's #PeoplewithPurpose podcast, Orion Talent's VP of Diversity Initiatives and Military Outreach Steve Amsden is joined by Panduit's Patricia Liotta, VP Human Resources, and Ana Aleman, VP Marketing, for a candid discussion about the importance of empathetic leadership, the willingness of a company to listen to employee feedback and enact positive changes, well-laid out career paths, and a work environment where employees leave feeling great about their contribution.
Attracting Diverse Talent
Panduit is known for creating a great employee experience, and this has done wonders for retaining talent and reducing attrition. Creating a collaborative, respectful work environment is a great place to start. Rather than employees, they are team members, contributors, or colleagues working under the same umbrella. Honoring your team members and making them feel appreciated contributes to an inclusive work environment.
"Inclusion and belonging matter to me, because without people being comfortable to be who they are and being certain that they're going to be accepted, it's my belief they won't be able to do their best work," says Patti. "They won't be at their best, and, essentially without that, we're stopping people from performing their best."
Ana agrees that it's vitally important to build a positive company culture. "The reason it's so valuable to be in an inclusive culture where you feel like you belong is because it does create a space where you can feel safe to bring new ideas, to try something that is different or untested," she says, "ultimately, to bring your best self to the team and offer that up to the team."
Listening & Improving
Panduit doesn't simply ask for employee feedback, but actively works to improve. "Things have really shifted as we all know for employers," Patti says, "We're fighting for talent. We are fighting to keep our talent. It's really caused us to look inward and maybe acknowledge some realities we haven't acknowledged in the past. I think this has been good for us as a company because we're willing to do that."
Work and life balance is also important. Ana appreciates that she can prioritize family commitments without worrying about stunting her career growth. She feels supported at Panduit because of their "ability to still honor that I have to balance my professional and my personal life, being able to sometimes have to comfortably pass on opportunities knowing that won't stop the opportunity pipeline for me."
"Small things matter," points out host Steve Amsden. And it's true. Panduit is open to investigate new ideas, applying feedback, and improve benefits—such as bereavement leave—that improve employee quality of life.
Advice for Women in Manufacturing
Manufacturing may not seem like a traditionally feminine industry, but Patti and Ana insist that women don't discount it—there's so potential for growth.
"All these women out there who want a different career, manufacturing needs you," Patti says, "So join Panduit. We have a ton of opportunities for you, and you can move up quickly, you can move to the side, you can move over. You can create your career at Panduit. Reach out to one of us. If you want to learn more, we're here to help you, tell you more about us…We are seeing greater demand [in manufacturing] than we have ever seen in my tenure at the company, so bring your talents, bring your ideas, bring your difference to Panduit and we'll help you create a career that you've always wanted."
Ana recommends not discounting manufacturing either. "My advice is always just be open to the opportunity. Don't think, 'Oh, it's manufacturing. It's probably not for me,'" she advises, "Always have a conversation- I always tell people that. I'll talk to anyone about any opportunity because you never know and also really know what you can bring to the table that's unique, that they may not really understand that they need. Matching your ambition, your talent, your experience with what an organization– like a manufacturing organization– needs is always going to be helpful. But at the end of the day, it's just being open. "
Advice for New Grads
Bring your best self to work, know what you want, and don't be afraid to ask hard questions. A job is a relationship like any other, and you want to be sure it's a good fit. "It starts with being really clear with yourself about what's meaningful to you and what you want to contribute to whatever organization to which you belong or want to be part of and then ask those questions when you're meeting with people in the organization to get that fit to see if it's a match," Ana says.
"And know that every organization is different. Every organization's culture is different– good, bad, whatever– you decide if it's a fit for you," continues Ana, "I think it starts with knowing first what you find to be important, what your values are. So that you can have those conversations and be really honest with the organization that you're considering joining."
Patti reminds jobseekers to get to know themselves first. This will help you find purpose in your career. Also, don't discount an employer who isn't perfect, because none of us are. You can be a change maker.
"Try to create the change. Try to create the purpose that you need. Think about all the people you're helping by doing that. Maybe the person next to you doesn't have the strength to do it that day or the person behind you just doesn't know what to do," she says, "Give it a try, and if it doesn't work out, then you can leave the organization head held high knowing that you did your best and that you're going to find something else. That's the world that we live in. It's a bunch of trial and error, gaining experiences and bettering ourselves."
Listen to #PeoplewithPurpose
Listen to "Building an Exceptional Employee Experience at Panduit" for more ideas and inspiration for creating an exceptional employee experience in your own workplace or finding a purposeful employer if you're a job seeker. If you're a new listener, check out past episodes of #PeoplewithPurpose for exceptional interviews with industry leaders, recruiting experts, and talent acquisition trailblazers who are committed to building a people-first culture.

RSS Feed
Subscribe to Orion's Blog