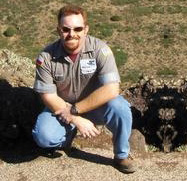 Crossing the brow for the last time and being rung ashore was one of the most bittersweet moments of my life, and I still look back on that as the day my world changed. Facing the uncertainty associated with change is the hardest part of transitioning out of the military. Leaving the Navy after seven years was frightening when you consider that the Navy was really the only job (or practical experience) that I had held to that point.
I served both as a Mineman Third class (MN3) and as a Sonar Technician Third Class (STS3). My seagoing tours were at Naval Submarine Base Bangor, Washington, onboard USS NEVADA (SSBN-733(B)), and at Naval Station Ingleside, Texas, with MCM CREW BULWARK (onboard USS CHIEF AND USS SENTRY). I spent my shore time at Naval Submarine Base New London at the Naval Submarine School (staff and student) and in the Naval Nuclear Power Training Program at Weapons Station Charleston, South Carolina (student).
So, with all this training and experience, I understood sonar systems and how to make them work; but to be honest, starting a new job with different performance metrics and expectations was nerve-wracking. You find yourself trying so hard to impress that sometimes you forget your new mission. And that is to learn how to succeed in your new field.
My first position through Orion was in the oil and gas service industry as a Seismic Engineer. I used low frequency sound energy to help locate, evaluate, and exploit petroleum reserves both on land and offshore. I started terminal leave on January 30, 2006, and I started my new job with Baker Atlas on February 2, 2006. My actual discharge date was February 11, so I actually overlapped for ten days.
I settled in the Houston metro area, both as a matter of convenience (my family is located here) and because of the many opportunities found in the Houston job market. I did some apartment hunting prior to moving; however, I had the benefit of parents who were willing to "take me back for a while" when I did move. The reasoning behind that was I was going to be out of town for training for several weeks after my start date, and it made no sense to be renting an apartment that I would only use for storage. I had the Navy keep my belongings in long-term storage until I actually moved into my apartment at the end of May 2006. One recommendation I would make (especially in light of today's gas prices) is that you should move close to your work (if possible). Short commutes are wonderful, and, if you can find an alternative to driving these days, it's worth the effort.
Prior to accepting my job with Baker Atlas, I did research on the Internet on any company in which I was interested. I would go to the companies' websites and look at their mission statements, what services they offered to customers/consumers, and assess how my skills could be of benefit to that company. I truly feel that if you take the time to do your research ahead of time, it will show that you really ARE interested in each and every job opportunity. Even if you don't exactly meet the criteria they are looking for, you might make such an impression that they give you a second interview anyway.
For me, there really wasn't an easy part to transitioning, except for the road trip from Corpus Christi to Houston, Texas, and saying yes to the offer of employment I received from Baker Atlas. When transitioning, you have so many things to do it can be overwhelming. You have to plan your pack-out and move date, go house-hunting, do your job search and interviews, check out from your command, and get in the mental frame of mind that you're going to be a civilian (all the while still fulfilling your military obligations!) It's a LOT to deal with, and it can generate a lot of stress if you let it.
One thing I found myself doing during my transition was replacing old routines and habits with new ones. I also found myself depending on my family more for support since my military family was no longer available. And there are some things you find you have to let go of since the civilian world doesn't quite "get it" - like being able to laugh after you've been locked in a torpedo tube (and all of those ramifications) as a joke.
After being hired at Baker Atlas through Orion Talent, I was promoted to the position of Field Engineer, with increased responsibilities/recognition/compensation as a result of my efforts. I worked on my Senior Field Engineer's project. My benefits package there was comparable to what I received in the Navy. One thing that didn't compare, though, was having almost instant access to your command corpsman or medic. You have to make appointments, and take time off of work to go to the doctor, which is usually inconvenient.
I then moved on from Baker Atlas after more than four years and took a job as a Geotechnical Support Engineer with a seismic equipment manufacturer in 2010. One day, however, after I had worked at my new job for about a year, I was unexpectedly laid off. Needless to say, I was in a bit of shock. After I put my severance check into the bank, I went home and tried to let the shock clear my system. I remembered the success I had using Orion back in 2006, so I contacted them once again. Within 20 minutes of updating my contact information, an Orion recruiter had called me.
My Orion recruiter told me about VERIPOS, a company that provides precision navigation services (equipment, training, signals, and continuing technical support) to the offshore oil and gas industry. When I walked into the interview, imagine my surprise when I found myself face-to-face with six people representing 67% of the whole office (management, admin, technical, all present). It was a great interview, and I was selected from a very strong candidate pool.
In April 2013, I was promoted to Associate Sales Manager with VERIPOS. While my new role was focused on business development, relationship repair/maintenance, and technical sales, I was still involved with global technical support and testing. After almost three years at VERIPOS, I was recruited away through a friend to take my current position. I am a trainer for Kongsberg Maritime's acoustic positioning systems. Apparently, I have a very unique skillset and am a perfect example of a round peg for a round hole. The power of networking never ceases to amaze me.
In my latest position, I train course participants to use the HiPAP Acoustic Positioning System (operations, theory, maintenance, troubleshooting). The system allows users to position a DP (dynamic positioning) vessel or subsea object using acoustic principles (similar to tracking objects with active sonar systems) with a high degree of confidence and accuracy. Our clients are major players in the offshore drilling, subsea survey and construction, marine IMR (inspection/maintenance/repair), and dynamic positioning operations communities within the offshore oil and gas industry.
I also train course participants in the use of Kongsberg Seatex DGNSS (differential global satellite navigation systems) equipment for dynamic positioning system equipped vessels (operations, theory, maintenance, troubleshooting). DGNSS systems provide extremely accurate positioning information, which is used by DP systems for navigation and precision maneuvering of marine vessels of all tonnages.
My post-military career has taught me that, as veterans, we are highly trainable, above all other skills. Another asset you have is the ability to be flexible when circumstances change and to provide an appropriate response to those changes. One thing you will have to learn to live and work without is having the rank structure to fall back on regarding task accomplishment, job delegation, and the enforcement of duties, policies, and procedures. Speaking in acronyms that nobody else understands will have to go by the wayside as well.
I have learned several lessons that I think might be useful to those finding themselves (rather unexpectedly!) in my position:
If you have an interview that takes 40 minutes to drive to in light traffic, give yourself 80 minutes. Being two minutes late (like I was!!) is unpardonable, and I thought I would not be considered, much less hired, because of that.
Never let your resume go more than a few months without revisiting it and updating it, because you never know when your secure life will be upended by change.
Don't be afraid of behavioral questions-they exist and companies DO use them to gain insight into who you are as a person.
Don't be afraid to reach out with SOS emails to former employers and coworkers, as well as friends and family, because you never know what contacts they might be able to help you make in your job search.
Don't be afraid to undertake the transition process and its uncertainty, and don't be afraid to sell yourself (awards and recognition, both documented and unofficial) to prospective employers. Planning for the process is critical to making the transition successful. You need to plan in advance with your command the times that you need for house hunting, as well as your pack-out date and terminal leave. You need to schedule your transition of duties with your relief, so it is seamless with regard to impacting your department/command and overall mission. Just because you're getting out doesn't mean you can leave your command in the lurch.
Also, you need to save enough money to take care of expenses when you do leave, such as gas, food, hotels, and set-up expenses when you start your next residence. If you haven't found a job by the time you leave, consider moving in with a family member to reduce your expenses until you've found employment (and don't give up on the job searching in the meantime!) If you have been able to find employment, make sure you understand what the expectations of you are for week one, so you can be prepared for whatever they throw at you like HR paperwork, benefits, travel, dress code, working hours, how long will your commute be, etc. And make time to get signed up for VA benefits!