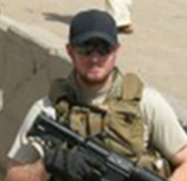 Orion placed me as a Manufacturing Supervisor with Actavis, a leading generic pharmaceutical company in November 2009, exactly two weeks after leaving the military. I have been here for a little over two years now and have received a promotion. Difficulties of transitioning aside, I can truly say that beginning a civilian career with Actavis was the best move I've ever made.
My experience transitioning was one of the best experiences but also one of the most stressful experiences. The job search is not an easy or fun process; there is no other way to look at it. It was frustrating to try to get out of the military in the sense of making it official, while also working on finding a job. Being hired by a civilian company while transitioning out of the military mindset was somewhat difficult as for the last ten years, I have known nothing but the military. Like all new things, it just takes time.
When it came to searching for a civilian job as I prepared to transition out of the Air Force, I posted my resume on every online site there was: CareerBuilder, Monster, Jobs for Veterans, and Hire a Hero just to name a few. I also used the Transition Assistance Program (TAP) at Eglin AFB, which was effective in that I was able to get information about Orion and the VA; however, I found that it was geared more for people who had never experienced a job search before and was centered on the basics of resume preparation and the interview process. The job search process, in addition to the transition from the military, can be very difficult, so Orion's assistance was appreciated beyond words.
I ended up relocating to New Jersey, as it was where my wife and family are. It was truly the smoothest move I have ever had with the military in terms of getting all my household goods in time and in the same condition as when they were packed. The only hang-up was my final travel pay, which took three months to be paid, however that was resolved successfully. In fact, the physical move was the easiest part of my transition. Luckily, I think the move had little effect on my family, as they were all eager for me to take the next step in my life. This is especially true for my wife, who was greatly relieved to have me home!
In essence, searching for a job is a full-time job. It's very difficult to finish your military duties while also going home each night to spend another three to five hours working on resumes and applications, only to start it all over again the next day. It is very frustrating to send out applications and hear either nothing back or be rejected while also going through the myriad of paperwork and meetings that the military requires for separation. Conversely, when you do hear back on applications and you do set up and go through interviews, it's very fulfilling. Finally, when it all works out and you get the offer for a position you want, the feeling of accomplishment and relief is unparalleled.
There are many practical differences and considerations you have to take in mind when transitioning, the first of which is your goals. In my case, it was financial. I didn't want to reduce my income by taking a job that didn't pay as well as my rank in the military. I did find that my civilian career was a step up in this sense. Actually, I now have a better health plan, a higher salary, and more flexible vacation time.
For me, the second consideration was location-I didn't want to have to move somewhere just because of a job or be at risk for more deployments or a change of station within a short period of time. While no job is safe from possible location changes, it's much easier to control in the civilian world. Everybody's considerations will differ, but I strongly recommend that as a soon-to-be veteran you sit down and discuss money, location, and job requirements with your significant other and family.
When researching what types of careers might be a match for me, I spoke with friends that were in the industries in which I had an interest. I also looked at where I wanted to be in five, ten, fifteen years, and beyond to try and determine what I would be happy doing. I also read everything, and I mean everything, possible about a potential employer on their website, including press releases, current products, the direction and goals of the company. Make no mistake; I am firmly convinced that my knowledge of Actavis paid off tremendously during my interviews. To drive this point home, the human resources personnel that interviewed stated that my knowledge of the company was one of the key reasons I was hired; enough said!
Since starting with Actavis, I have progressed to be the Senior MRF Supervisor. Basically I went from the low-man-on-the-totem-pole in November 2009 to the Senior MRF Supervisor by January 2011. I was actually given this increase in responsibility in November 2010; however, I was not able to take over until January. According to my immediate boss and the director, this promotion was based on my attention to detail, ability to execute under stress, and my ability to connect with the personnel that worked for (and with) me, thus producing excellent results.
They recognized my ability to connect with people. I work in a union environment that, prior to my arrival, had some issues with disconnect in regards to the operator and management (supervisor) level. A large part of this, I believe, came from the mindset of some of the previous supervision who operated under a "do as I say mentality" while leaving little if any room for suggestions or comments from those actually doing the work (the operators). Just as I did when assuming a new command or new reports in the military, I sat down with them as a group and went over my expectations but then took the time to meet with each one of them to go over where they felt their strengths were, what weaknesses (in both themselves and the organization) they saw, and where there was room for improvement. I gathered all this information and then met with them again as a group to go over (with no attribution) some of the information that was brought to my attention. As a group, we went over the information that had been presented.
This allowed me to explain why some issues that were brought up were the way they were (federal requirements), but then also to explain some issues that could definitely be improved upon. Together, we drafted a list of achievements we would like to obtain by the end of the year. At the end of the year, we went through them. Praise was given for those that were achieved, and we discussed lessons learned regarding those that weren't met.
It sounds like common sense, but the approach of reaching out to those that worked for me truly made a difference. I was able to connect with my subordinates on a different level so that while still maintaining the boundary between subordinate and supervisor, I was able to learn how each person worked and what motivated them as such. I truly believe that my experience in the military enabled me to do this in the corporate setting, thereby allowing us to meet or exceed all of our goals.
Another instance of my military background helping me in my progression is the ability to think clearly and make decisions under stress. I currently work in a manufacturing environment that operates 24/7/365-often with products that can cost in upwards 1 million dollars in raw materials. The majority of the time, decisions regarding processing have to be made in a few seconds and can be the difference between a successful production campaign or an unsuccessful one. My experience, particularly overseas in a combat environment, greatly aided my ability to filter out the "white noise" and make a quick decision. Now, not all the decisions were the right decision, and sometimes it was all for naught, but the ability to make a decision and go through with it far outweighs the consequences of not making a decision.
On the other hand, something that did not transition as well from the military to the corporate world was the discipline arena. I was very familiar and comfortable with the military system of holding people accountable for their work and actions both on- and off-duty. It was very difficult for me to have to accept some of the behaviors of certain people as "that's the way it is", when from a military standpoint, there would have been immediate discipline. Now, I completely understand that the military is different than the civilian world, however it was (and still is) a difficult pill to swallow when behaviors such as tardiness and poor performance are met with what I consider (again, from a military background) as less than acceptable consequences. This isn't to say that discipline doesn't exist; it's just that it was much different than what I was used to and something that still takes adjustment.
One of the most important things I would tell transitioning veterans is to have patience. A successful transition is not going to happen overnight. That being said, be proactive but realize that it will take time. Make back-up plans in advance with the realization that your job search may take longer than expected. This will ensure that you will not be left in debt, that you will have time to move (if applicable), and that you have health coverage and time between your transition. Plan ahead and set goals up for both short term (finding a job relatively soon) and long term (should your job search take longer). This will save you a great deal of heartache and stress!
All in all, I have to say that the transition from military to civilian is a continuing evolution. You just don't wake up one morning and the transformation is complete (even if that's what you really want). Parts of the military, your experiences, and lessons learned stay with you. While some might diminish in their effect on how you operate in a civilian world, they have all shaped who you are now and will more than likely continue to shape who you will become in the future. It's really up to you how you want to incorporate it all.
My service in the military has been the proudest and most accomplished period in my life thus far. I truly believe my military service directly contributed to the person I am today. When considering my military experiences and its inherent leadership experience and personal development, I am confident that I have been placed in a career that not only utilizes my military service, but allows me to continue growing both professionally and personally. I owe a great deal of gratitude to Orion Talent for their steadfast assistance, attention to detail, and genuine involvement and care in making my career transition 110% successful. Job well done!