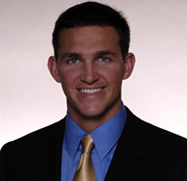 I was hired by Medtronic as a Spine Consultant in March 2007 through Orion Talent and was promoted to District Sales Manager in 2013. Prior to my civilian career, I graduated from the United States Naval Academy and was active duty for eight years, serving as a Naval Flight Officer.
Working with Orion greatly helped in my transition from the military to a corporate career. I started my transition thinking that submitting my resume online was an effective way to find a job, but I quickly found how useless it was. I submitted my resume online to just about everyone, but I never got a response. I found the only luck I had was when I was able to physically get in front of someone or at least introduce myself over the phone.
Being able to talk with Orion about a wide-range of jobs and having help narrowing the search into a specific career field helped save time and make the job search more efficient. A recruiter from Orion called up one day and said, "I had the perfect opportunity for you come across my desk this morning"...and that was it!
I was hired as part of a development program at Medtronic where they hired four people every six months that had either little or no healthcare and/or sales experience. These new employees spend six months in-house and learned the corporate structure. They then spend six months traveling in the field to learn the sales aspect of the job. Medtronic heavily recruited people with prior military experience, because they recognized the valuable skill sets veterans had learned while on active duty.
My last duty station was Pensacola, Florida, but my family and I settled in Montana because of the great job opportunity, we had family in the area, and because I love the outdoors. The Navy covered a portion of the moving cost, and Medtronic actually covered the rest. Being in the military for eight years, I moved four times and had a family for the last two moves. We always enjoyed moving to a new location, meeting new people, and figuring out the area, but we were also ready to settle down in one location for a while.
I have now worked in the healthcare industry as managing the Iowa core spine products team that sells medical devices to neurosurgeons, orthopedic spine surgeons, and interventional radiologists. My team consults with them during procedures and helps provide them with the newest and best technology for treating their patients. When I began, both the healthcare industry and the medical device field were entirely new to me.
In addition to the yearlong training program offered by Medtronic, I felt prepared for the job due my military background. The diversity of duties I was assigned while in the military helped me become very willing and able to learn and succeed at a new job, or set of responsibilities, very quickly. Another important quality I had taken away from my military experiences was teamwork, the ability to stay focused on the team's goals and overall mission above my own individual goals.
The leadership positions I had in the military have proved to be invaluable in my civilian career. I have found the flexibility, adaptability, and the ability to manage multiple priorities that I learned while on active duty have all been extremely useful in my current position. I did have to adjust my communication method slightly and focus on how to become a more effective communicator, especially in times when people might not have any interest in you or what you're doing. The challenge is how to draw them in and get them interested.
When I began my transition, I was worried about how much money I would make, what my quality of life would be, and what opportunity for advancement there would be in the civilian world. Overall, I appreciate the wide ranging opportunities that exist in the business world - the sky's the limit. I believe the application of the skills and work ethic I learned while in the military will make me successful in achieving my business goals and aspirations.
Medtronic has treated me very well. It's a solid company with a noble mission. In addition to being voted the "most valuable person" on my first district sales team, I received a "40 under 40 Award" given by the Billings Gazette and the Roche Jaune Award by the Billings Chamber of Commerce for Salesperson Excellence. My first award was especially rewarding, because it helped me recognize that while I had the least sales experience on the team, I was still able to be seen as an asset by my teammates. I discovered that the leadership, teamwork, and mission focus I learned in the military was directly transferable to my civilian job.
As for veterans, I would suggest that they network and try and get as many interviews as they can. The most success I've ever had in the interviewing process was achieved when I could get in front of the hiring manager and distinguish myself from the rest of the crowd. Having now been on the hiring side of the interview process, I've realized how little time is spent reviewing the resume and how much time is spent trying to figure out if the candidate's personality and character is going to be a good fit for the team.
I would also suggest that veterans research the industry and demands of a potential job as much as possible before showing up for an interview. Talking to an existing rep is very beneficial and helps the veteran decide if medical device sales is truly something they would like to do.
With regard to resumes, it's extremely important to quantify your accomplishments on your resume and make sure the reader can easily interpret your military accomplishments and how those accomplishments will translate to success in your civilian job. Always remember that most of the interviewers will not have any military experience.
If I had to tell civilian hiring managers one thing about hiring veterans, it would be "Hire them!" I would also suggest having someone on your hiring team that has been in the service so they can help interpret and sort through resumes. But, the bottom line is that vets know how to get the job done.