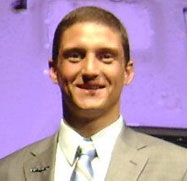 Orion placed me as a Propulsion Test Engineer with Space Exploration Technologies (SpaceX) in December 2009. Upon joining SpaceX, I actually had an overlap between the military and my new career, which required me to take a leave of absence from SpaceX to train as an Aerospace Maintenance Duty Officer (AMDO) in the Navy Reserve. I returned to SpaceX fulltime in March 2010. SpaceX management was incredibly accommodating in allowing me to start work for only a couple of weeks then take a leave of absence to complete AMDO school.
Prior to my civilian career, I served as a Naval Aviator stationed at NAS Kingsville. Due to the fact that Kingsville is a small base without many military support resources, my preparation for transition didn't go beyond the required transition class, which was geared more toward retiring service members. Though overall my transition was relatively easy since, as a bachelor, I didn't have to worry about the added complexity of transitioning with a family.
My transition experience did feel very rushed. In a short amount of time, I moved to Waco, TX, started a new job, bought a house, went to training for my new role in the reserves, and started drilling at the local reserve center. Due to the tight timeline, planning for housing was a challenge. I made the decision to buy a home early in my transition and was fortunate to find someone who needed a roommate while my house was being finished.
My move itself went reasonably well. It was convenient to be able to leave my things in storage while I was in transition. Unfortunately, the movers damaged some of my belongings, including irreparably damaging a brand new washing machine.
I now work in the Aerospace Engineering industry, more specifically Aerospace Test Engineering. A combination of hard work and good luck has given me the opportunity to advance very quickly at SpaceX. I was hired as a Test Engineer and have been given continually increasing levels of responsibility including two promotions within my first two years with the company. I am now a Test Engineering Manager and responsible for all test related activities for the Dragon Spacecraft and its systems.
While my military background was not directly applicable to my new role as a Test Engineer, it did build the basic foundations that have ensured my success. Overall, I feel that I am better prepared to handle difficult decisions and stressful situations than many civilians in similar positions. My military experience gave me a wide variety of hands-on skills, as well as an appreciation for hard work and dedication to the overall mission. These abilities help me each and every day. Working on a multidisciplinary team towards a common goal requires the same communication and collaboration skills that I learned while on active duty.
For the veterans out there, don't forget the skills you acquire in the military are directly applicable to the civilian sector, but make sure that you effectively translate those skills into civilian terms to avoid confusing employers that aren't familiar with military terminology.
Veterans should also remember that civilian organizations don't always function with the same type of hierarchy that the military does. It is important to understand that every organization has a unique vision of the role of its leadership and in your new career you will have to apply your leadership skills in new ways. Stay flexible an open to critical feedback.
Hiring managers should understand that humility is a huge part of serving in the armed forces. Many transitioning soldiers and sailors are not used to bragging about their accomplishments, so it may take more effort than normal to elicit evidence of their exceptional abilities or their unwavering dedication to mission success.
Lastly, I'd advise fellow veterans to make sure that you find a job you are passionate about in a city where you will be happy. Success is sure to follow. Best of luck!