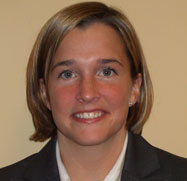 My transition from the military into the civilian world was exciting, but also proved to be emotionally challenging. When I first got out, I was just happy to start a new chapter in my life and excited to start applying my skills and knowledge to a new career. It was fun to research different opportunities and industries; however, as each month passed, it turned into more of a test of my patience and endurance.
The hardest part was waiting -- waiting to hear the news, whether it was good or bad, on a position that I had applied for. You just have to be patient and remain positive. I really had to push myself to continue looking and keep applying, regardless of the outcome. Overall, my transition was fine. I just had to be persistent and positive. I had the support of my husband and family to keep me going, which played a huge role throughout the entire process.
I am currently residing in the Kansas City area, because my husband is stationed out of Fort Riley in the Warrior Transition Unit. The move went well. From a logistical point-of-view, it was a bit challenging, because both mine and my husband's things were scattered between Army storage in New York (from when we were stationed at Fort Drum), personal storage, and then our shipments from Korea. Everything made it, though, and we were able to get settled relatively fast.
My family dynamic changed a bit due to our transition. It was awesome to be "home" for about two months with parents and spend time with my family, yet it was a change for everyone for the time being. And it was just a bit strange when I moved to Kansas once my husband came over from Korea-just being home each day, and not waking up for PT and going to work. Luckily, I was finishing up my MBA (online) throughout the transition, and I think that was really a coping technique in disguise. It kept my mind busy and proved to be a valuable asset when the interview process began.
People make the transition for a multitude of reasons, and it is a personal decision. There are so many great reasons to stay in the military, and yet there are just as many reasons to make the transition out. For me, the practical considerations were along the lines of location stability and the opportunity to settle in one area. It was (and still is) important to me to be able to associate myself with a town or city, maybe purchase a home, and just stay in one place for a while on my own accord.
The easiest part of my transition was working with Orion. I initially had not been associated with the organization upon my transition in May 2010; it wasn't until the beginning of November that I made the connection with Orion. Once I began working with them, my only concern was to prepare myself for the interview process. I no longer had to worry about submitting my resume and filling out countless job applications. Orion helped me find a Director of International Rail Operations Support position with Kansas City Southern Railway Company with a start date of December 1, 2010.
As Director of International Rail Operations Support, I had many responsibilities, including ensuring optimal levels of productivity, providing timely information to ensure a quality transportation product is delivered, providing coaching and mentoring of both Collective Bargaining Agreement and professional workforce in a 24 / 7 / 365 operation, and pursuing best-in-class operational excellence. I discovered that there are a ton of opportunities for career advancement. And the benefits have been comparable, if not better, than in the Army. I have been extremely fortunate.
In November 2013, I received a promotion to Assistant Vice President Advanced Systems as part of a reorganization of several operations department functions at KCS. In my new position, I'm responsible for the implementation of Positive Train Control (PTC) and the integration of other various real-time technologies throughout the organization to help further and progress operations. I have been with the company for three years and am excited at the opportunity and challenge of new tasks. Supporting the company in meeting certain rules and safety regulations is very important, and being able to help with the implementation of new technologies is an awesome and interesting undertaking. I am honored to be a part of the team.
The similarities between the railroad industry and the military are really quite striking. My experience in the military prepared me to work in an environment that operates 24/7, address many challenges and issues simultaneously, and communicate with many groups on multiple levels to achieve a common goal or company objective. The military was great at preparing me and training me to multi-task. The ability to address multiple projects and requirements within a specified timeline has proven to be invaluable, especially in an industry where multiple variables affect the overall performance of the organization.
The military also helped me to learn the importance of teamwork and the benefits of having everyone involved. The impossible tasks can suddenly become achievable when you apply many hands and minds to a challenge. Everyone has something valuable to offer. The key is combining all of those talents to reach the intended outcome. The military was an excellent field in which to work on that very task.
Team leadership (or people skills) and the ability to execute a plan are two military skills that serve me well in my new career. I think that everything I have learned throughout my career in the military has proven to be beneficial in some way or another. I do catch myself calling people "Sir" every once in a while and am usually told that they prefer to be called by their first name, along with something along the lines of "Sir? I don't see my father in the room anywhere?"...all in a joking manner, of course. It's just one of those things that have been hard for me to "fall-out of" or "unlearn".
Hiring managers should make their best effort to find that connection between military skills sets and whatever positions they are looking to hire. It can be difficult to find that link, though. For example: an Infantryman job description may not easily correlate to that of a Plant Manager. More times than not, it's the qualities, character, discipline, and personal skills that are developed while in the service that makes veterans more appealing. Veterans are dependable and come from a work environment where people count on them (oftentimes, with their lives) to follow through on not only their word, but with their actions.
And for the veterans out there, don't sell yourself short!