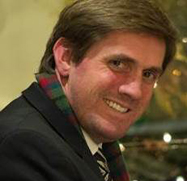 I interviewed for my position as an Assistant Property Manager with Hines Interests in October 2012 at an Orion Hiring Conference and began working for them the next month. Previously, I served in the Air Force as a 12R3 (Reconnaissance Combat Systems Officer, JSTARS and AWACS), O-3. I actually had a 45-day gap between the time I separated from the Air Force and began my new career. My wife and I temporarily relocated to New Braunfels, TX, to live with my in-laws during that time. My wife was thrilled I was out of the Air Force. It was harder for me to let go, as I had planned on a long military career; but honestly, it is nice being home every night and not worrying about another deployment.
I had a very frustrating, but exciting, time transitioning. I got to see Chicago, Houston, Dallas, Austin, North Little Rock, and Saint Louis, all in a five-month span of 2012. I utilized my allowed 20 non-consecutive PTDY days to attend numerous hiring conferences and used Orion and a couple other military recruiters for my military transition hiring conference needs.
The more I attended, the better I got at interviewing. I had an equal amount of yes's and no's, but a lot of yes's went cold. I was told this happens, but it seemed to be happening too much. This was the frustrating part-feeling confident I'd have a second interview and possible job offer just to wind up without an offer. Of all the recruiters I worked with, Orion gave me the best pallet of companies to interview with, so I continued to work with them. It was like the flood gates opened at the October 2012 Houston Hiring Conference. Suddenly all three companies I interviewed with wanted to see me again. Practice and persistence had paid off, and Orion had delivered.
now work in Property Management. In the Air Force, I was the Director of Facilities for the 552d Operations Group at Tinker AFB, OK, as my additional duty when I wasn't flying. I had experience in project management and budgets, which is exactly what Hines was looking for.
I make less, but the cost of living is actually lower than Oklahoma City, and the performance and training bonuses I've received (I've gotten two) have made up for my Flight Pay. When I start my second Masters this fall through the University of Houston's Bauer School of Business Executive MBA program, I will also receive a housing allowance through VA benefits, so I'll be equivalent to my old military pay, plus benefits, before I hit two years on the job.
My career has a lot of parts, ranging from understanding the complex legal language of commercial leases, to understanding, monitoring, and being able to articulate the full scope of massive $100K-$1M+ projects going on in and around the building. I deal with tenant issues, contractor and vendor management, contract bidding, emergency procedures, security issues, telecommunications, etc.
My company is also paying for me to obtain a Texas Real Estate license. They encourage all of their Property Managers to have one, because the language and financial aspects of residential real estate transactions are closely aligned with commercial real estate. Finally, as I mentioned above, I have elected to pursue a second Masters degree. I am using my Post 9/11 GI bill for it and plan to apply it and the Masters I received on active duty to move into a senior Development and/or Marketing role with Hines, as they continue to grow their presence in the international commercial real estate and building development markets.
My military experience helps in some small way every day at my civilian job. Checklists and safety were drilled into my head as a flier. When you're managing hundreds of moving parts around a 1.3 million square foot skyscraper, having a checklist and safety oriented mindset coupled with the technical understanding demanded in military flying is exactly what it takes to manage a skyscraper from the engineering plant systems to the operation and safety demands of a roof mounted 133 foot retractable window washing boom.
What have I learned along the way? Two things: Business lunches and gifts from contractors add to the waist! Keep up your PT when you get out. And that it is alright to go to lunch with female colleagues. In the military I had always tried to be conscious and refrain from one-on-one interaction with the opposite sex. Hence, I was very averse to going to interacting too much with any female colleagues until my boss brought it up in a feedback session that I need to accept that's going to happen and to not be afraid of the interaction or any 'perceptions.' It is completely different in civilian circles.
There was no easy part to my transition. Every bit of the transition took effort and thought. If you think anything is going to be easy, you're wrong. You're completely changing gears in life, so you better prepare, work hard, pay attention, and shift gears when you need to. Remember, too, that the military is drawing down, and if you have the opportunity to get out and beat thousands of others to the civilian market place, it's a no brainer.
If you're thinking of transitioning, start now. Then don't give up until that offer you've been waiting for comes. Definitely make the effort to meet someone from HR or an actual hiring manager, even if it means going to the building and inviting them to lunch. You're selling yourself, so be a salesperson.
For hiring managers looking to hire veterans, I would suggest you find someone who understands military jargon and have them review your veteran applicants and give you some honest feedback. Above all, though, remember that veterans are loyal and professional. If they can be trained to the degree it takes to take a skill set into battle, why could they not be trained into anything you want them to do here?