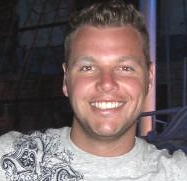 Although it seems like just yesterday, I have now been out of the Air Force for over four-and-a-half years. Prior to my current career with Tyco Electronics, I was a Nuclear Missile Operator and completed my training at Vandenberg AFB in central California. My base station was FE Warren AFB in Cheyenne, Wyoming. After my transition, I settled in Los Angeles, California.
Transitioning out of the military can be a very stressful experience. With the economy in its current state, it's hard to justify leaving the job security that the military provides. But keep in mind that civilian companies often offer the same type of benefits as the military and can be as flexible, as well.
My transition from the military was very stress-free. I credit that to the research I did before the transition. I believe that if you do your research early, there will be no surprises in your transition. I started doing research for my next career path about a year before my commitment to the Air Force was over. I did a lot of online research, including websites for transitioning military, companies of interest research, and online periodicals dedicated to companies who hire ex-military. I also read all of the recommended readings from Orion and utilized the base transition services. While I did utilize the transition program, I didn't think they had much new information, as I had been doing my own research for so long.
I was excited to be able to choose my career path. In the military, the Air Force told me what my career was going to be for the next four years of my life. It was great to have a world of opportunities at my finger tips and have the luxury of being "choosy" when it came to picking a new career. In fact, I was offered more than one great job after attending my first Orion Hiring Conference!
Orion placed me into my job with Tyco Electronics in May 2007 as a Sales Engineer in the Aerospace and Defense business unit. My customer base consists of OEMs, Subcontractors, Distributors, etc., for the Aerospace industry. When I took the position, I knew I wanted to do sales, but I was not at all knowledgeable about the electronic components that I would be selling. It says a lot about the respect that Tyco Electronics has for veterans when they have the confidence to hire someone with no previous experience in the field. I remember discussing this fact in my interview and saying, "I did not know anything about Space and Missiles before I joined the USAF, and now I am an expert in the field. I am not only capable of learning Tyco Electronics products, but I am capable of becoming an expert in the product."
My position at Tyco is a job that most have to work toward within the company. I was fortunate to get the job based on my military experience and education. There are Sales Engineers that have been with the company for 30 years in this same position because of its benefits. Tyco is a 13.8 billion dollar company with facilities all over the world. And, if for some reason the Sales Engineer role did not work out, there would be plenty of opportunities for advancement elsewhere within the company.
As I approach my five-year anniversary of joining Tyco Electronics, I am just as happy as I was the day I came on board. I have been extremely successful in this position and feel it fits me like a glove. I have grown my territory by more than 30% in the past four years and in the Aerospace Defense and Marine business unit, growth is key.
I have found that one of the most useful military skills in the civilian workforce has been the ability to be social and a "people person." Because of the structure of the military, you are almost forced to develop your social skills and learn to get along with a new group of people every couple of years. In sales, being able to be a social person is extremely important, and I credit my advanced social skills to the military. On the flip side, a military-ingrained habit that has been less than useful is my use of "ma'am and sir". As silly as it seems, in the civilian world, these terms are not used, and some are even offended by it.
One thing to keep in mind as you search for a new job is that you may have to take a pay cut. In the military, your pay is based on time. In the civilian world, most of the time, your pay is based on performance, and you can usually move up the ladder more quickly. That said, I was fortunate enough to not only not have to take a pay cut, but to double my salary from the Air Force.
I absolutely believe that my experience in the Air Force helped me to become successful in the civilian world by teaching me the discipline I need in order to become an effective sales person and role model for my peers. When transitioning from the military, I would advise that there is nothing to be scared of. Your time in the military will benefit you more than you know. Do your research, and really explore the type of job you think you might be suited for. Then go for it!