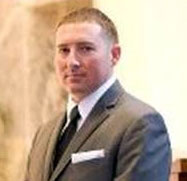 I was assigned to Fort Bragg and served in the Army in Field Artillery as an O-2E. My service ended May 12, 2008, and I began my new civilian career with Buckman on April 7. Seamless! I settled in Richmond, VA, because it was centrally located within my sales territory and would enable me to travel easily, and am still here after over four years with my company.
I purchased a house with a VA loan. My final move went well and actually made me money! I did the move on my own under per diem and house hold goods weight calculations.
My transition out of the military was an adventure! Much like when I joined the Army, I wanted to see if I could make it. Orion helped a lot by quickly finding the right employer for me. And although my career path was promising, my identity change from military to civilian was difficult. I began to miss being a soldier and soon felt the urge to go to the range and do PT in the morning.
I loved serving my country, my fellow soldiers, and being a soldier. Only service members can really understand why this is the hardest obstacle to overcome. But that desire to be back in the service eventually subsided, as I decided to follow through with my new life. I do recommend maintaining your physical fitness as best as you can. This will help with the stress.
I still keep in touch with a colleague from my unit. My friend Frank and I got out at the same time. We talk at least once a week about the Army, civilian life, and business. Frank is in sales, too, so we have coached each other on several accounts.
Dealing with finances was the easiest part of my transition. Once my compensation was decided, I knew that my comfort of living was going to improve. My benefits are better now, because I am provided with a company car (F-150 extended cab!), free gas, expense card to pay for customer-related expenses, company stock ownership, 401(k) matching, annual bonuses, college tuition for children, etc.
My civilian career is in specialty chemical sales for the pulp and paper industry. In artillery, I specialized in targeting. And many of the methods that I learned were translated into non-lethal targeting to achieve sales goals! In fact, my first sale was to sell the idea of getting out of the Army to my wife.
One thing I would advise my fellow vets to research when searching for their civilian company fit is to see if the company is privately owned or publicly traded. I've found that private companies tend to be more associate oriented, but sometimes lack capital to compete globally. Public companies have capital and assets, but tend to focus more on the bottom line.
I started my career at Buckman in 2008 as an Apprentice. I was then promoted to Sales Representative for three large accounts and most recently to a large territory. My next promotion will likely be Regional Sales Manager or Product Line Manager.
My job is half-technical and half-relational. Many managers have said: "I can teach someone the technical, but I can't teach ethics and relations." I have built business relations with managers that wanted to know more about my military service. I have also been able to find common ground with customers that have served in the past.
Relationships are more important now than ever. Like it or not, you have to be diplomatic to get what you want. Telling it abruptly 'like-it-is' works well in a disciplined military unit, but this is corporate America; and, yes, you can get fired out here. Civilians are more delicate. Leave your Drill Sergeant hat in the closet.
Veterans have a dedication to mission success and courage that serves them well in the civilian workplace. Not many people challenge themselves in the way that service members do. Veterans understand how to serve a greater purpose. They hold themselves to a higher ethical standard and are driven to succeed. Their identity isn't determined by position or job title, but by their performance. Employers will recognize all of this.
There are lots of opportunities out here. Don't settle for a job. Search within yourself, take inventory of your personal skills, and find a career path that falls in line with who you are. Veterans are a full-package deal that bring many skills that can't be taught in the best Ivy League schools. They understand more than just job descriptions, but what it takes to accomplish missions.