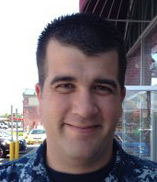 Dustin Stout
(800) 872-5002 x 121
dstout@oriontalent.com
Dustin Stout joined the Orion team in March 2014 after 11 years of Active Duty service in the Navy. He graduated from Nuclear Field Machinist Mate 'A' school and Naval Nuclear Power and Prototype. Dustin completed his first tour as a Navy Nuclear Machinist Mate on the USS Minneapolis-St. Paul (SSN-708) in Norfolk, VA and then decommissioned it in Pearl Harbor, HI. Following his time on the MSP he transferred to the USS Miami (SSN-755) in Groton, CT. He then completed a successful recruiting tour to NRD Pittsburgh until he separated in 2013.
Dustin is a Candidate Recruiter and Base Development Recruiter working out of Orion's headquarters office in Cary, NC, just outside of Raleigh.
Contact Dustin today to learn more about Orion's Career Placement Services for transitioning Navy NCOs and SNCOs.