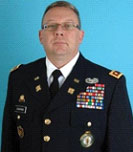 I was a Major in the Active Guard & Reserve program, assigned to the Illinois Army National Guard. My specialties were logistics and human resources and I was joint-duty qualified. About 40% of my 26 years were served in the enlisted ranks, where I was an E-6 before I attended OCS.
Making the decision to transition was easy. I knew that I wanted to begin a second career at or before a specific age, and that meant leaving the military when I reached 20 years of active federal service. In preparation, I completed an MBA at the University of Illinois about three years before my target date for the transition.
The hard part was deciding what to do next. There were so many choices to be made: public or private sector?, big or small company?, do what I know or try something new?, etc. Salary and quality of life were my two biggest considerations-could I make enough to increase our standard of living without destroying my quality of life at the same time?
I went through the TAP program at Scott Air Force Base in June before transitioning in December 2012. It was beneficial in general terms. It was when I attended this program that I discovered that the shotgun career search approach I was using was unlikely to yield the results I sought.
I knew that performance-based compensation was something I desired, so that ruled out public sector employment. I also knew that consulting was the path that I found most interesting but that I was unwilling to entertain a second career that would allow less family time than my first career. I did not know what industry would be right for me, nor did I even know what I wanted to do when I started searching for that first role. Consequently, my job search was largely unstructured and directionless for the first few months.
The real turning point was linking up with Orion, and attending the October 2012 Hiring Conference in Chicago. It was during the preparation for the conference that I realized business-to-business sales were going to be a good fit. Orion helped me focus my approach and then put me in front of the right people with the right companies. I knew who the right companies were by doing extensive internet research and reading their annual reports and looking for indications of future growth/problems. I also spent time reaching out (via LinkedIn) to people with similar backgrounds who were already with those companies to learn about their experience.
Things moved incredibly fast after the conference, and I started my new career the first week of 2013. I was able to take a full 90 days of terminal leave, plus 20 days of PTDY and started my new career as a District Representative with Nalco on my third day of terminal leave. In order to be ready for my first day of work, my family and I moved to St. Louis during the week between Christmas and New Year's. It was hectic. I wouldn't recommend moving during that week to my worst enemy. In retrospect, I wish that I had taken a little more time off, but I was just so dang excited to start my second career that it wasn't in the cards.
The move, aside from being during a hectic time of year, was a good decision and both our kids were happy. They were both very excited about moving to St. Louis and changing schools. The older one wanted to attend a large high school, and the younger one wanted to be challenged more in a smaller school. Fortunately, we were able to create a solution where both kids got exactly what they wanted and they are thriving.
In my career with Nalco, I sold specialty chemicals used in steam and cooling systems to a wide-ranging customer base, which includes light manufacturing, government, healthcare, and food & beverage plants. I partnered with my customers and prospects to ensure asset preservation and efficient operation, while providing solutions which reduced their overall impact on the environment in terms of water and energy consumption. In addition, I worked with raw and wastewater treatment customers to achieve very specific quality goals. Everything I did added value for my customers through reduced total cost of operation.
I have since moved on from Nalco and am now an Account Manager with Trane. I sell building automation systems and controls in the St. Louis area. I just started in August 2014, so it is all a bit new to me, even though I have a lot of complimentary knowledge gained from my time with Nalco.
With Trane, I am responsible for developing long-term customer relationships and maximizing account penetration and customer retention with building owners with the goal of increasing controls systems and hardware sales for the district office. I serve as a subject matter expert in controls to support work while acting as the account manager with contractors and consulting engineer/architect accounts.
My career has not been even remotely similar to what I did in the military. My military experience prepared me in more indirect ways for my second career; things like work ethic, my approach to problem solving, being able to communicate with people at all levels in an organization, and collaborative abilities are the biggest help.
A veteran's work ethic is invaluable in the civilian workforce. I know what I need to do, apply time management strategies, and prioritize to get it done. I see a lot of my counterparts wasting significant amounts of time and energy on low priority initiatives. I wish that I could coach them to do the first things first, but that is not really my place as the new guy.
Integrity and follow-through are two other traits that serve me well. My customers really appreciate the fact that I do what I tell them I will do and that I speak honestly to their issues. I can't fix everything for them but can usually point them towards a solution. Also, I gain tons of credibility for telling them when my product or solution isn't the best fit and recommending someone else's instead.
I have had to "unlearn" the strict adherence to the chain of command model and develop recognition that employees who appear to be low-ranking may actually be the decision-maker in their corner of the organization. Also, I have had to change my approach when working on internal issues as consensus building can be the most important aspect of resolving problems. While the military prepared me well with the soft skills, I must admit that I was utterly unprepared for the technical aspects of my new career and have devoted hundreds of hours to developing those capabilities.
Overall, my military background is a big benefit, especially with some of my clients, including a military installation. I understand "end-of-year money" and how fourth quarter spending works in the military and was able to leverage that specific knowledge to sell enough product to them at the end of the fiscal year that they are in great shape, even with the lack of a FY14 budget and the shutdown that occurred in October.
Like me and my civilian career, veterans may not always have the knowledge, skills, and abilities that exactly match the job description, but we have an unbelievable ability to grow and learn if afforded the opportunity and are properly mentored. Veterans understand mission accomplishment like nobody else in the world. We exercise considerable creativity and initiative to attain our goals.