Senior Vice President - Strategic Programs, Orion Talent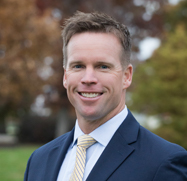 David is originally from Celina OH and studied business and marketing at Ohio University before joining the U.S. Marine Corps in 1998. He served in the Corps from 1998 to 2008. During his time in the Corps, David held multiple positions on Active Duty and deployed with the 2nd MEF to Iraq for combat operations as part of OIF 1 in 2003. Following separation from Active Duty, David served as Company Commander, Lima Company, 3d Battalion, 25th Marine Regiment Marine Corps Reserve from 2006-2008.
David joined Orion in 2004 as an Account Executive in Cincinnati. Since that time, he has held several roles and led multiple initiatives within Orion, including the creation and launch of Orion's Strategic Account Management Program in 2008. David was selected as a Junior Partner in 2007, a Senior Partner in 2011, and transitioned into his current role as Senior Vice President - Strategic Programs in 2014. He currently leads Orion's Strategic Accounts service line - providing a wide range of Talent Solutions to enterprise-level customers.
David & his wife Sara live in suburban Cincinnati with their three sons. He enjoys spending time at sporting events, running, and with his family and friends.