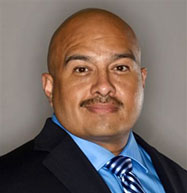 Ernie Ayala
Quality Engineer, Siemens Energy
"I transitioned from the Navy after 20 years Active Duty service and two years Reserve. During my time in the military, I served as an Electrician, Special Warfare Combatant-Craft Crewman, and Gunner's Mate. To say that I like improving myself through education is an understatement - I hold two Associate's degrees from Coastline Community College, and a BS from Southern Illinois University in Electronic Systems Technologies. I am currently pursuing an MBA from the University of Houston.
Because of my great experience previously with Orion, I knew who to turn to when I wanted to make a career change. I was extremely prepared thanks to the transitioning programs offered by Orion. I attended hiring conferences in Jacksonville and Houston, where I met with several companies, including Siemens. The conferences allowed me to explore my options and be very selective.
I have been with Siemens as a Quality Engineer for a few months and am very satisfied with my new position. I particularly enjoy the traveling opportunities, which I missed in the military, and the feeling of accomplishment that comes with a job well done. Siemens also gives employees numerous training opportunities, which is helpful in growing in your position. The great location, unbelievable pay, excellent benefits, and flexibility in my schedule are major perks of a career with Siemens.
The military has helped me prepare for my current position. Along with their transitioning courses, the military has given me leadership, electrical, medical, mechanical, and engineering training, which I have used again and again at Siemens.
I would recommend Siemens as a veteran-friendly place to work, mostly for the structure, training, and professional environment, which are very similar to the military. I have this advice to offer to those transitioning out of the military - invest as much time in getting your education prior to getting out; [get] as many certifications as you can. Take time to use the benefits, family support center, courses available, and get your resume updated and perfect. Practice doing interviews, get a suit, and know what you want to do when you get out. Don't waste time, and most important - NETWORK for jobs! Every job interview leads to another job that wasn't posted or advertised."