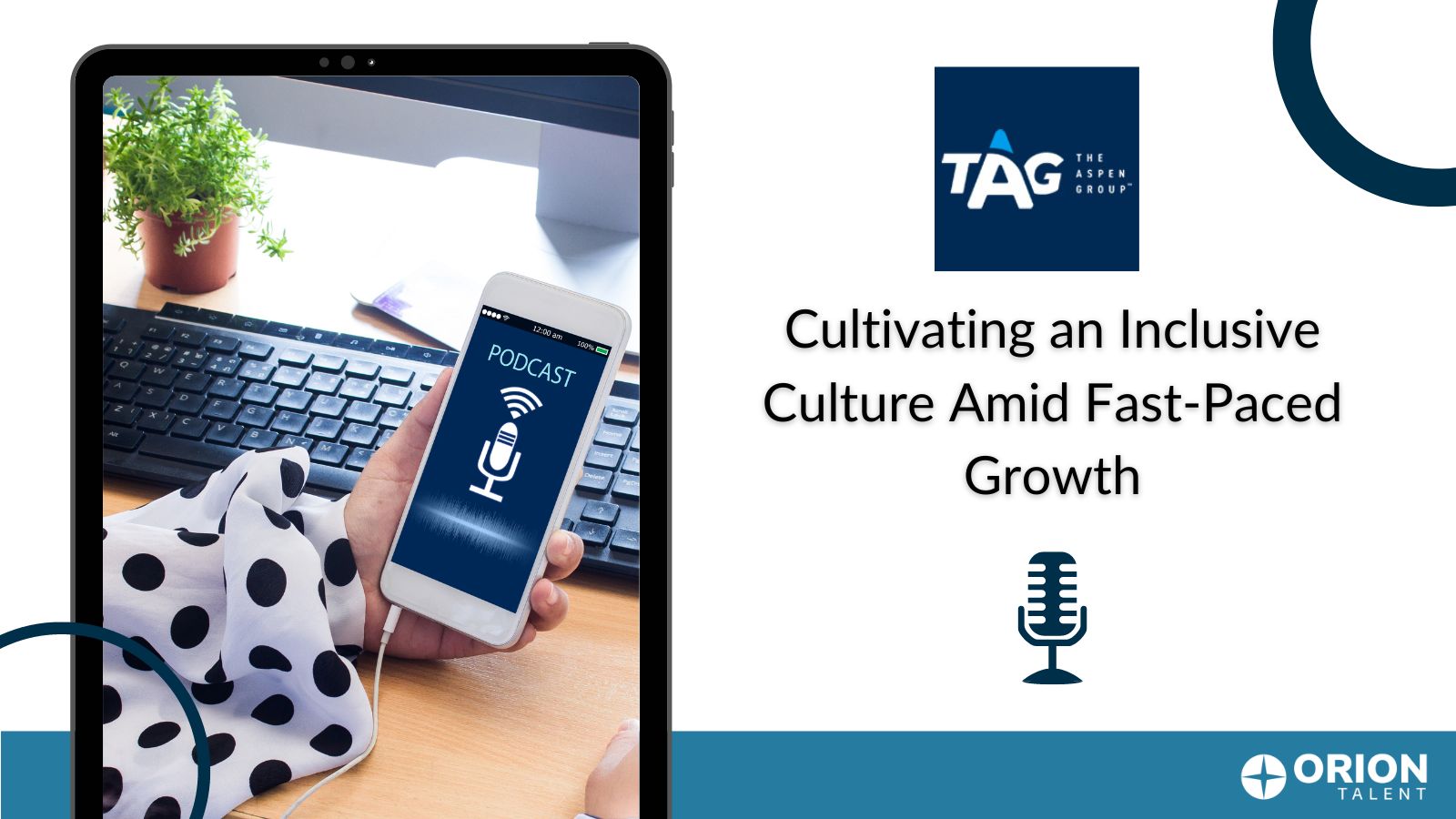 Companies that are experiencing rapid growth often lose a sense of their authentic culture. As they scale people and processes, the personal touch can be lost and culture often takes a back seat. But this is not the case with TAG, The Aspen Group, a leader in consumer healthcare.
Culture at Scale
Jeri Doris, Chief Human Resources Officer, and Dr. Kevon Rennie, Dentist/ Practice Owner, with TAG, The Aspen Group, recently sat down with Orion Talent's Vice President of Diversity Initiatives and Military Outreach Steve Amsden for an episode of #PeoplewithPurpose. TAG, which includes Aspen Dental, Clear Choice Dental Implant Centers, WellNow Urgent Care, and Chapter Aesthetic Studio, has seen exponential growth in the past three years, and with that growth comes a continual need to recruit and retain the right talent.
Jeri and Dr. Rennie discuss how TAG builds and maintains an inclusive culture, both through corporate initiatives and on the ground in Dr. Rennie's dental offices. "I think so often companies are trying to solve for everything and they forget you can't harness the power of diversity without inclusion," explains Jeri, "One of the things we're focusing on is really harnessing the power of diversity. That's so important because we want to be able to mirror the communities we're servicing. For us, it's creating a space where people can be themselves because if they can be themselves, they can do their best work and be fulfilled and engaged."
The TAG team endeavors to represent the communities they serve, and this has been an important aspect of Dr. Rennie's career with TAG. He now owns six offices and loves for his patients to see themselves reflected in their care team. "I'm a minority myself, so looking for a company where I felt comfortable and looked after - from my very first interview with Aspen straight out of dental school - I loved it and I felt that connection," he recalls. And that connection carries through to his patients.
Recruiting and Retaining
TAG was built on a culture of diversity and inclusion and they are working hard to maintain and cultivate that culture amidst their dramatic growth. To do this, Jeri focuses on the company's values. She and her team evaluate and recruit against the values. "It's not a culture fit; it's a values fit. If values are embedded in culture and used as part of people processes - you can scale a culture," says Jeri.
To recruit the right people, Dr. Rennie explains that Aspen is looking for people who are "humble, hungry and smart." And these exceptional employees are then retained through the sense of diversity, belonging, and purpose TAG imbues in all they do. Additionally, TAG's people strategy is truly empathetic. They never lose sight of what drives the culture - their people. According to Jeri, "Our people strategy needs to really resonate with the team. We don't make assumptions - we ask."
Upskilling and career pathing is another important aspect of life at TAG. They invest in their people through learning and development programs and believe that differentiates them in the market. This type of career growth can be seen with Dr. Rennie's Dental Assistant. He relays how she started out as his Dental Assistant, became Lead Dental Assistant, and now runs all six of his offices. "The sky's the limit for those who are willing to put in the work," Dr. Rennie says.
Giving Back
Serving the community is what TAG is all about and this is best illustrated in their Day of Service held every June 11. On that day, they bring better care to more people by offering free dental work to veterans and their families. The effect of this outreach is huge. Dr. Rennie tells the story of a widower veteran who wouldn't eat and was brought into the Day of Service by his daughter. He left with a huge smile on his face after receiving same-day dentures and visits the office often.
Helping People Smile
Ultimately, the culture at TAG is one where people can do their best work and where diversity, inclusion, and most definitely belonging, are embraced. Their empathetic and passionate approach affects leadership, employees, and patients alike. Take some time to listen to "TAG: Cultivating an Inclusive Culture Amid Fast-Paced Growth" and hear about how this amazing company is breaking down barriers and helping people smile.

RSS Feed
Subscribe to Orion's Blog