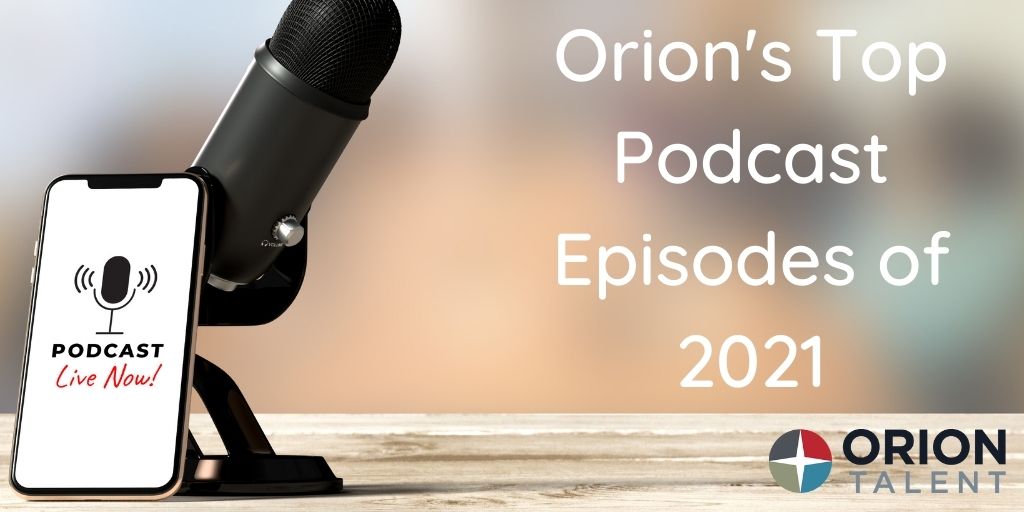 Orion's From the Battlefield to the Boardroom podcast is dedicated to supporting military job seekers throughout the transition process and beyond, by providing valuable insight and guidance from other Veterans and business leaders. Whether you're planning your military transition or have already landed your dream job, our podcast covers resume assistance, interview tips, financial resources, relocation advice, and everything in between.
If you haven't had a chance to check out the podcast yet, now is the time to catch up on our most popular shows of 2021!
Episode 147: Rewarding Career Opportunities with Orion Talent
Katie Mychalowych, Navy Veteran and Orion Recruiter, joins the show to discuss her background and role at Orion Talent, as well as career opportunities within our growing team.
Episode 146: Discover the Power Within You ft. Navy Veteran/CEO, Joe Evangelisti
Joe Evangelisti is a Navy Veteran, CEO, coach, podcast host, real estate investor, and the list goes on. Since leaving his career in the Navy, Joe has built an 8-figure empire for himself through his various business ventures. Joe joins the show to discuss his entrepreneurial journey, and how anyone can become the most efficient version of themselves by focusing on outcomes rather than to-do lists.
Episode 142: Founder/CEO of Veteran Owned & Operated Franchise
Orion is proud to partner with JDog to provide exclusive franchise opportunities for honorably discharged Veterans and Military family members. Jerry Flanagan, Army Veteran turned Founder and CEO of JDog, started the company 10 years ago with the goal of helping Veterans experience business ownership by running their own franchise and employing fellow Veterans. Jerry joins the podcast to discuss his journey as an entrepreneur and how his business has grown over the past 10 years.
Episode 144: Launch a Career with America's Innovation Agency
Raj Chakraborty, Army Veteran, was hired as a Patent Examiner with the USPTO nearly 8 years ago and has continued to progress in his career. He joined the podcast to discuss his experience working with the USPTO and why other veterans should consider a career as a Patent Examiner.
Episode 150: Army Veteran Climbs the Ranks in the Restaurant Industry
After serving as a dental assistant in the Army, Bruce Evans took a chance on a new career in the restaurant industry. He started as a waiter, worked his way up to Manager, and eventually landed in restaurant Franchise Sales. Even without prior experience in sales, Bruce was personally responsible for the sale of 450 Wing Stop franchises in less than 5 years. Now, Bruce is the VP of Franchise Development for Capriotti's Sandwich Shop and Wing Zone, and he shares some great insight and lessons learned along the way.
Episode 140: How to Maximize Your Military-to-Civilian Career Transition
Morgan Causie, a Marine Corps Veteran and Orion Recruiter, joins the show to discuss her military background and give practical advice for transitioning service members. As a former skeptic of military recruiting firms, Morgan discusses how her perspective has changed over time, and shares her experience helping veterans find rewarding careers since joining the Orion team.
Episode 136: 5 Tips for Maximizing Your Job Search During COVID
There are a lot of ways you can pursue your next opportunity and stand out even in the current COVID environment. Amy West, an Orion Recruiter and Navy Veteran, joins the show to discuss how to maximize your job search during COVID, including how to get past computer resume scanners and get your resume into human hands, how to build your network remotely, the importance of evaluating your online presence, and common virtual interview questions.
Episode 151: 5 Proven Tips for Landing Your Dream Job
A former Navy Nuclear Engineer turned seasoned Recruiter joins the podcast to share his insight on 5 tried and true tips every job seeker can follow to jumpstart a lasting career, including the importance of learning about yourself and crafting your story, how to beat the resume robots, and current job market trends.
Episode 148: Air Force Veteran Joins Office Pride, an Award-Winning Franchise
Marc Stewart, a retired Air Force Officer, joins the podcast to discuss his decision to become an Office Pride franchise owner and what makes him excited about his future as a business owner. Office Pride is an award-winning commercial cleaning services company looking for strong business leaders to help grow and expand its operations nationwide.
Episode 135: Veteran Career Readiness with Mike Abrams, Founder of FourBlock
FourBlock is a nation-wide community of veterans and employers dedicated to transforming the veteran transition process. The organization was founded by Mike Abrams, a Marine Corps veteran, who was inspired to support transitioning veterans find their purpose and have a positive impact in their communities. Mike discusses his motivation for founding FourBlock, the Career Readiness Program, and his advice for transitioning service members.
What topic would you like to hear more about in 2022? Send us an email at podcast@oriontalent.com and let us know!

RSS Feed
Subscribe to Orion's Blog