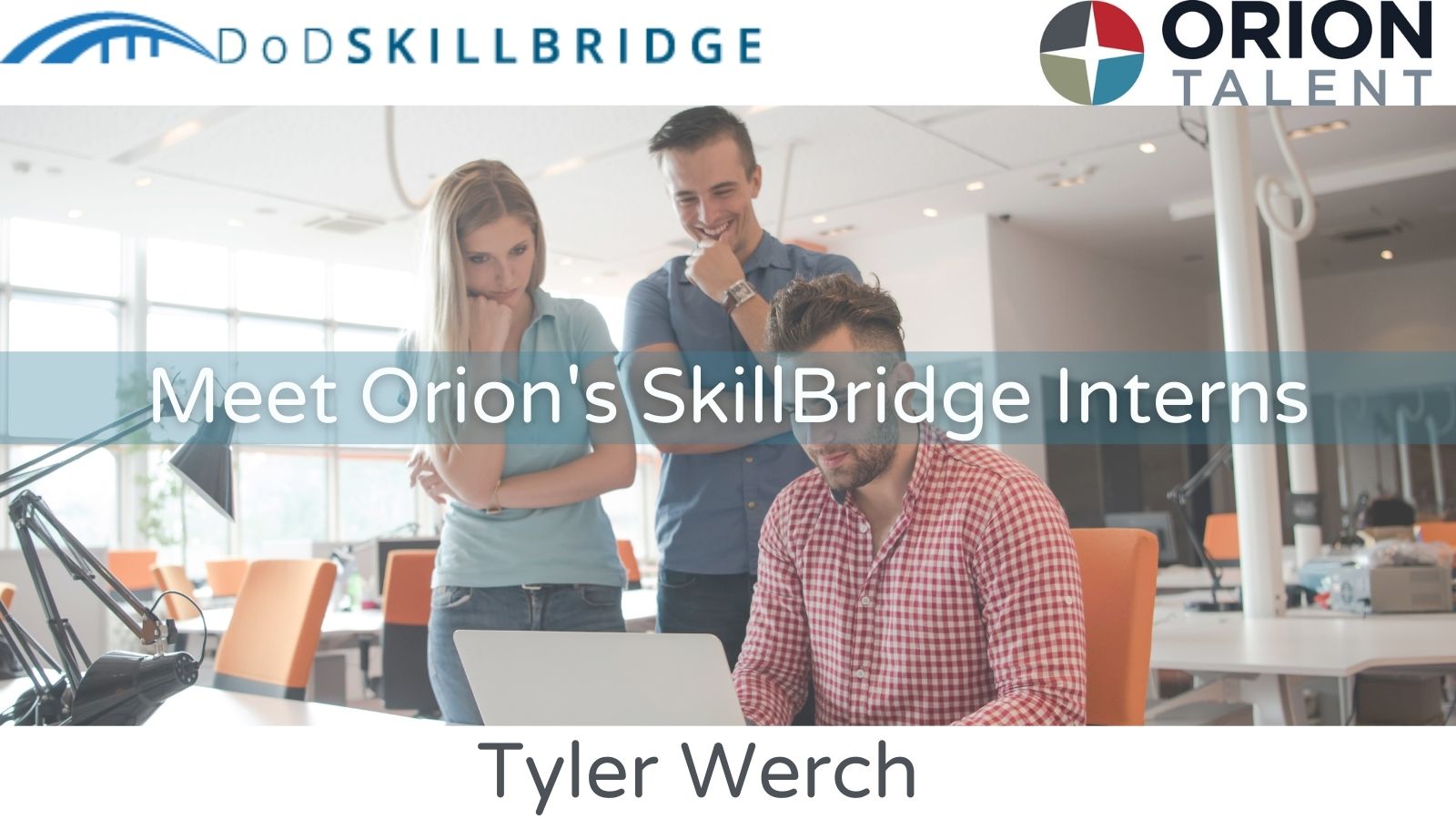 Orion Talent is a proud participant of SkillBridge, a DoD program in which companies offer internships during a service member's last 180 days of Service. During this time, the service member trains and learns from an industry partner while still receiving military compensation and benefits.
You may be eligible to participate in SkillBridge if you have 180 days of service or fewer remaining prior to your date of separation and you have at least 180 continuous days of active service.* A SkillBridge opportunity is an excellent opportunity to enhance your marketability and post-separation career prospects.
This week, we're highlighting Tyler Werch's SkillBridge experience here at Orion Talent as an Account Executive in our San Diego, CA office. Tyler is currently a Surface Warfare Officer in the Navy, and decided to apply for a SkillBridge internship to help start his transition earlier and to give him an edge in the current job market.
Tyler applied specifically to Orion Talent due to his Captain's recommendation. "My Captain told me they [Orion Talent] help veterans out, and everyone he knew that went through them had great success," Tyler explained.
As an Account Executive SkillBridge intern at Orion Talent, Tyler is responsible for identifying and working closely with America's leading companies, assisting them in finding the value of hiring military veterans.
The qualities and skills that Tyler has acquired in the military have served him well in his internship. "Communication and learning are the most important for me," Tyler said. "The ability to adapt to new challenges always helps you in a new environment, and being able to communicate is always important, especially in sales, when you need to build trust or see what value someone is looking for."
For Tyler, the most rewarding part of his Orion Talent SkillBridge internship has been directly helping veterans like himself. "I can help veterans get a better opportunity they would not have previously had," he stated.
Tyler's SkillBridge internship has been a major success, and Orion is proud to have him join the team as a full-time Account Executive in late November.
We are currently offering the following in-person internships, with potential for employment:
Account Executive (Cincinnati, OH; Virginia Beach, VA; San Diego, CA)
Web Developer (Remote)
Recruiter (Virginia Beach, VA; San Diego, CA)
RPO Associate Recruiter (Remote)
RPO Recruiter (Remote)
RPO ROA (Remote)
Sourcing Recruiter (Virginia Beach, VA; San Diego, CA)
Learn more about Orion Talent's SkillBridge internship, or if you are interested in a SkillBridge internship, apply now or reach out to Morgan Causie, Orion Talent SkillBridge Lead.
*Please note that release for SkillBridge is always mission-dependent and your unit Commander must authorize participation prior to entering into any agreement with interested industry employment partners.



RSS Feed
Subscribe to Orion's Blog