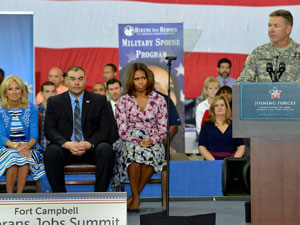 At the event, Mrs. Obama told the audience, "You've been focused on completing the mission," she said. "You've been focused on being there for your fellow soldiers." She said that the mission of initiatives like Joining Forces and the new Veterans Employment Center is to begin to focus these soldiers on their marketability. She went on to explain, "Well, today we need you to start thinking and talking about yourselves for a change. You all have done incredible things. So don't be afraid to brag a little bit about yourselves."
A recent White House blog post by Joining Forces Executive Director Colonel Rich Morales details the success of Joining Forces. In the three years since its inception, companies who have made commitments to Joining Forces have hired 540,000 veterans and military spouses. To complement this program, Mrs. Obama unveiled the Veteran Employment Center, "a personal transition toolbox".
Designed with both job seekers and employers in mind, the new Employment Center provides a single website which brings together the most important online career tools within government. This tool is a result of collaboration between the Department of Defense, Department of Labor, Office of Personnel Management, Small Business Administration and the Department of Veterans Affairs. According to the White House, veterans will have access to public resume posting, targeted job searches for both public and private sector positions, a military skills translator and resume generator, as well as social media integration with bookmarking capability for saving job postings.
Employers can access a targeted feed of qualified resumes from Veteran applicants and reverse skills translation (military to civilian skills) for applicants. They will also be able to showcase their veteran hiring efforts through public display of their veterans hiring goals and progress towards those goals. Additionally, employers can find resources designed to help recruit and retain veteran employees.