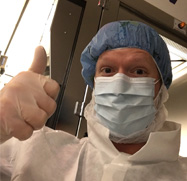 While my terminal leave was roughly 30 days, happily, there was only a five-day gap between leaving the military and beginning my career through Orion at ARxIUM. In order to prepare for my transition, I used TGPS, which was extremely helpful. If you attend this class, approach it excitedly and ensure you are organized. It will be a great experience!
My transition has been exciting and eye opening. The civilian world has many surprises. I am happy to say I couldn't have found a better company to help me transition than Orion. I owe a lot of my fortune and success to the hard working people like Tony Hoffman and Mike Wooster for executing a flawless Hiring Conference in Virginia Beach in May 2016.
Saying yes to my job offer was the easiest part of my transition! But looking for a job and trying to plan with a family depending on you had to be the worst. Good communication and trying to stay healthy and active played a large role in our success.
I am now in Field Support for Pharmacy Automation. Generally speaking, my military skills have helped-from working with my hands to communicating with the customer and using organization and time management to my advantage. I also have years of experience in production, quality assurance, and safety, as well as generally being a people person and not afraid of change.
In my new job, I travel once a week for preventative maintenance and work in a clean room environment. I could advance to a higher grade technician in the future. My overall demeanor in real time, high tempo, stressful situations has already helped. In the Navy, we are taught to methodically approach these situations and react with time-critical solutions.
To transitioning veterans out there, take a deep breath. Use the great resources out there; take your time; pay attention to detail; and, for goodness sake, follow up on everything. Just like the service, no one cares more about you and your life more than you do!! Be open to change, and don't be afraid to jump outside your comfort zone.
And for hiring managers, give veterans a chance! From the most junior service member to the old-timer getting out, we have habits and skills you can't describe. We don't know how to fail, we give you 100% and enjoy doing it. Hooyah!!!!