Testimonials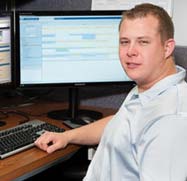 Veteran Spotlight
Nick Breeschoten
Here's Your Blueprint for Engineering
By Len Vermillion, G.I. Jobs
There are plenty of jobs. Starting salaries are rising. And there's lots of work that needs to be done. There are many reasons for you to get into engineering. You just need a good plan.
"We are about 25,000 engineers short," says Dan Wittliff, president of the National Society of Professional Engineers (NSPE). "Between what we're graduating domestically and who's coming from oversees, we still need more engineers in the United States to sustain growth in the economy."
...Nick Breeschoten, 24, was an 88A Trans Officer during his seven years with the Army National Guard. But that didn't stop him from pursuing his dream to become an electrical engineer.
"Since a very young age I was fascinated with technology, and how it could change the way we live and work," he says. "I met with an advisor in the Electrical Engineering and Computer Science department at South Dakota State University, who explained to me the significant role engineers play in society, and what I could look forward to. He told me it would take a lot of hard work, time, and commitment to become an engineer. But once he described some of the real-world applications of electrical engineering, such as nano technology, fiber-optics, satellite communications, power systems and signal processors I was sold and ready for the challenge."
Earlier this year, he was hired as an Electrical Engineer II at Honeywell Federal Manufacturing & Technologies.
"I interviewed with Honeywell only after about 10 days from my initial contact with Orion, and two weeks after the interview, I was given an offer of employment. I am now a Front Line Supervisor at one of Honeywell's production plants. My position calls upon my ability to manage a small team of professionals and critically analyze operations to identify safety concerns and production trends. The management aspect is similar to being a platoon leader, while my executive officer experience can be related to much of the systems maintenance and the identification and completion of work orders for the materials being used. As a company commander, I have learned to prioritize tasks, delegate authority, and oversee large-scale production, which has given me confidence to take on a position outside of the military structure." - Trevor Lumadue, Front Line Supervisor, Honeywell
"In my civilian position, I am in charge of 20 technicians who are responsible for the repair and overhaul of airplane flight deck instruments. For the last several years, I have been an Infantry Battalion Communications Officer (S-6) in the rank of 1LT/CPT. The experience garnered during this time was paramount to being hired with my current civilian employer.
I led small teams of up to 20 Soldiers in a fluid environment where each day was different from the next, ensuring priorities were set and tasks were completed on time and to standard. Each of these is directly relatable to what I do for my civilian employer. Without those experiences, I would not have been considered for this position.
My current position truly is a perfect fit. Orion has a system in place that works very well and people who go out of their way to ensure their candidates are prepared for all steps of the job process (resume, interviews, job offer, etc). " - Trevor Brewster, Integrated Supply Chain Manager, Honeywell
"It's been five months since I started my career as an Assembly & Test Technician with Honeywell. I have gotten to run several engines under supervision. Learning the site and engines has been great, and I have enjoyed the freedom that comes with not being micromanaged by my supervisor. I would definitely recommend that veterans consider Honeywell as a home after the military." - Jason Trujillo, Assembly & Test Technician, Honeywell
"This is a great job. The pay is competitive, and the benefits are outstanding. Honeywell is well-known for the job security their employees enjoy. But the best thing here is the people. I have a blast every day that I'm here." - Thomas Skurk, Technician II, Honeywell
"I am now an Engineer with Honeywell. I was an Aviation Safety Officer in the Marine Corps. This background prepared me well in aircraft systems knowledge and investigative techniques, which are similar to my job in Honeywell, working on control computers that manage jet engines for business class aircraft." - Jim Theisen, Engineer 3, Honeywell
"I am a Supplier Development Engineer III at Honeywell Aerospace. This position is about process improvement, but it requires relationship building, technical competence, organization, and persuasiveness. These are essential skills for JMOS, and I was able to develop them greatly through my military experience." - Matt Rowe, Supplier Development Engineer III, Honeywell Aerospace